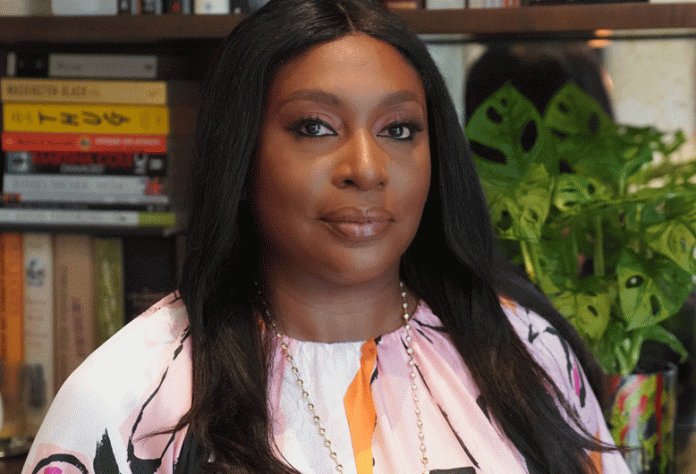 By Vanessa Obioha
Ego Boyo played one of the lovable characters in the classic television series 'Checkmate' and for a long while, her character Anna Haastrup stuck to her skin like glue. Mention her name and the first image that will crawl into people's mind is Anna.
These days, the Nigerian actress can be found behind the camera, bringing to life some of Nigeria's most iconic movies, including the award-winning film directed by Akin Omotoso, The Ghost and the House of Truth (AFRIFF 2019 Best Actress, Best Director, Best Nigerian Film), now streaming on Showmax. The movie also won the Best Narrative Feature World Cinema award at the Urban Film Festival, New York.
In a brief interview, Boyo talks about the inspiration for making the film, the challenges of shooting in Makoko, and her passion for telling authentic Africa stories. Here are excerpts:
What was it about the script that made you want to see The Ghost and the House of Truth come to life?
Several things spoke to me, one of which was missing children – bringing to light the fact that a lot of children go missing in Nigeria and sometimes we don't know what happened and their families don't get closure.
The second was forgiveness, where someone may have committed the most heinous crime against you, and then you're confronted by that person or situation, and you're in a position to forgive.
Lastly, there was the focus on the police and their ability to assist citizens in these sorts of cases. Those were the three things that stood out for me in this script.
Were you concerned that Nigerians wouldn't welcome the idea of a movie with the police force at its centre?
It is in making a movie that you then understand what people's reaction will be to it. Traditionally, in Nigerian films, what you see from police is a show of too much force, which is the reality we face. I didn't want us to play into those stereotypes. We wanted to portray the kind of police officers that we want to see, the kind of police our officers should aspire to be. We wanted a police officer who had empathy for the victims and understood what they were going through, bringing some humanity to the job.
What was your experience shooting in Makoko?
We went into the community and ensured that we became a part of them. We met with the leaders and people in the community and formed a bond. We were able to get their buy-in because we made them a part of the film, providing employment. Some of the people in the scenes with the canoes, for instance, were actual residents, they weren't actors. We were very sensitive about shooting around the area and in people's homes.
There were also challenges. Most of us in the cast and crew had never shot anything in Mokoko, so navigating through the scenes on the water and making sure our people were safe was key. We were literally in uncharted waters!
What were some of the memorable moments shooting the movie?
One incident was when we had a fire at the hotel where the cast and crew were staying because there were too many things plugged in in one of the rooms. It was contained very quickly because we had fire extinguishers, but the smoke caused quite a bit of damage. Thankfully no one was injured and the property wasn't badly damaged. For me, as an executive producer, it was a nerve-racking call to receive.
There was also the chase scene and the number of times it was filmed. There were conversations about whether or not you could sit in the canoe with the lead character, and what would we do if someone fell into the water, which wasn't the cleanest.
How did you decide on the cast and talent behind the cameras on The Ghost and the House of Truth?
I met Akin Omotoso, the director, about 10 years ago. We had worked on an advert in South Africa together and got talking about film. Then a mutual friend said they had a project they'd like us to work on. We did about two weeks of rehearsals for it, but it got too complicated with rewrites and back and forths. Then Branwen Okpako's screenplay for 'A Hotel Called Memory' landed, and that was our first movie together.
Akin and I are always having conversations on who we'd like to use for our projects. We'd go into the cinema and watch films together and discuss who we've seen on screen that we like.
For Kate Henshaw's role in 'The Ghost in the House of Truth', initially, it had been written for a man. Akin said that because the woman in the movie (Bola Ogun) lost her daughter, perhaps it would be better if we had the character of the police officer as a woman instead of a man, and I agreed. He said. "I have someone in mind already" and I said, "I also have someone in mind," and we both said at the same time! It was Kate or no one else to play that role.
Then we found Susan Wokoma, who's based in the UK, to play the part of Bola. We were supported by casting director, Lala Akindoju, who also served as one of the associate producers on the film.
What's the international response to the film been like?
We've just finished at Film Africa in the UK, where we were for the opening film. We were in Brazil before that and there will be other film festivals. As to the entry for the Oscars, why not? Of course, we're on Showmax as well, and we're looking forward to even more people in Africa seeing it.
Can we expect you back on our screens in an acting role anytime soon?
I've been wearing my executive producer hat so firmly that I'm almost blocking out signals for anything else. I'm still looking for that perfect role for me, the kind of script you read and just think, "This is it!" When I read it, I'll know.
Can we expect a reboot of any of the classics you've been in?
I don't know. With Amaka Igwe's films obviously, that's her property, so it's really a case of whatever her estate decides. Like everybody else, I'm looking forward to seeing it. They've done 'Rattlesnake', which is coming out soon, so who knows?
Based on your silent movie, 'A Hotel Called Memory', and now detective thriller, 'The Ghost and the House of Truth', can we expect to see more stereotype-defying projects from you?
Yes, I am on a quest to make movies that question the established norm in Nigeria because I don't think there should be an established norm, I think that it should be that we're making all sorts of films telling authentic African stories.