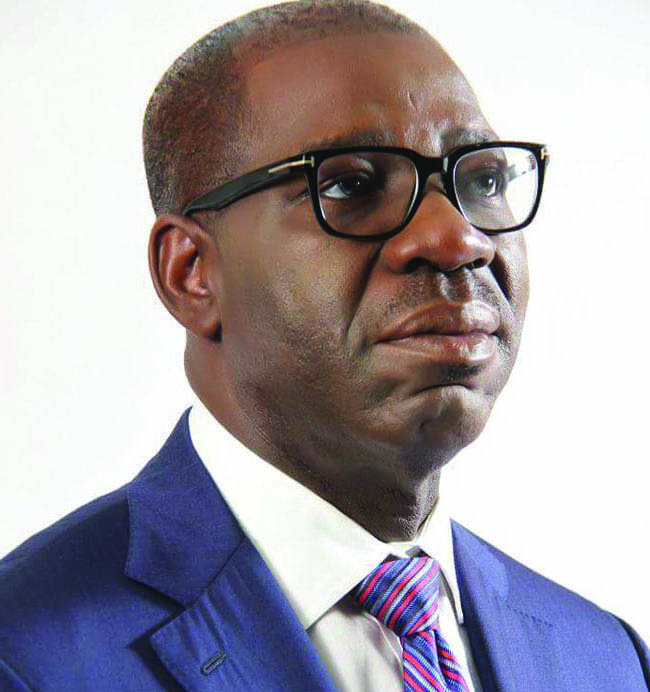 Kenneth Imansuangbon, a lawyer, school proprietor and politician of Edo descent, spoke to Adibe Emenyonu, on his roles in the recent governorship election in Edo State. Excerpts:
INTERVIEW
You were the last of the three PDP governorship aspirants to step down for Governor Godwin Obaseki to emerge as the sole candidate of the party in the just concluded governorship election in Edo State, which he eventually won. Why did you take such a decision if your governorship dream was genuine?
If I believe in a course, I pursue it to a logical conclusion. I don't have a price and I am not given to money politics. My price is to let Edo work. Jobs must be created, roads must be done and the school system must work to have a better Edo State. Quite honestly, I didn't know Obaseki that much. We felicitated from afar. I was under pressure by my party leadership.
Obaseki and Ize-Iyamu are from the majority tribe. Ize-Iyamu was more of my friend. I had contested the governorship four times now making it 16 years. I participated in all the primaries. Some, I was stepped down, and others they hijacked it from me. My passion to have a better Edo can't be quenched. I am an Esan man, from Edo central. We have not had governorship about 41 years ago. I need to state here that I am not a tribal person because tribalism does not run in my vein.
Rather, it is fairness, equity and justice that stand for. I also believe in civility, development and progress. Support for Ize-Iyamu mean I will have to wait for eight years, because the Binis, the majority tribe would argue that they have not completed their second tenure and don't forget that former governor Lucky Igbinedion did eight years. It was supposed to come to Esan, my senatorial district but Oshiomhole supported Obaseki against us.
I ran against Obaseki in that primaries so I looked at it in the strategic interest of Esan and Edo people for there to be peace, understanding and mutual respect that Obaseki should finish his second term and go, so that the Binis will feel satisfied to have done two terms of office. Meaning eight year under Lucky and eight years under Obaseki. So, it will only be proper, Godly, justly and equitable that after Obaseki, it will be the turn of Esans (Edo Central) to have the governorship slot.
Secondly, Obaseki had worked well in the first term. You see, in the game of football, coaches don't change their winning teams. A man that has done well in his first tenure deserves a second tenure.
It appears there is an understanding that it is the turn of Edo central to have the governorship slot. But there are also apprehensions that the arrangement might be disrupted to favour another senatorial district. What is your take?
It is God that gives power. 2024 is in God's hand and my take will be to let the best candidate, who will bring development to Edo State win. However, like I stated earlier, it would only be fair, equitable and Godly for the Esans that have not held office since 1999 to have it and I know the Binis, our brothers, will allow us to have it in 2024.
What does Obaseki's second term signify for the state?
Well, the foundation has been laid but I don't envy Obaseki because of the enormous task of development, the demand and expectation of Edo people is huge. What Edo people must do now is to swiftly come together to support Obaseki so that he can succeed, because if Obaseki succeeds, Edo succeeds; if he fails, Edo people have failed.
It is our duty as Edo people to come on board to help him succeed, because he is in the driver's seat and Edo people are the passengers. So, in this context, driving safely means addressing the question of security, job creation, education, infrastructure development and huge investments. My advice today is that he must hit the ground running.
Besides, I must thank God for the second coming of Obaseki and I also like to thank Obaseki for offering himself as a defender and crusader of democracy. We must also not fail to commend INEC for allowing the will of the people to count and they did a very good job. The police were very professional and neutral; the international community also played a major role in the process, and finally, Mr. President, who allowed the will of the people to prevail.
Are you happy with the current situation in Nigerian polity?
In actual sense, what brings development is the commitment, passion, loyalty and deliberate participation of the people, when as a people you see criminals in your area, you don't need an Obaseki to come and confront the criminal, the community must swiftly take on the criminal. And that takes me to the issue of the police.
We must respect the police and not deride them but encourage them. Nonetheless, the police must not be trigger-happy. The rights of the youth must be obeyed. The country today is sitting on a keg of gunpowder.
What is happening with #EndSARS is a dangerous signal by that protest, it means that if you are not ready to govern as a president, governor, or local government chairman, you are sitting on a keg of gunpowder, because a day of reckoning is coming where you will give account, because it is in the interest of our sovereignty and nation.
If you don't have the capability to offer good governance, you don't have business in public office. The solution to our problem today is how do we create job, stop kidnapping, Boko Haram, unrest and so on. We must do something to have a stable country.
How do you react to the clamour for Igbo Presidency, which already is causing ripples, because of the defection of Governor David Umahi of Ebonyi State from the PDP to APC?
Honestly, the Igbo deserve to have the presidency of this country and their cry must be listened to. When and how depends on the permutation and calculation. No doubt they are due for it.
Your humanitarian activities are quite noted, especially your annual rice sharing ritual. But some of your critics say it's for political reasons. Could they be right by any stretch of imagination?
When I did philanthropic work in Abuja, by organising the Imansuangbon cup and Essay competition and by extension Edo State, it wasn't because I wanted to be governor. You see, good work is in my DNA. I have seen poverty and riches. It is better to be comfortable than to be poor. When I see weak people begging for food in the streets of this country, children whose parents cannot pay their school fees, when I see people die because they cannot afford medicine, it makes me sad.
When I visited the University of Benin Teaching Hospital to pay medical bills of patients, who could not afford their discharge bill, it made me feel very sad. Life is not about what you have but what you give. So, given that scenario, our leaders all over the world should know now that leadership has gone beyond what you have.
What is your stand on the pension for ex-governors and their deputies?
Honestly, rather than paying pension to former governors and deputy governors, the money should be used for the payment of teachers and pensioners, who have served this country for many years. Ordinarily, paying governors their allowance shouldn't have been a crime if the wanton looting of our treasury was not in place, but, because that has been abused, in fact the salaries of senators and those in the National Assembly should also be reviewed for equity and fair play.