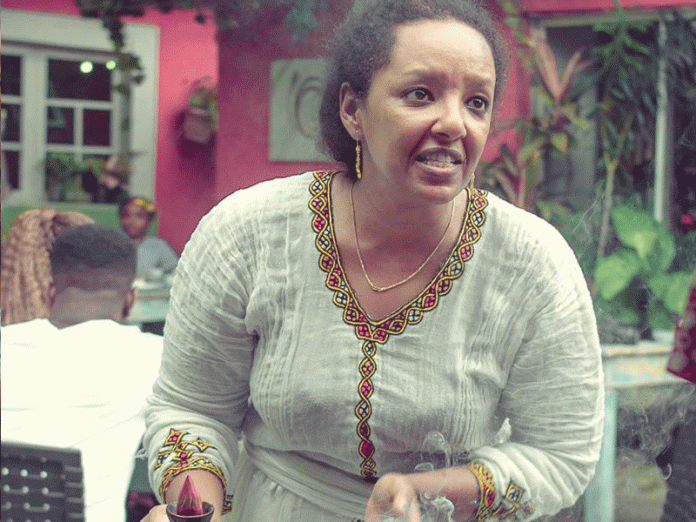 By Vanessa Obioha
On a sunny Sunday afternoon in October, Sahara Sintayo-Obende hosted guests to her Ethiopian lifestyle and cuisine pop-up at La Taverna Restaurant in Victoria Island, Lagos. Her guests were mostly expatriates who have worked in the East African country as well as Nigerians interested in Ethiopian culture.
The outdoor ambience that afternoon was bubbly, matching the vibrance of the host, who moved from one table to another, greeting guests and ensuring that they were enjoying the experience. In this case, the popular Ethiopian dish, injera — a sour fermented flatbread often served with stews and salads. Traditionally, injera is seen as a platter and is eaten with hands. Guests are expected to cut a piece of the flatbread and grasp the garnishes. Sahara as she is fondly called, has on her platter cottage cheese, stews, protein (beef, poultry)  potatoes and greens.
When she is not at the tables, she is brewing coffee over charcoal from a mini set-up decorated with flowers at one corner. Coffee, she explains, is a way of life in her homeland. It is communal. Ethiopia is widely known as one of the largest producers of coffee globally. It is a staple and a way of socialising.
"When you go to people's houses, the first thing they offer you is coffee," she explained.
The coffee is boiled in a jebena, a boiling pot made from pottery and poured into small handleless cups. It is often served thrice as part of the coffee ceremonies common in the country.
Incense burning and Ethiopian cultural music enhanced the feeling of nostalgia for those familiar with the culture.
For two years, Sahara has been keeping up this tradition as a way of preserving the memories of Ethiopia. Tagged 'Memories of Ethiopia', the lifestyle experience is a way of reconnecting with her country and promoting the culture of her people.
Originally born in Kenya but raised in Ethiopia, the Ethiopian chef first moved to Nigeria in 2010 after falling in love with a Nigerian man whom she is happily married to.
She disclosed that she had always loved cooking.
"I've always cooked. My mom always had a food place back home so I grew up with food and doing food business."
Memories of Ethiopia, she said started of interest.
"People usually ask me if I have Ethiopian food. So when I started making them, they came around to enjoy the experience. Eventually, it became a thing."
In the 10 years she has lived in Nigeria, she is yet to discover a booming Ethiopian community.
"Ethiopian community here is not that big. Unlike other places where you have a lot of Ethiopians like in Washington, Seattle in the United States. There are thousands of Ethiopians there, but here they are not that many. My major customers are Nigerians who also have lived in America or London and they have experienced the food."
The food, she said, is one of the exciting things people love about her pop-ups.
"They are always excited about the food. You know how rice is everywhere but cooked differently. That's how it is with my food. So they're always excited to try the Ethiopian cuisine. They are usually sceptical at first but when they have the experience, they love it because it is nostalgic. It is like reliving the time they spent in Ethiopia, particularly the expatriates." She pointed to a table.
"Those guys over there, they were telling me they like the music and smell. If they just close their eyes, they see themselves back in Ethiopia. So the whole experience is about the right music, smell, food, things that take you back home, that's why we are called Memories of Ethiopia," she concluded.
Apart from the cuisine, she also shares heritage sites of the Horn of Africa on her Instagram page.
Since COVID-19 struck, Sahara has been unable to keep up her twice a year trip to her homeland. Notwithstanding, Ethiopia is never far away from her. It is always with her.