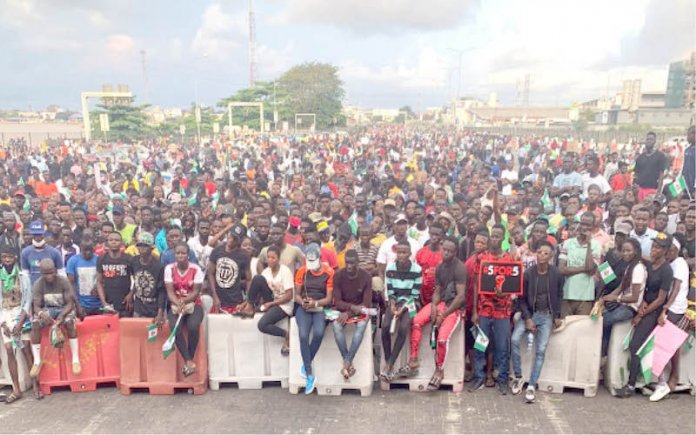 Kayode Makinde bemoans the violence unleashed on armless protesters
October 20, 2020 has gone down as a really sad day in my life and in the history of Nigeria. In the self-same month Nigeria marked her 60th year anniversary of independence from the British, from my California, USA children's home, l tearfully watched the unfolding disaster engulfing our beloved Motherland. My wife and I have been caught here in a COVID-19 Lockdown since March, but as we finally await our return flights to Lagos next week, I beheld the gory violence orchestrated by state actors in Nigeria Army uniforms. And to think that irrational military violence was government's ultimate response to Police violence is indeed an unfortunate irony and a sign of total tone-deafness and insensitivity.
By upbringing, training, and a 40-year career working with young people within the community and most notably in the university, I am an unashamed systems person, a team player and an unshakeable believer in government and authority structure. I have been a teacher at the Faculty of Administration of the Obafemi Awolowo University, before leaving, responding to a call to ministry which ended up positioning me providentially to lead out the team that midwifed the Nigerian private university system in 1999. I have climbed the highly disciplined systemic ladder of academia from Graduate Assistantship to Professorship, working with parents, proprietors, pupils, professors, presidency and the public, to the point of knowing that the only reason you have a president is because there is a country comprising citizens, just like the only reason you have professors is that there are students comprising a university. And, as political scientists, one of the most grievous philosophical lessons we taught and learned in the university, was John F. Kennedy's 1962 quote that "Those who make peaceful revolution impossible will make violent revolution inevitable."
Today before the 21st century information-driven global community animated by social media, that Nigerian system again failed woefully, regrettably, inexplicably and inexcusably.
It is by far the easiest and natural thing for me to do given my current location and situation, to keep silent and look the other way since, figuratively speaking, "I have no skin in the game". But, taking a spiritually loaded trip back the memory lane to recall my humble beginnings, and what God has done for me in and through Nigeria, if I shut my mouth today, even the stones would cry out. A Nigerian by nature, nurture and culture, like millions of my compatriots I benefitted from Chief Obafemi Awolowo government's historic Free Education system – with seven of my siblings of the same low-income parents.
Through difficult struggles of early childhood and restlessness of youth, and leaving home at the age of 21 in search of "the Golden Fleece", in different countries of Middle East, Europe and North America, I have been an ever so confidently and unrepentantly patriot (not nationalist). And for the past 45 years I have carried my green colored Nigerian passports so proudly from one immigration desk at foreign airports and seaports to the other, even as a poor student. My brand of patriotism and confidence is brash to the point that, upon a second Master's degree from the Andrews University Graduate School in 1980, I called the bluff of Doctors in Lincoln, Nebraska, who said my pregnant bride couldn't have our first baby naturally without undergoing a Caesarean section surgery due to a "non-dilating cervix", (whatever that then meant), packed my bags and came straight home for ante-natal registration at the Jericho Nursing Home, Ibadan where the incredible Nigerian Midwives of "Exodus Egyptian" réputation and skills, overruled their Obstetricians and Gynecologists, to safely deliver our first born son – in whose home I am now sheltered in California.
Looking at the blackout images of soldiers in military fatigues firing bullets screeching across the Lekki Toll Gate and blood-soaked Nigerian flags hoisted by gallant youths arising to "Nigeria's Call" by speaking out against Police brutality, illegality and outright criminality, singing the National Anthem, "Arise, O Compatriots", God confronted me directly with the question as to whether I could have been comfortably and safely sheltered from the ravaging COVID-19 global pandemic if the SARS bullets had cut him down in the prime of youth at Babcock University, or during one of his few trips to Nigeria with his family thereafter? Would I even have been promoted into the privileged class of "Grandpas", if he was already beaten, broken and buried by disillusioned and frustrated agents of the State reacting against executive corruption, injustice, poor pay and lack of accountability in political leadership?
While I cannot pretend to know the full dynamics of the difficulties with which the administration is grappling, but as a citizen who is not totally ignorant of executive responsibility and accountability best practices in governance in the world, the following questions beg for a public immediate response:
Why did we as a nation and government need to wait for the people to pour out on the streets before mustering the willpower to do what needed to have been done eons ago, and fulfill the electoral promises made to convince the electorate to evict the previous occupants from Aso Rock?
Who was so tone-deaf and insensitive during an anti-Police brutality protest to pour fuel into the fire by deploying soldiers in combat fatigue and giving order for soldiers to shoot peacefully protesting citizens at the Lekki Toll Gate, while hoodlums and looters were having a field day burning down the economic engine room of Lagos: Oba's Palace, TVC studios, etc?
What stops the President and Commander-in-Chief of the Armed Forces of the Federal Republic of Nigeria from declaring a State of Emergency in Lagos and Abuja and those epicenters of the protest in order to protect lives and critical public and private infrastructure, rather than violently stopping citizens from exercising their constitutionally guaranteed fundamental human rights?
How on earth, does the president ever hope to be able to justify the sacred trust reposed in him anew, in the midst of a global pandemic and economic meltdown, such as to restore the confidence of the citizens in a government that finds it impossible to successfully fight and eliminate Boko Haram, the murderous herdsmen vociferously spreading mayhem and insecurity across the nation, and yet cannot resist the deployment of the same brutal force to decimate her own people? Forty-Eight hours after the Lekki Toll Gate massacre, the President was silent. Was he consulting with the clueless Service Chiefs? And what did he say when he eventually addressed the nation? Mr. President sir, the country need to see you, hear you and feel your touch more in the midst of a gargantuan crisis such as we confront currently in the country.
Henceforth, we will no longer be silent, and we can no longer be silenced. For even the blood of those who are martyred for the course of Justice will cry out from the ground that drank in their life flow, and the destiny of those who are guilty by complicity, duplicity or hypocrisy will be settled here by those or whom they owe their mandate, and in eternity by the Judge of all the Earth.