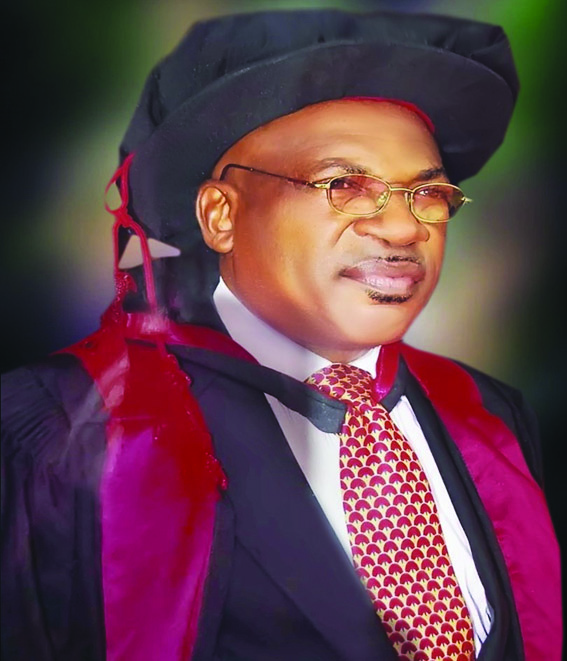 Forster Ezenwelu
Professor Anthony Ikemefuna Ugochukwu was the first child of Mrs. Evelyn Ugochukwu and late Rufus Onwuekwe Ugochukwu (RO) and was born on the 2nd of October 1951 at Mrs. Esmai Maternity Home in Nsukka when the father was posted as a nurse to Nsukka from Iyi-Enu Hospital. He grew up in Iyi-Enu Hospital Ogidi, Anambra State, where his father worked for over forty years.
Education
Anthony commenced his primary education at Central School, Nkpor in Idemili Local Government Area of Anambra State, which was the closest school to the family residence in Iyi-Enu Hospital. After completing standard 5 in 1964, he gained admission into the prestigious Dennis Memorial Grammar School (DMGS), Onitsha. This was a rare feat in those days when admission to top Secondary schools was very competitive and many students would end up in less prestigious schools after years of frustration.
He entered DMGS in 1964 and was progressing well but his education was interrupted by the Nigerian Civil War from 1967- 1970. He eventually finished his secondary education in December 1970 with Division One in the West Africa Examination Council (WAEC) examination.
In 1971, he gained admission into University of Nigeria, Nsukka to study Medicine. He graduated and obtained Bachelor of Medicine, Bachelor of Surgery (MBBS) in June 1977 in flying colours with Distinction in some medical subjects.
Upon graduation, he did his medical internship at the University of Nigeria Teaching Hospital UNTH), Enugu from 1977 to 1978 before proceeding to Kwara State for the one-year National Youth Service Corps (NYSC).
His father, being in the medical profession, knew the importance of Postgraduate training and specialization, decided to sponsor him for further studies in this regard and so in February 1981, Ikemefuna proceeded to United Kingdom for Post-graduate training in Surgery under the prompting of Doyen of Medicine, Late Professor Gilbert Onuaguluchi (former Vice Chancellor of University of Jos). In the United Kingdom, he attended the renowned Royal College of Surgeons in England. He also worked in various top-grade Teaching Hospitals in United Kingdom, like Hallamshire Hospital (University of Sheffield Teaching Hospital), Leeds General Infirmary (Leeds University Teaching Hospital) and Manchester Royal Infirmy and Hope Hospital (both of University of Manchester Teaching Hospital).
He passed the prestigious Fellow of Royal College of Surgeons examination in October 1983, a feat he achieved in just after three years. He became a Specialist (Consultant) Surgeon, the first Achi British trained Surgeon and the third in the roll of British trained Specialist Doctors in various fields from Achi, behind Late Professor Gilbert Onuaguluchi and Late Dr. Bertram Igbogbahaka. Professionally he would go on to bag additional certifications and fellowships including Fellow of the West African College of surgeons (FWACS) and Fellow of the International College of Surgeons (FICS) amongst others.
Working Life
Anthony returned to Nigeria in 1984 and started work at Iyi-Enu Hospital, Ogidi, where his father had worked as a Chief Nursing Superintendent. Within five years, he rose to become the Medical Superintendent (Director) of Iyi-Enu Hospital. During the years, he exhibited his dexterity in surgical skills to the admiration of other Doctors, Nurses and Patients. It is on record that many of the doctors who trained under him are now Consultant Surgeons working in various hospitals in Nigeria and abroad.
In 1989, he founded the famous Good Hope Specialist Hospital Onitsha with his younger brother, Dr Kingsley Ugochukwu and became the Chief Medical Director. During the period of running the hospital, he was frequently consulted by doctors in other hospitals to assist in carrying out complicated surgical procedures.
However, owing to his zeal for academics, in 1999 he moved over to Enugu State University of Science and Technology (ESUT) College of Medicine where he lectured in the department of Anatomy. He was appointed the first Dean of Faculty of Medicine in the year 2000, a position he held until 2006. He was also a Chief Consultant Surgeon to ESUT Teaching Hospital. In 2012, he was promoted to the rank of Professor of Surgery in recognition of over fifty scholarly publications in the field of Surgery in numerous local and international journals, as well as his contributions to Surgery in Nigeria. By this elevation, Professor Anthony Ikemefuna Ugochukwu became the first Professor of Surgery from Achi and indeed Oji River Local Government.
In 2015, he was appointed the Provost of ESUT College of Medicine Professor Anthony Ugochukwu was known to be very humane but striving always for excellence. In his position as the Provost, he repositioned the ESUT College of Medicine to what it is today. The medical school under his stewardship became highly regarded and is now the pride of Enugu State.
On the 25th of September 2019 Professor Anthony Ugochukwu was appointed the Commissioner for Health, Enugu State by the Executive Governor of Enugu State, Rt. Hon. Ifeanyichukwu Ugwuanyi. His appointment as a Commissioner was purely on merit and was received with joy by Oji River people, who were excited at quality representation in Enugu State Executive Council. Unfortunately, ill health and eventually, death did not give him the opportunity to carry out his careful thought out plans for a turnaround in the services of the Enugu State healthcare system.
Awards
Prof Ugochukwu received many awards for his academic excellence, dedication to duty and services to humanity, among which are:
Award of Honour & Recognition by Association of Resident Doctors (ARD) for sagacious, kindhearted and indelible imprint on the sand of ESUT College of Medicine, Merit Award of Proficiency by Enugu State University Medical Students Association for Leadership Prowess and Selfless Services to the ESUT College of Medicine
Community Services
Prof mentored numerous students and doctors on their way to achieving their dreams. He was also a community leader and was involved in various developmental efforts in Achi and Oji River. A deeply religious man, he chaired the Building Committee of St. Bartholomew Anglican Church Isikwe Achi from inception till dedication by His Grace, Rt. Rev. Dr. Amos Madu, the 1st Archbishop of Enugu Province and Bishop of Oji-River Diocese (Anglican Communion). The church building is a double Cathedral in the bush, while our people call the edifice "jee letta". He was also the chairman of the committee that organized the 2019 Oji-River Diocesan Synod that was described as the best Synod in the history of Oji-River.
Marriage
Professor Anthony Ugochukwu got married to his first wife, Mrs Evangeline Olunwa Ugochukwu (nee Andy) in 1982 and the couple was blessed with a daughter. However, the cold hands of death snatched her away in 2001 after protracted illness. In 2009, he got married to Mrs Udoka Ugochukwu (nee Ude) and they were blessed with three children.
Illness and Death
In 2013, Prof was diagnosed with chronic kidney disease. The illness took him to many hospitals in Nigeria and subsequently to United State of America and India. His ill health was a great shock to many who depended on him for medical and social support. A woman once lamented loudly that it would have been better for death to take her life rather than that of Professor Ugochukwu as the Professor's death would have the dire consequences of exposing the lives of many others that depended on him for their physical wellbeing. He battled the illness valiantly while quietly going about his duties in defiance so much so that many thought he had completely recovered from the illness. However, to the shock of many, on the 3rd April 2020, it was all over for Professor Anthony Ikemefuna Ugochukwu. His death is a colossal loss for the people of Achi, Oji-river and Enugu state in general. He will be sorely missed but his legacies remain for all to see.
He was survived by his widow Mrs. Udoka Ugochukwu, Mother Mrs. Evelyn Ugochukwu, four children, many brothers and sisters and other relations.
Funeral Programme released by his family indicates that there will be service of songs in his honour at the Cathedral of Good Shepherd Enugu at 5pm on Monday 26th of October, 2020 and Commendation Service in the same church on Wednesday 28th October, 2020 at 10am. His remains will be laid to rest in his residence at Isikwe Achi, Oji River Local Government Area, Enugu State on Friday 30th October, 2020 after funeral service at St. Bartholomew's Anglican Church, Isikwe Achi at 10am.
May his great soul rest in peace Amen.
Tribute by Engr. Forster Ezenwelu