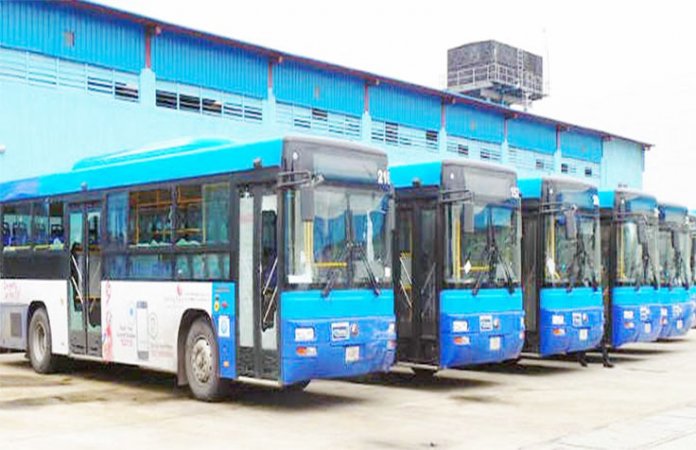 The Bus Rapid Transit has brought a fresh air to intra-state movement in Lagos, writes Kayode Abiodun
Since Lagos became a mecca for Nigerians and foreigners, it has always grappled with the challenge of public transportation. With traffic snarls, dilapidated vehicles, impatient drivers, moving around in Lagos was a nightmare. In the past, the yellow and black striped buses – molues and danfos – were a menace. Often, the molues, usually transformed Bedford or Mercedes Benz 911 trucks and danfos – Volkswagen minibuses – were poorly maintained, dirty, crowded and uncomfortable. They were also mostly uncouth drivers and conductors, serving as markets for all sorts of merchandise, both good and bad, and generally represented chaos. For many Lagosians, it was an unpleasant experience riding on public buses.
But thanks to Lagos State government, that is changing and gradually becoming a thing of the past as the launch of Bus Rapid Transit in Lagos has brought a fresh air to intra-state movement. Initiated by the administration led by Bola Tinubu, the BRT started operations in 2008 with buses running from Mile 12 to CMS. And steadily through the subsequent administrations, it has increased its routes to other parts of the state. But as I lived in Abule Egba, a part of Lagos where the BRT buses didn't get to, I endured the danfo buses, at least to get out of my neck of the woods.
However, with the recent commissioning of the 13.68km Oshodi – Abule Egba BRT corridor by Governor Babajide Sanwo-Olu in August, my transportation needs have been drastically eased. Clean, spacious, air-conditioned, the BRT buses are a delight to ride on. I can say that I have become a proud patron. In fact, I find commuting so enjoyable now that I often do some work on my laptop or just surf the internet and listen to music while aboard. It helps that there are even spaces to charge mobile phones.
While inaugurating the BRT corridor, the governor announced the deployment of 550 additional mass transit buses as well as the launch of an e-ticketing system.
"We are unveiling 550 high and medium capacity buses, which will be immediately deployed for public use," Sanwo-Olu said, describing the event as a milestone. "This event also formally inaugurates our upgraded e-ticketing system in fulfilment of our pledge."
Upon inauguration, about 100, 000 free Lagos State Travel Cards were distributed to Lagosians. However, those who missed that freebie can purchase the card for a sum of N400. I think it's a small cost for the benefit therein. I also think the e-ticketing system is good for reasons of auditing, extracting transportation data of residents for better planning as well as for commuters to pre-load their cards with fares. "This project is very significant because of its immense benefits to Lagosians in the different communities it straddles and to visitors to our state," the governor added.
Indeed it is. For about two years, I have been waiting for when I would be able to board the bus from my area. Now, early in the mornings, BRT buses are stationed at Katangua Bus Stop, Abule Egba and along the major bus stops such as Ile Epo and Iyana Ipaja. And with a N300 fare for the Abule Egba to Oshodi journey, I must say it is affordable. Aside from the affordable fare, the commute time on that route has been drastically shortened. Before, during peak periods, I usually planned a minimum of one hour in the bus but my commute time on the BRT buses have been reduced to about 15 minutes. This is exactly what the Lagos State government promised. Sitting on the bus, I see other commuters trapped in traffic snarls popularly called 'go-slow' and I'm thankful to Sanwo-Olu and the Lagos State government for ensuring the buses are on this route. As I enjoy the comfy space and cool air-conditioned air in the bus, I can't help but reflect on the difference, compared to the usually tight, dirty, humid situation in the yellow buses. Well, I imagine that it is only a matter of time before those passengers discover what they are missing by not patronising the BRT buses.
While we saw that the Covid-19 limit the way we moved during lockdowns, there would always be a need for man to move. And the BRT buses are redefining the way the masses move in Lagos.
Supervised by the Lagos Metropolitan Area Transport Authority (LAMATA), the BRT scheme has steadily gained acceptance from the residents of the state. The arterial bus stations at CMS, Obalende, Ikeja and Oshodi have connected the buses to different parts of Lagos. It is great that not only the central parts of Lagos are covered by this initiative. Even distant routes like Ikorodu and Ajah also have BRT buses plying them. I believe once the Badagry roads are repaired, the BRT buses would also start plying that route. It is also critical to note that LAMATA has planned the bus routes in a way to integrate other transport modes of rail and ferry to connect them with each other. What this means is that, for example, someone going to Apapa from Oshodi can board a BRT bus going to CMS and cross over to take a ferry to Apapa. Splendid.
Lagos is not perfect but it strives to be on top of its game. As the state with the highest population and smallest land mass in the country, it needed a dynamic solution to meet its transportation needs. And the BRT solution which is being improved upon by the Sanwo-Olu administration is a tested solution in other cosmopolitan cities like Jakarta, Mexico City, Ottawa, Johannesburg, New York, Istanbul and Guangzhou.
But LAMATA still needs to continually seek feedback from its customers and improve on its services. For one, I think their drivers must be constantly trained to reflect quality. I recall one instance I was in the bus and I pressed the 'stop request' button but the driver sped off at the designated stop and it was until I resorted to shouting 'owa' in the way it's done in the danfo and Molue buses that he stopped. According to him, I didn't stand up. I was perplexed. Should I have stood up when a 'stop request' sign clearly showed in the electronic display in front of him? And I hope LAMATA is utilising technology to aid it in providing more efficient service delivery.