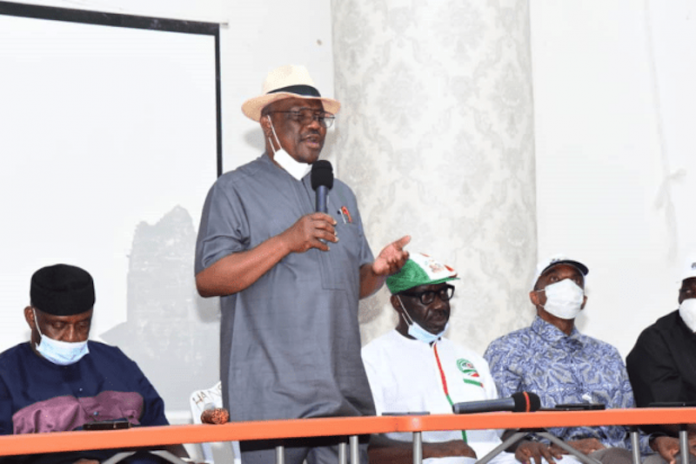 Nseobong Okon-Ekong writes that the recently concluded governorship election in Edo State may challenge certain long held assumptions by politicians
Governor Nyesom Wike of Rivers State arrived Port Harcourt the state capital yesterday from Benin City in Edo State, where he had just delivered on his assignment as head of the Peoples Democratic Party (PDP) National Campaign Council for the 2020 Edo State governorship election.
The PDP candidate and incumbent Governor of Edo State, Godwin Obaseki defeated his closest rival, Pastor Osagie Ize-Iyamu of the All Progressives Congress (APC) by over 84000 votes. That is by far more than the about 20000 votes that differentiated thesame two personalities when they were locked in a similar contest in 2016. At that time, in a curious reversal of political platforms, Ize-Iyamu represented the PDP, while Obaseki was the APC candidate.
Oshiomhole as Liability to Ize-Iyamu
Strangely enough much of the ammunition that fed the propaganda machines of the PDP against the APC candidate were provided by the former National Chairman of the APC and immediate past Governor of the state, Comrade Adams Oshiomhole.
As the campaigns for the 2020 Edo State governorship election started and Oshiomhole realised, albeit with nail biting regrets that hurtful and malicious words he had spoken against Ize-Iyamu in the run 2016 governorship campaign were exhumed and being splashed everywhere to counter his newfound love for the APC, flagbearer, he tried desperately, even seeking legal action to stop the audiovisual messages from circulation, but he was denied. With his back against the wall, Oshiomhole found himself in an awkward situation where he had to deny obvious statements credited to him.
Was Oshiomhole telling lies against Ize-Iyamu in 2016 just to discredit him for political advantage? Though he knelt down before Edo elders and publicly admitted that he sold them a wrong candidate in the person of Obaseki in 2016, the damage against Ize-Iyamu was too irreparable. Many of the eminent persons that he ran to including the revered Benin Monarch, Oba Ewuare II found his new disposition funny and incomprehensible. This was the same man Oshiomhole had told the public, four years ago, could not be trusted for manifold character flaws, reversing those statements without concrete or fundamental reasons presented Oshiomhole himself as one who is shifty.
It could be said of Oshiomhole that he provided the rope with which Ize-Iyamu's 2020 political adventure was condemned to a tragic failure. In 2016, the perception of the people was that the governorship contest was between Oshiomhole and Ize-Iyamu. And the voted against Ize-Iyamu in preference for Oshiomhole's candidate, Obaseki. This time, they voted Obaseki against Oshiomhole's candidate, Ize-Iyamu, partly because Oshiomhole had previously damaged Ize-Iyamu's character through unguarded malicious statements that haunted him, but moreso because Obaseki was now campaigning on the basis of the achievements of his administration, which the larger populace adjudged above average.
One of the likely outcomes of the 2020 Edo governorship election which will have profound implications for the rest of the country is that politicians will begin to bridle their tongue. Going forward, politicians know now that many a truth are said in jest. As Oshiomhole has found out, the power of life and death are in the tongue as the Bible says. With his tongue he did incalculable damage to Ize-Iyamu and though he later sought to correct it, it was too. The false impression he sold to people had taken root.
The tragedy of the Oshiomhole-Ize-Iyamu episode should inspire a season of profound political campaigns when political party manifestos are canvassed vigorously by candidates and the public allowed to interrogate the method for their execution. As long as comic characters like Senator Dino Melaye continue to make a mockery of the serious business of governance by publishing ridiculous videos and all that Oshiomhole can do at political campaigns is to bounce up and down the stage like a rubber ball, the people who enjoy these comic relief are being shortchanged. And the country will continue to suffer developmental setbacks.
When the euphoria of the election is over, a round of soul searching by Ize-Iyamu should cause him to attack Oshiomhole, perhaps not in the malicious manner with which the latter slandered him, but it would not be out of place for Ize-Iyamu to call Oshiomhole out on the issue of serious damage to his reputation. Perhaps, Ize-Iyamu could have done by far better or even upstaged Governor Obaseki if Oshiomhole had not made a mess of him. In the final analysis, Ize-Iyamu's association with Oshiomhole in the just concluded Edo governorship election was a colossal liability that he will regret for a long time. It may be too early to predict if Ize-Iyamu will give the governorship contest another attempt in 2024, but the clear message is that he may be forgiven if Oshiomhole is not even remotely linked to the effort.
However, the odds for the next Governor of Edo State favour a candidate from Edo Central Senatorial district, which is one of the reasons, voters from that axis voted massively for the PDP, knowing that with a PDP win, they only have four years to wait, whereas if Ize-Iyamu had won, they probably would wait another eight years.
That is supposing that the Deputy Governor, Hon. Phillip Shaibu will not ask for his own pound of flesh having rejected all entreaties from his kinsman, Oshiomhole to do Governor Obaseki in. One thing is sure, however, the Binis may back Shaibu when the time is right for him to make a bid to rule the state. They may want to pay him a good turn for not backstabbing their son,Obaseki. For one thing, Shaibu is a courageous and reliable ally and he has demonstrated it.
Obaseki as Poster Boy of Resistance
For Obaseki, there may be an attraction to become arrogant, now that he has won. It is still early days to suggest his future interest in politics. Will he run for the Senate? No one knows. What is clear is that Obaseki's hand has become strengthened. He has become the Poster Boy of resistance against influence of money bags and traditional wielders of power. He dared to defy and look them in the face; eyeball-to-eyeball. If he embraces the wisdom of not trying to choose his successor when the time comes, he may be allowed an unfettered reign in his hard won second tenure.
As things stand today, Obaseki is likely to be faced with the possibility of the same challenges that forced his exit from the APC. He will be confronted with thesame problems which he had in the APC and that is considering political patronage. This has become a reality of our political culture as a nation. Governor Obaseki will have to find a way to confront and learn how to walk the tight rope, striking a winning balance between his obligations to the people, fulfilment of his campaign promises and meeting the expectations of the powers that be in the PDP. After all is said, Obaseki was an APC man forced into the PDP owing to the exigencies of the times. How will he accommodate those who held the PDP structure intact for him to takeover? He needs to demonstrate astuteness in welding together all the manifest interests in the PDP and marry them seamlessly with those who have travelled with him from the APC.
In the typical Nigerian fashion of the winner having many relatives, while the loser is an orphan, many will desert the APC. Will Obaseki realise that he can't do it all? Will he be able to say, 'no' to unnecessary requests and concentrate on the important tasks of leaving a legacy?
This is where statesmanship is required. Obaseki entered a long drawn and unnecessary tussle for power which is now over, with him as the victor. In the interest of Edo State, he should reach out and extend a hand of fellowship to his compatriots. The truth is that this was a family feud that was mismanaged by all sides. It was a disagreement within the family that was blown out of proportion.
Though the recent Edo governorship contest has partly revealed that the platform on which a candidate runs does not matter. Voters have shown a propensity to consider the character and track record of individual candidates. This assertion was made by Chief John Odigie-Oyegun, a past National Chairman of the APC and former Governor of Edo State who said though he is a member of the APC, but commended Obaseki for his positive vices and visible achievements. He could not understand why the APC would not support him "for some very funny reasons."
QUOTE 1
Was Oshiomhole telling lies against Ize-Iyamu in 2016 just to discredit him for political advantage? Though he knelt down before Edo elders and publicly admitted that he sold them a wrong candidate in the person of Obaseki in 2016, the damage against Ize-Iyamu was too irreparable. Many of the eminent persons that he ran to including the revered Benin Monarch, Oba Ewuare II found his new disposition funny and incomprehensible. This was the same man Oshiomhole had told the public, four years ago, could not be trusted for manifold character flaws, reversing those statements without concrete or fundamental reasons presented Oshiomhole himself as one who is shifty
QUOTE 2
Obaseki is likely to be faced with the possibility of the same challenges that forced his exit from the APC. He will be confronted with thesame problems which he had in the APC and that is considering political patronage. This has become a reality of our political culture as a nation. Governor Obaseki will have to find a way to confront and learn how to walk the tight rope, striking a winning balance between his obligations to the people, fulfilment of his campaign promises and meeting the expectations of the powers that be in the PDP. After all is said, Obaseki was an APC man forced into the PDP owing to the exigencies of the times. How will he accommodate those who held the PDP structure intact for him to takeover? He needs to demonstrate astuteness in welding together all the manifest interests in the PDP and marry them seamlessly with those who have travelled with him from the APC