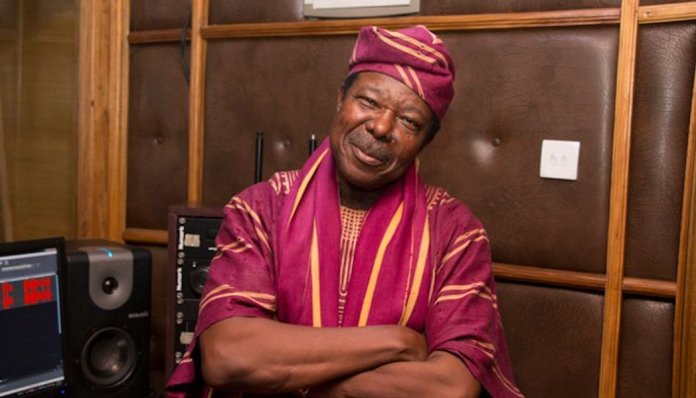 By Akintunde-Johnson
In some days, he will be 74 years old; and he is likely to be up and about the same joyous task of entertaining his society as he has done conscientiously for close to 60 years! Yes, Sunday Adeniyi Adegeye, whom we have been calling KSA or King Sunny Ade for a number of decades, adds a year on September 22, 2020. And we have chosen to spend some time deconstructing the sinews of his greatness, looking for condiments that may be transported into generations after him who dream to tow the gold-speckled footsteps of one of Nigeria's greatest show-stoppers, and incomparable composers of delicious evergreens.
The route taken, in this self-appointed celebratory excursion, drags along a younger and loud representation of the next generation who is, perhaps, best positioned to ascend the lofty pedestal still being adorned by the "King of World Beats". TuFace (Innocent Ujah Idibia) has over the years shown the most durable creative and compositional stamina; which suggests the young man may have been entrusted by the gods of the Muse to be the next heart-charmer of Nigerian lovers of rollicking music, irrespective of genre, tongue or rhythm. Join me…to recapture the essence of my "experimentation".
Fact 1: Mr. Sunday Adeniyi Adegeye (aka King Sunny Ade) – around my adolescent corridor – was the Lord of the Jungle… the centre point of my entertainment romance.
Fact 2: Like him or not, Mr. Innocent Idibia, Tuface/2face/2Baba, etc., has been, arguably, the most dominant minstrel of the past decade and more, from Year 2000. As far as my children are concerned, no artiste has more razzle-dazzle than the slender one from the lulling hills of Benue.
It is quite difficult to argue with them. However, one has seen more stars – more 'eras' and more deflowering of great artistic promise and paradise.
We have been a witness to the great iconoclastic mesmerism of Fela's music and mantra… One had been a 'sighter' of the short flight and explosive entree of Kris Okotie into our musical firmament. We were there when a Jide Obi, Felix Liberty, Nico Mbarga, Shina Peters, Mike Okri, Majek Fashek, The Mandators, Ras Kimono, Onyeka Onwenu… stunned the senses with panache and unbridled talent. These names are not footnote in the history of Nigerian musical talent-spread; they are the august members of an illustrious shortlist of artistes who bewitched us with great debuts and/or sophomores. Men and women who today may be distant and gyrating below your radar – but believe me when I say they pack a giant punch in the annals of Nigerian true musical talents… Fortunately, a few of them are still around at the very top of the mountain, pulling strings that reveal their illustrious antecedents… that is, referring to Lagbaja, Femi Kuti – and who else but the effervescent, swashbuckling don of the musical dynasty – King Sunny Ade, KSA.
For diverse factors, (which is not the focus of this write-up) KSA has remained a blinding lodestar – a continual embarrassment of prodigious talents expressed in seemingly endless dimensions and dynamics. The (74) year-old man with half a century (plus a decade) romance with music simply will not be blown away.
It will seem unfair if it appears we are comparing KSA to Tuface – far be it from me. Not only will it be unfair, it will also be disrespectful and utterly unreasonable. The attention of this article is focused on situating the closest next generation artiste that is best positioned to subsequently command the artistic excellence; stage imagery and fluorescent charisma of KSA, and therefore attain the elder's quality longevity (and true legendary status).
As many times as I went round the subject with my searchlight, the orb of scrutiny always fell on the gangling man with the innocent face. Using certain criteria, the results show beguiling similarities – even in less flattering scenarios and discriminating circumstances.
We will 'attack' these elements (positive or negative) with such 'conditionalities' like:
'Vocalization' (vocal ability); Stagecraft (or the 'wow'ability); Innovation (or turn-around-ability); Compositional Skills (Oh! Thou sweet music) and of course, Lifestyle.
Vocalisation:
KSA: The King of World Beats is gifted with caressing yet masculine vocal chords that have continued to whet the appetite of lovers of Juju music. His range, flexibility, tonal richness and his especial talent of wrapping traditional lores in contemporary gong-ho style evokes a disarming charm that leaves his fans panting for more.
More than four decades down the long and harsh road of stardom, KSA has maintained the amazing trick of sounding same, yet feeling different – the litmus test of great vocalists. Listen to KSA's epic lyrics up to the 80's: 'Ally Mekudi' (1968), Mo Gbin La Mi Soko (1970), Afai Ba Won Ja (70's), Ogidan Ko Ni Se Barber (70's), Kile Ni Ase (1975), Juju Music (1982), Sweet Banana (1986) and Let Them Say – ft Onyeka Onwenu (1986).
TUFACE: Beyond the pretty face, Tuface's greatest asset is the power within his voice. The boy can sing! Used to getting free records, tapes and then CD's from promotion-seeking record companies, agents and artistes, I have for all of my professional life had easy access to Nigerian music pieces. But I have had to go buy a copy of Tuface's music off the shelves twice. Truly exceptional and confidently deliberate in the delivery of songs that stretch out to your souls… like over-idolized 'African Queen' in his 2004 debut (Face 2 Face) and Ifana Ibaga; the sophomore (Grass 2 Grace) yielded 'As You See Me So', True Love, 4 Instance, If Love Is A Crime….
There are tweaks of fancy which betray his tendency to 'over-teach', or 'play to gallery'; or 'join the Joneses' and hop with the hippies… in songs like 'Implication', U No Holy Pass, Enter The Place (ft Sound Sultan)… which do no credit to his vocal prowess and versatility.
Of course, we cannot stop restating that we are dealing with a music great, in KSA, with works stretching over 120 recorded pieces (i.e. in excess of 1,200 songs) spanning a journey [well over] 50 years. And a young man whose body of solo works is still under a decade – and mere four albums (as at 2014). So, focus on the interesting similarities – not comparisons, please.
In due time, we shall glide over other elements in the deconstruction exercise of the King and his rambunctious little Prince – such elements like Stagecraft, Innovation, Compositional Skills and Lifestyle. Keep a date…in honour of the global king of Nigeria's longest-surviving indigenous melodic export, Juju music.