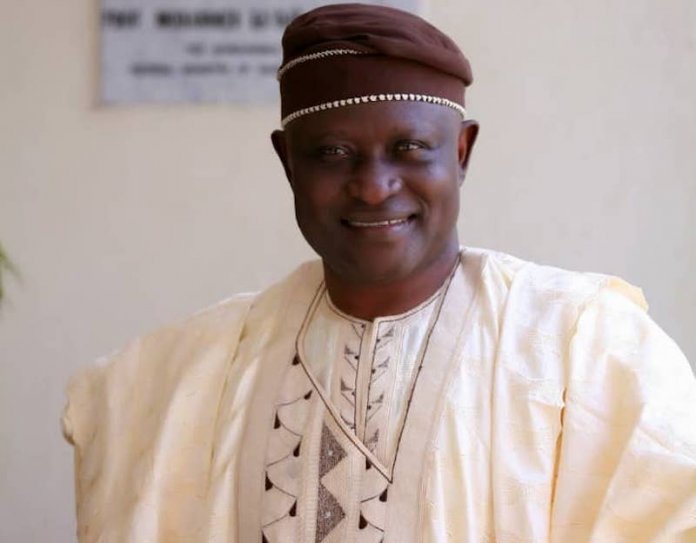 *A man for all season
By Isaac Oluyi
In my over four decades on planet earth, I have had the fortune of being taught by three different teachers – the poor, the rich and the superrich teachers. Each of the three categories has left me with one lesson or the other. While the stories of my poor and rich teachers will be told sometime later, I will be sharing the story of my superrich teacher with you in this write-up. My superrich teacher clocks 60 today 08/08/2020. In this piece, I will take you through the humble beginning of my super rich teacher to show to you that location is not limitation and your background is inconsequential in the race of life as much as you are backed by God.
This will be followed by how he managed to weather the storms of life through his latent talent (which God has given everyone in abundance, but only few people deploy). His exceptional entrepreneurial leadership skills will then be depicted with amazing results. In between, I will attempt to draw out lessons from the story behind the glory I am celebrating.
Willie Owolabi Siyanbola(WOS) was born on the 8th August, 1960 in Oyo, Oyo state. Although Oyo has a very rich tradition in the history of Yoruba race, it is not in the class of cities such as Lagos in terms of modern development. It has higher institutions and so many other 21st Century indices of development, not at the level of Lagos. So for such a town to have produced a genius like WOS, then no place must be written off, no matter how rustic it may be. After all, Jesus Christ came from Nazareth! Typical of people born and bred in the village, he was made to work on the farm, a chore he has told me several times he detested so much then! But did he have any choice? No! His lowly background could not afford to do without subsistence farming to support the home. He also sold bread and akara (bean cake) by the roadside, running after moving vehicles.
Oftentimes, he will jokingly say that the flatness of the middle of his head was as a result of the hot akara he used it to carry way back. With the work on the farm and the assistance of his mother to sell bread and akara, one would have expected him to be living a life of luxury. No, it was never the case! He lived a life of struggles. In school, his uniform, especially the shorts, was different from others both in colour and size.
It was his sister's underwear knicker, (what our barely literate progenitors would call 'dross') he was wearing! No one could mistake him for any other person amidst crowd. The colour of the knicker was red.
(With the knowledge of hindsight, it could have been a signal for his future outstanding trait!) Such was the level of the penury this man of international repute came out from! How did he overcome this daunting beginning? Why has he not been limited by his humble beginning? What magic did he use to weather the storm?
WOS was not deterred in his pursuit of happiness in life despite the shortcoming. While others made his strange school knicker their focus, his gaze centred on his vision in life. He saw the fuss about the shorts as a mere distraction. He looked inwards to discover part of his essence in life. He discovered he was very gifted in the round leather game. With this discovery, the seemingly rejected stone because of his funny appearance became the chief cornerstone of the house. He became the cynosure of all eyes with his mesmerizing football skills in the field of play. He shone like a million star. His fame went beyond Oyo, as he also dominated Ibadan, a bigger city than his home town. Can anyone cover the glory of the star? He became a cult-hero of some sorts! At Olivet Baptist High School, Oyo, Siyanbola's name became synonymous with excellence both on and off the field of play. What he lacked initially in terms of materials started trickling in from his admirers who would do anything to be his friend! Indeed, the gift of a man makes way for him!
While he was a shining example in the game of football, he did not allow his academics to take a back seat. He was equally exceptional in his academics. After his A Levels, he gained admission into thenUniversity of Ife (now Obafemi Awolowo University) to study Engineering Physics.
He considered his offer of the course as a setback in his pursuit of happiness. He wanted Mathematics, not Engineering Physics! So, he became crestfallen. Dejected, depressed and disillusioned, the future to him looked bleak. He had pictured himself as a Mathematician. Before his very eyes, he appeared to be losing his dream. He burst into tears.
While in this state, God sent him an angel in human form. He was sighted by Professor Dibu Ojerinde, the former Registrar of the Joint Admissions Matriculation Board (JAMB). He offered him shoulders to cry on. He listened to him intently to know why a young man who just entered a prestigious institution like University of Ife would be so disconsolate. On learning of why he was downcast, he offered him a piece of advice that would forever change the course of his life! The Professor said ' Young man, it is better to be a big fish in a small pond.
If you can strive to be the best in Engineering Physics, you will rub shoulders with the best, not only in Mathematics but in other departments.. No course is inferior to the other; it depends on what you make of it'. With this advice, Siyanbola's confidence to face the future was bolstered. He went ahead to become the best graduating student in Engineering Physics and thus became a big fish in a small pond!
A golden fish has no hiding place. This big fish in a small pond attracted the same recognition like other big fishes in big ponds. After all, a big fish is a big fish irrespective of the size of the pond it lives in! He was given scholarship to study abroad. He left the shore of Nigeria for the United Kingdom to further his studies at the University of Sussex, Brighton. University of Sussex threw up a new challenge for young WOS.
Although a big fish way back home, he became a fingerling in the eyes of his mates in the UK, as he could not use the computer. But a lion in Nigeria will always be a lion anywhere. He did not allow the perception of his mates to kill the giant in him. He needed to do something fast about this challenge if he must prove that he was indeed a big fish. He resorted to self-development. He would work late at night on computer while his mates were asleep. He knew he must sacrifice the comfort of his bed if he must be comfortable with his studies. It became a case of no pain, no gain. Before long, he mastered it. He scaled the hurdle. Those who had initially made jest of a young Blackman from Nigeria that could not use the computer marveled at his eventual dexterity on the system. A champion was again born in faraway Brighton, UK. He did so well in the land that he did not stop at Master's level, but went on to bag his Doctor of Philosophy in Solid State Physics in 1991 at the age of 31 despite the penurious beginning!
While in the United Kingdom as a student he went for trials at Liverpool Football Club, England. He was so impressive at the trials that he almost played for the club. But for his academics, he could have given in. What a multidimensional individual! In spite of the demanding nature of his academic work, he still had time for football. No doubt, if he had given football a chance in his pursuit of happiness, he would have given the likes of Messi and Ronaldo a good run for their money. An intelligent footballer with mesmerizing skills!
With a PhD in his kitty, he waited behind a bit to have work experience in the UK. He had hoped to land a well-paying job. He combed everywhere, but there was no job. He eventually settled for a security job! A PhD holder working as a security man? Yes, a security man! He did not despise the job. He did the job so excellently well that he was recognised. Talk of a man with the Midas touch! Whatever he touches turns to gold! What made him stand out was his ability to simplify what seems complicated to others. He is always creating simple solutions to complex problems. An incident had occurred in one of the schools housed by the complex where he was a security man. Some students had a knotty calculation to solve in Physics.
They were dejected while going home. WOS had tried to exchange pleasantries and shared banters with them as usual. The students were in no mood for such frivolities. He asked them what the problem was. They told him and gave him a look 'now that you know what can you do?'. When he offered to help they burst into uncontrollable laughter. Rather than getting disturbed by their ignorant laughter, he went ahead to help. He solved the calculation with a dispatch! They were surprised and could not believe a common security man had just put smiles on their dejected faces!
What happened the day after was a pleasant surprise even to Siyanbola.
The students had gone to report the event of the day before to the head of their school. They told the head the security man at the gate is more intelligent than most of our teachers. The head could not believe what he was hearing. He sent for WOS and the young Siyanbola further dazed him with his knowledge of Physics. And the man moved from the gate to the classroom!
There is no place like home. WOS returned to Nigeria after spending many years in a foreign land. He came back to Obafemi Awolowo University, Ile-Ife at a time Nigeria was in a state of topsy-turvy! The freest and fairest election in the history of the country had just been annulled. The alleged winner, the late Moshood Kashimawo Olawale Abiola was seeking justice. The entire country wanted their votes to count. The world at large cried foul that an injustice of great magnitude had just been perpetrated in the most populous black nation. Things had completely fallen apart. The nation was boiling! And a cerebral scholar, WOS, found himself amidst the turmoil that had engulfed the country. He could not run back to the serenity of the United Kingdom. He stayed back to contribute his quota to the emancipation of Nigeria from the claws of the marauders in power. He became an active voice in the Academic Staff Union of Universities (ASUU). Alongside other ASUU members, he fought the boys in uniform to reclaim the mandate of the people.
In the midst of this battle, the take-home of academic staff was appalling. It could not take them to the gate of the university, let alone home. While others were lamenting without taking any definite action, WOS dug deep into himself. The entrepreneurial spirit in him came to life.
To be able to remain at your utmost best, the body and the soul must be serviced with appropriate ingredients. Instead of becoming a wailing wailer like his colleagues, he resorted to part time teaching and running of a computer business centre. From these alone, he was making double of his take-home monthly. Not satisfied with living an average life because he was aware of the fact that God wants his children to live life in abundance, he also started selling eggs! He would buy eggs from the southwest, Nigeria and took to the north to sell. He did this with a difference though. He would insure the eggs before embarking on his trip to the north to mitigate the attendant risks. What an intelligent move, you would say! With series of entrepreneurial ventures, he moved from relying on a single source of income to multiple streams of income.
It did not take long before this shining light was noticed by other brilliant senior colleagues. He was picked up to work with the special adviser to the minister of science and technology. He was an integral part of the team that worked on science and technology reforms in Nigeria. This marked the beginning of an enviable journey he had within the ministry of science and technology. Although he left the core ministry in 2001, he came back 3 years later as Director-General of one of the Agencies under the Ministry. What did he do at this Agency? How impactful was his reign? What kind of leader was he?
WOS arrived as the Director\Chief Executive of the National Centre for Technology Management (NACETEM) in 2004 with a lot of passion, drive and enthusiasm. He was a man on a mission – focused and determined to leave indelible footprints in the sand of time. To an undiscerning mind, he seemed larger than the centre. To him, he knew the centre held a lot of prospects, given the qualities of his predecessor, Professor Sanni , and the foundation he had laid. He actually remarked on assumption of duties that the 'shoe left behind by his predecessor was too big for him to step into!' What a humble remark by a man who acknowledged the enormity of the work to be done if he must make any impact.
The first challenge to be surmounted by this erudite scholar was to reposition the centre as a true research institute. The centre had done quite well in the area of capacity building. It's time to scale up and move on to other essentials of the centre's mandates. To do this successfully, the fortune of the centre in terms of personnel, overhead and capital allocations must change. What the centre was getting from government would not match his dreams for the centre. He had crafted his vision for the centre. Under his watch he wanted the centre to be an internationally recognised centre of excellence in science, technology and innovation management for sustainable development! How would he achieve this with meagre allocation of less than N300, 000 and just three academic staff? A lover of challenges, he faced the business at hand headlong. He knew there was an assignment to be done. He did not adduce any excuse.
After all, he applied for the job. He began to head-hunt for the best hands and re-trained the researchers he met on ground.
While this was going on, government also was carrying out a reform to revitalise science and technology in Nigeria. NACETEM had been penciled down for privatisation! Rather than allowing this development to distract him, Siyanbola went about his business with all seriousness. He knew when he got to the bridge he would cross it. As he was re-training his staff, he was developing himself further too. He was well aware that you cannot give what you don't have. So, if government would take him seriously while giving advice on science and technology, he must get himself acquainted with the global best practices in his field. This made him enroll at John F. Kennedy School of Government at Harvard University, United States of America. By the time he was through with the programme he went there for, the fortunes of the centre started changing. The Committee on Reforms invited him to come and defend why the centre should not be privatised. He was so impressive at the defence that instead of being privatised, the centre was upgraded to a full agency, with Regional Programme on Technology Management (REPTEM), a supposedly bigger outfit merged to it! The centre became an Agency and Siyanbola became the first Director-General\Chief Executive Officer. Talk of opportunity meeting with preparation!
Like he always says, the reward for hard work is more work. To whom much is given, much is expected. He set out to work harder. The former REPTEM merged with NACETEM became a zonal office under it. The mandates of the Agency were expanded to cover the West African sub region. An otherwise quiet centre became a beehive of activities. Everyone wanted to associate with the Agency. Who will not want to associate with excellence, anyway? Top quality members of staff were attracted from within and outside the country. Programmes that would rub off positively on the development of the nation were initiated. NACETEM became a cynosure of all eyes within the Federal Ministry of Science and Technology. Wherever you mentioned NACETEM, people became green with envy. Obafemi Awolowo University staff wanted to cross over to the Agency. It was such a glorious moment under this man who rose to the peak of his career through hard work and Spartan discipline! He achieved all he set out to accomplish for the Agency. One would have thought that after his tenure he would turn to politics like most government appointees. No! He returned to his former place of work – Centre for Energy Research Development (CERD). Such is his passion for deployment of science, technology and innovation to sustainable development! He is ageless in terms of knowledge. He is always on top of his game! He is so versatile that the younger generations find it fulfilling hobnobbing with him. He is indeed a man for all seasons, the kind scholar Nigeria needs at this time. As this erudite scholar clocks 60 today, I rejoice with him and wish him many more fruitful years of service to God and humanity.
*Oluyi Isaac Adesuyi is Head, Public Relations, National Centre for Technology Management, Obafemi Awolowo University, Ile-Ife