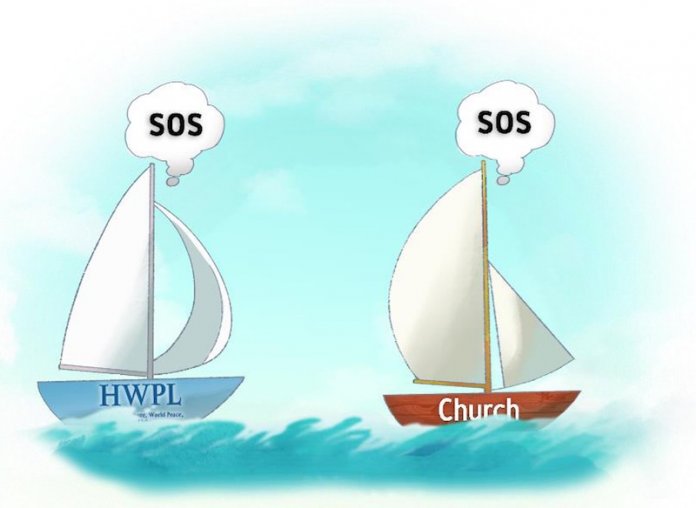 Dear messengers of peace groups and religious organizations from around the world,
We are Heavenly Culture, World Peace, Restoration of Light (HWPL) and the family of faith in Shincheonji Church of Jesus Missions. We are legally registered organizations in South Korea, sanctioned by the government. HWPL is also a registered organization of the United Nations. Our growth has been on the rise exponentially.
On the other hand, the Christian Council of Korea (the CCK, Protestants) worshiped and praised the gentile gods (of Japan) as Solomon did (1 Kgs 11). There have been about 12,000 convictions for the crimes committed by the pastors who belong to the CCK. Their deeds are harmful to the nation, society and religion. At this, we have urged them to repent and be born again.
However, they did not repent but joined hands with those with political powers including President of South Korea (along with the Mayor of Seoul, the Governor of Gyeonggi Province, and ministers, among others) and revoked our licenses to operate as a peace organization and a religious organization. All of this was done despite the fact that the Korean Constitution clearly states in Article 20 Clauses 1 and 2, "All citizens shall enjoy freedom of religion," and, "religion and state shall be separated"
Family of peace from around the world!
The peace messengers of HWPL went around the entire globe 31 times solely for the purpose of proclaiming world peace and cessation of war. What is so wrong about this? You are our witnesses. We, the peace messengers, promised before God and all people of the world to go beyond national borders, races, and religions to achieve peace and cessation of war. We promised to leave world peace as a legacy for our future generations (during the HWPL World Peace Summit in September of 2014).
Also, the messengers of HWPL visited Mindanao of the Philippines in the midst of an ongoing conflict in the region and mediated a civilian peace agreement between the two religious groups that were the cause of the conflict. It was a conflict that caused at least 120,000 causalities over 40 years, and neither the government, the military, nor the law could bring it to a complete end.
In commemoration of the peace agreement, two peace monuments were erected, and January 24th – the day the agreement was signed – was designated as HWPL Day. The people of Mindanao promised to participate in our peace work thereafter.
Why would they revoke the license of a peace organization with such achievements?
Families from around the world, the peace messengers – do you remember saying together for world peace, "We are one," in our respective places?
Please gather your strength so the Korean government will stop its oppression, arrests, and search and seizure. Aren't we the victims of COVID-19? Why are we being treated like criminals instead? (Jn 8:3-11, Mt 6:14-15). We did not create COVID-19. We did not go to China or bring COVID-19 from there to Korea. Despite this, the Korean politicians, with their biased motives, are revoking the licenses of our religious organization and peace organization, and are persecuting us to gain more votes in election seasons. They are using us, the victims of COVID-19, as their scapegoat in order to hide their own faults.
Not only that, two Shincheonji members were murdered during coercive conversion programs, one by her husband and another by the parents, with two other members murdered while being persecuted by their husbands for their faith in Shincheonji Church. In total, four of our members were killed. Persecuting peace organizations, religious organizations, and violating human rights must be stopped in Korea.
HWPL Peace Advisors, Publicity Ambassadors, International Law Peace Committee Members, Members of National Assemblies around the world, our friends who signed MOU and MOA, and the "We are one" peace messengers around the world – we need you to speak out in one voice, with all of your strength and power. Journalists in the press and global media – we need your reporting more than ever.
Please fight for justice until the truth is revealed. Your willingness to speak out for the weak and powerless will be like medicine that gives life to human rights, world peace, and our future generations. Your actions today will live on in the history of mankind. Our level of the knowledge of the Bible and our involvement with the work of peace and volunteering are the best in the world. Please do see for yourself. We believe in you. Thank you.
HWPL Peace Messengers