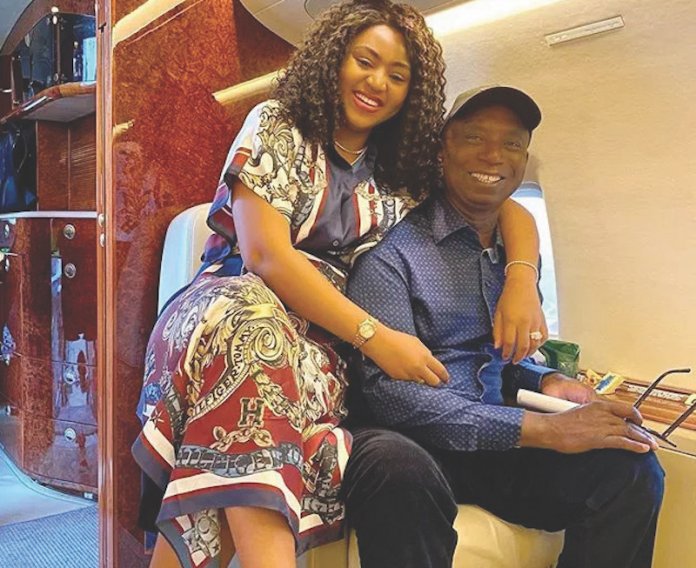 It has been celebration galore for Nollywood actress, Regina Daniels and her billionaire husband, Ned Nwoko, following the birth of their first child, and berth of their reality TV show, "Our Circle", writes Ferdinand Ekechukwu
Hours after the young actress welcomed her first child, a baby boy last Monday, Regina Daniels announced the premiere of her new life documentary. Taking to her Instagram page, the actress posted a teaser along with a brief description of her new show. Regina publicised the launch of the show on YouTube to mark the birth of her first child with the first episode which premiered on Tuesday June 30, 2020.
Recall that few weeks ago, Regina and Ned had announced that she was expecting her first child. The news of Regina's baby arrival was made public by her brother. Regina welcomed the baby boy on Monday 29th June, 2020. A photo taken on Tuesday, June 30, showed Ned's Moroccan wife, Laila Charani, visiting Regina at the hospital shortly after she gave birth. The photo captured Laila standing by Regina's bed side while the young wife threw up a peace sign. This is coming days after Ned shared another photo of his family posing in a private jet. The photo features the businessman, his Moroccan wife Laila Charani, Regina, and his young kids.
Regina, the latest celebrity mum has been a trending topic on social media for weeks leading up till now. 21 year-old Regina had teased her fans and followers with new photos of herself as she gushed about her pregnancy with the caption, "Motherhood is beautiful". Regina's maternity pictures were also posted by her happy husband on his Instagram page @princenednwoko.
Last Monday, the lawyer and politician surprised his fans and well-wishers when he uploaded on his Instagram page a picture of his young wife, Regina, lovingly cradling her baby bump. Regina first gave fans glimpse of her bump couple of weeks ago when she posted pictures of her pregnancy. She took to social media to share videos of herself, looking all glam in a black dress, in what appears behind-the-scenes shoot for "Our Circle" reality show promo.
Captioning the videos, Regina wrote, "I have never been this happy before. This feeling of becoming a mum is the most amazing journey of my life …I see myself speaking to my tummy all day, staring at the mirror and still can't believe it. This child is about to change my entire life Oh! How much I can't wait".
Congratulatory messages from her fans and colleagues have continued to pour in for the Delta State actress.
Regina's new television show tells her story as expectant mum, a young bride, a loved wife and a caring lady who has "got so much love and support from her family". Sharing a snippet, Regina wrote; "I present to you, Our Circle, a docu-reality on our family, business, my pregnancy and child birth. Episode 1 premieres tomorrow exclusively on Regina Entertainment Tv on YouTube."
The new documentary by the actress and her husband detailed how she felt after confirming that she was pregnant. The new mum said she first became aware that she might be pregnant when her husband said he could "perceive a pregnant woman". She said she was confused and that she could not explain the feeling after discovering she was carrying a baby. "The first time I found out I was pregnant, I was confused, I just couldn't explain the feeling," she revealed.
On the show, Ned said he was excited about the news of the pregnancy. Regina admitted he told her at some point that she was pregnant but she did not believe him. Ned said he told his wife that he has a sixth sense that makes him know when a woman is pregnant. Regina said she went to about four different hospitals to confirm her status and that they all came back positive.
Further in the video, Regina shared the moment she revealed the good news to her mother, Rita Daniels. Her mother was obviously excited and expressed how proud she was of her pretty daughter.
For first time mothers like Regina is, the news of pregnancy might be accompanied by nervousness and disbelief. That appeared to be the case with the new mum.
Regina has relished bounty romance with Ned. Hardly is there any family journey without both together following their marriage. However, prior to welcoming their bundle of joy, her pregnancy had cost her a planned expedition to Antarctica with Ned.
Ned would then express his displeasure that Regina couldn't make the trip for some reason. He said in his memo from Antarctica: "It's very sad though that Regina could not make it as originally planned as she was hospitalised. Today, I finally made it to the coolest, lowest point of earth and the largest wilderness on the planet. We're live in Antarctica! I'll be meeting with the various research stations to see how we can partner on the eradication of malaria in Africa."
One other piece of her journey viewers will get the opportunity to see in her rollercoaster ride to motherhood is her surprise baby shower. Last Saturday afternoon, the Nigerian star was greeted with a surprise baby shower. The all-white event which took place in Abuja was organised by her friends with the help of her billionaire hubby. In the video, the ever glowing Regina was seen dancing happily and joyfully with smiles.
Ned had severally made the headlines in 2019 amid his rapidly blossoming relationship and marriage to Regina. In the wake of the backlash that had trailed the union on the basis of the duo's age disparity, Regina had hedged, claiming she couldn't have married within her age group because she's stubborn.
The marriage to the former House of Reps member, Ned, no doubt remained a thing of public attention. Even though there is a major age disparity between Regina and her husband, Ned, the two have never been shy to publicly show their affection. Regina isn't one to shy away on social media; hence it wasn't long before she initiated her husband into the fierce world of celebrities where nothing is hidden. Expectedly, a lot more would be shown to her close to 68,000 subscribers on her YouTube channel.