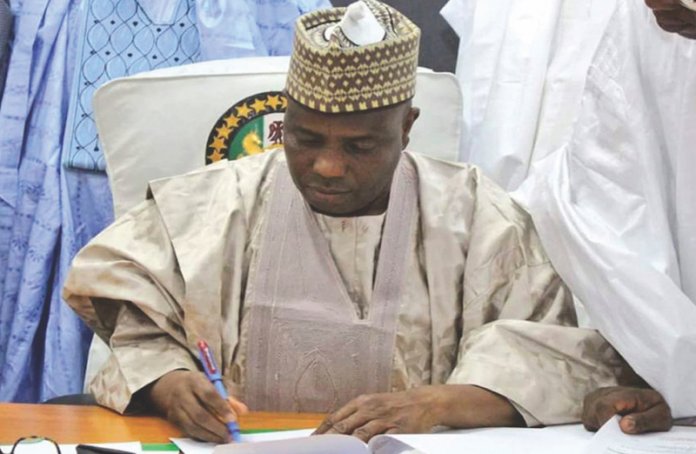 More than he was known, the Covid-19 pandemic has offered a rare opportunity for the Sokoto State Governor, Aminu Tambuwal, to deliver sound leadership, writes Onuminya Innocent
Leadership skills, they say, is inbuilt. This is the story of Aminu Waziri Tambuwal, the Governor of Sokoto State, whose leadership in the fight against Coronavirus pandemic is outshining everything else.
Initially, some pundits had thought Tambuwal was not doing enough to contain the spread of deadly disease, such assumptions have been proven to be wrong. Those critics are the ones now praising the governor for the steps he is taking to contain the spread of the virus in the state.
Although some governors also stand out in the management of the virus, Tambuwal, however stands out with his empathetic leadership, practical organisation and effective communication of the danger posed by the virus, which has till date infected no fewer than 112 people in the state.
His defection and emergence as the governorship candidate of People Democratic Party (PDP) in Sokoto State for 2019 governorship election was not without turmoil as it ruined the chances of his estranged political godfather, Senator Aliyu Wamakko to install a candidate of choice in the ancient seat of Caliphate.
The 2019 governorship election was the fiercest election in the history of the state, however, some were certain that Tambuwal would lose the election. The battle also sprang surprises as some of his trusted allies betrayed him.
The one that hit him the most was the defection of his then Commissioner for Information and chairman, publicity committee of the Tambuwal campaign organization, Bello Goronyo.
Goronyo, with other defectors, joined forces with Senator Wamakko in the bid to wrest power from Tambuwal. But the undeterred former legislator won the election with a slim margin of 342 votes, the slimmest in the history of Nigeria's governorship election.
More than five bye-elections and rerun were held in the state between February and March 2020, which the PDP won – all attesting to Tambuwal's pragmatic leadership skills.
Thus, the governor's pragmatic handling of the pandemic has earned him the people's trust and the support from the private sector. Although a listening governor, every decision taken during this trying moment has been collective of the stakeholders including the Sultanate council and religious leaders in the state.
Sokoto was not totally locked down like other states but with the partial lockdown and interstate restrictions, it achieved desired results.
To tackle the pandemic headlong, the governor, last week, inaugurated 3000 rapid response team volunteers, comprising medical consultants, doctors, nurses, laboratory scientists, pharmacists and non medical personnel, who have been assigned to the contact and care unit centres.
Though it is not yet Uhuru for the governor as the nation is still battling rising cases of the virus, including the state, Tambuwal has been encouraged to put in more efforts till the invisible enemy call coronavirus is completely decimated.