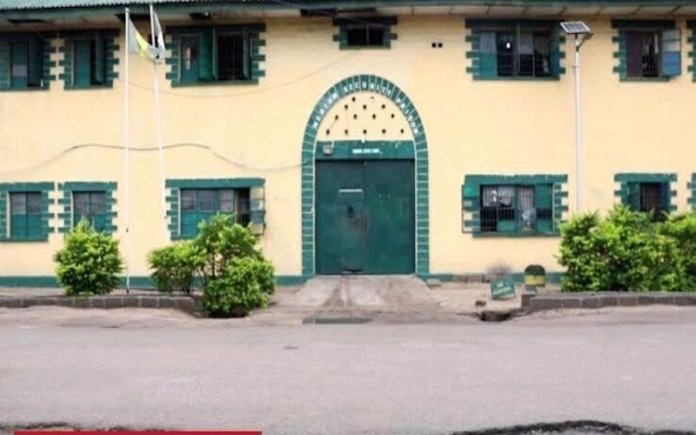 Sunday Ehigiator writes that with 74,127 inmates in 244 centres across the country with 52,226 awaiting trial, 51 civil society organisations have called for immediate decongestion of all correctional centres
In a bid to avert the spread of the COVID-19 pandemic, especially in correctional homes and police custody, a coalition of 51 Civil Society Organisations (CSOs) has called on the Inspector General of Police (IG), Mohammed Adamu, and all commissioners of police in various stages to decongest the cells and correctional homes all around the country, till the situation is arrested.
At present, Nigeria has 74,127 inmates in 244 centres across the country with 52,226 awaiting trial. So the call by the coalition was timely. This figure was gotten from a total of 244 custodial centres in Nigeria of which 139 are main custodial centres and 85 as satellite centres. A further breakdown of the figures reveal that of the total of 74,127 inmates, 1,450 are female, 21, 901 convicted and 52,226 awaiting trial.
Thus, the timely call by the coalition was made in statement over the weekend after a lengthy online deliberation amongst the CSO's consisting Rule of Law and Accountability Advocacy Centre (RULAAC), Spaces for Change (S4C), Vision Spring Initiative, Lagos, Social Intervention Advocacy Foundation (SIAF), Echoes of women in Africa initiative, Women's Right to Education Programme (WREP), Rights Enforcement and Public Law Centre (REPLACE), House of Justice, Prison Fellowship, Democracy and Human Rights Network, DHRN, Community Agenda for Peace, Committee for the Defence of Human Right, Human Rights Watch, Alliances for Africa, NOPRIN, Nigerian Feminist Forum, and Civil Society Legislative Advocacy Centre.
Others include Women's Rights and Health Project (WRAHP), Foundation for Justice and Rehabilitation of prisoners FJRP, Lagos, People Against Corruption and Injustice, Nde Oduko Foundation – NDOF, Sterling Centre for Law & Development, Partners West Africa- Nigeria, Safer World Foundation, Amnesty International Nigeria, Dorothy Njemanze Foundation(DNF), Women Initiative for Leadership Strategy & Innovation in Africa (Women Africa), Centre for Social Transformation and Human Develeopment (CHDST) , Ace and Vanguard Legal Practitioners, Human Rights Advocacy Group Lagos, Life Wire International Foundation, Legal Defence & Assistance Project, Legal Defence Against Injustice Initiative, Lawyers Alert, Daniel Ukwu Leadership Foundation (Dulf) supported, Public Enlightenment Projects, Global Rights and Prisoners' Rehabilitation and Welfare Action (PRAWA).
Among them were Prisoners' Rights Advocacy Initiative (PRAI), Lagos Civil Society Participation for Development (LACSOP), Youth Advocates For Peace Justice And Empowerment Network (YAPJEN), Centre for Transparency Advocacy, Abuja, Independent Advocacy Project IAP Lagos, Human Rights Social Development and Environmental Foundation (HURSDEF), Tap Nitiative For Citizens Development, WILPF Nigeria, Avocats Sans Frontières France, CLEEN Foundation, Women Information Network (WINET), Edo Civil Society Organisations, and Media Initiative against Injustice, Violence and Corruption (MIIVOC).
The statement read in parts, "We note, in particular, the IG's directives to state and zonal commands to avoid unnecessary arrests and detention of persons in police cells except for serious (capital) offences. However, we note, with serious concern, that in some states, people are still held in police cells, some for bailable offences such as misdemeanors. And for suspects held for serious offences such as capital offences, Police are not able to charge them to courts because the courts are currently shut down.
"We also note that most states have no functional testing laboratories and isolation centres, and detainees in urgent need of medical attention in those states can't access healthcare. These ones are made vulnerable to more dangers than just the likely exposure to the deadly virus.
"We call on the IG to order state commissioners and divisional police officers to ensure urgent decongestion of cells by ensuring immediate release of persons still held in custody for minor offences.We also call on the IG to put in place mechanisms for effective monitoring of compliance with his directives against indiscriminate arrests and detentions and ensure consequences for non-compliance. If officers continue to make indiscriminate arrests after decongestion, the detention facilities will be congested again.
"We call on Chief Magistrates in states, in fulfilment of their obligations under the Administration of Criminal Justice Act (ACJA) 2015, and in compliance with the 2019 Practice Direction of the Chief Justice of Nigeria on visits to police custody facilities to embark on inspection visits to police stations within their jurisdictions with a view to ensuring the immediate release of detainees based on established criteria, to decongest the cells and prevent likely infection and spread of Covid-19. We also recognise the need for Magistrates to be provided with protection kits to visit these places of detention.
"We call on the Attorney- General and Minister of Justice, in liaison with State Attorneys General, to also initiate steps for audit of police cells and correctional centres, including juvenile correctional facilities, to decongest them.We call for the immediate provision for all detainees and prisoners, information on the spread of the virus, urgent disinfection and distribution of sanitary materials to all holding facilities, and provision and access to running water at each facility."
Meanwhile, last Friday, the Minister of Interior, Ogbeni Rauf Aregbesola held a meeting with the Attorney General of the Federation and Minister of Justice, Abubakar Malami; Chief Judge of FCT, Justice I.U Bello and other government officials. In a message on his twitter handle, the Minister confirmed that the meeting was basically on the process and procedure to radically decongest the correctional facilities.
But late last month, the same topic was a front burner issue for the minister. Aregbesola had called for the quick decongestion of correctional centres in Nigeria to avert the spread of COVID-19 to the facilities. According to a statement signed by the ministry's spokesperson, Mohammed Manga, on Thursday, the minister made the call during an emergency meeting held in his office in Abuja. The meeting deliberated on how to manage the custodial centres of the Nigerian Correctional Service (NCoS) during the COVID-19 pandemic.
The statement read in part: "He said the meeting was conveyed in response to the outcome of the Presidential Task Force meeting on COVID-19, noting that the safety of inmates, staff of the Nigeria Correctional Service and all Nigerians was of great concern to government. He emphasised that the nation was in an extraordinary situation which requires all hands to be on deck in order to ensure that the pandemic does not go into any of the custodial centres.
" Part of the resolutions of the meeting was a call on President Muhammadu Buhari to request the state governors to visit the custodial centres in their states with the Chief Judges and state Attorneys-General, so as to consider and grant amnesty to deserving inmates."
Aregbesola, therefore, called on the Attorney-General of the Federation and Minister of Justice, states Chief Judges, the governors and other stakeholders in the Justice Sector to immediately identify measures to be taken for quick decongestion of the custodial centres across the country as a way of preventing the spread of COVID-19 at the centres.
He said the number of those in the centres across the country calls for quick response particularly in the present situation, as they are more vulnerable to infection, adding that the situation is further compounded by the huge number of awaiting trial persons (ATPs) which accounts for over 70 per cent of the national inmates' population in the nation's holding facilities.
He said there is an urgent need to find a way of trying the cases of the ATPs in the country to overcome the challenge of space in order to reduce the possibility of the virus getting into the facilities.
In turn, the Controller-General of Corrections, Ja'afaru Ahmed, said that the country currently has a total of 244 custodial centres, 139 of which are main custodial centres and 85 as satellite centres. He said all the facilities have a total of 74,127 inmates, among which 1,450 are female, 21, 901 convicted and 52,226 awaiting trial. He further added that such overcrowded facilities pose a serious threat to the inmates at this time of the outbreak of COVID-19 pandemic, if adequate steps are not taken to address the situation.
Speaking, the Minister of Justice and Attorney-General of the Federation, Abubakar Malami, called for proper profiling of all inmates in the various facilities across the country with a view to having a joint arrangement with the governors and chief judges for speedy trial of awaiting trial inmates which constitute the largest population at the Custodial Centres across the country.
On his own part, the Chief Judge of the Federal Capital Territory High Court, Ishaq Bello, called for constitutional amendment to remove the Nigeria Correctional Service (NCos) from the exclusive legislative list to the concurrent list, for easy administration of Criminal Justice System and as a necessary measure for decongestion of custodial facilities across the nation.