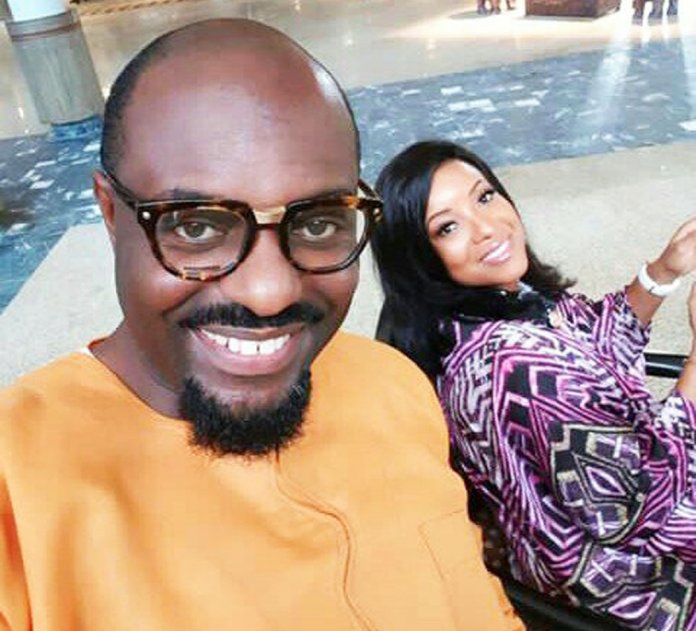 All the elements of the upcoming movie 'Cold Feet', as seen in the teaser suggest topnotch, with some steamy sex scenes to it. Ferdinand Ekechukwureports
Its first official teaser got one thinking if the movie had already been released, seeing the beautiful Beverly Naya in tears as she walks out on her lover Enyinna Nwigwe who seems to have cheated on her with Ghanaian actress Joselyn Dumas, wife to Jim Iyke in the movie Cold Feet. Nwigwe's acting career remarkably appears to be on the rise. And for the British-Nigerian actress Beverly Naya's delivery is always a take home.
All the elements portrayed in the teaser suggest a topnotch movie. The dialogue, location, characters, picture (HD 4K/2K format) quality and yes, the soundtrack by Smith Oludare and theme songs from Mr. P of PSquare, Ice Prince and Morientez. 
The Cold Feet story goes thus: a combined celebration of her birthday and their wedding anniversary leads the beautiful and enchanting Omoye (Joselyn Dumas) and her loving husband Mayowa (Jim Iyke), an ex-army colonel, to a weekend getaway at a beautiful resort in Uyo, Nigeria.
All seems great until Omoye runs into a familiar face, the charming young man Tare, (Enyinna Nwigwe) who is at the resort with his girlfriend Teni (Beverly Naya), with the intention to propose to her there. Sparks from an encounter five years ago between the two begins to fly, old feelings begin to get rekindled, Tare is once again swept away by Omoye's sexual charm and the connection they shared when they met. His intended proposal to his girlfriend suffers cold feet as he begins to play with fire by openly chasing the ex-colonel's wife Omoye.
Omoye was sure she could easily shrug off Tare's advances and her desires towards her. She was wrong. Other stars in the thrilling romantic drama include Caroline Danjuma, Segun Arinze, Padita Agu, Femi Adebayo Salami. Adebayo won in the category of Best Yoruba Movie in 2018 AMVCAs, and has continued to cement himself as an actor versatile enough to act in English and Yoruba movies. Cold Feet is being touted the "most anticipated movie of 2019". Co-produced by Darlington Anyiam-Osigwe, Cold Feet was shot in Uyo and Lagos. Written by Diche Enunwan and Temitope Akinbode, the 100 minutes feature is coming to the cinemas on the wheels of FilmOne distribution.
According to the movie director Moses Inwang, the trailer drops on Wednesday April 10. While the movie is scheduled for release on May 17. "Expect an explosive action packed drama movie," Inwang revealed. Speaking about the upcoming movie in a telephone chat with this writer, the award winning director said, "Expect the best performances from the actors, especially Jim Iyke. Remember we shaved his hair to make him bald in the movie."
 It's on record Jim Iyke has played every role out there – lover boy, Casanova, criminal, fraudster, cheating husband. Critically, his Nollywood footprint is largely type casted but in 'Cold Feet' a totally different character.
Inwang's 2017 award-winning movie, Alter Ego, which starred Omotola Jalade and Wale Ojo won the director the Best Screenplay Award at the 2018 Africa Magic Viewers' Choice Award (AMVCA), aside being the most talked about movie that year. 
He has got 'Crazy People', which was his last movie shot in 2018. Alter Ego also clinched the award for The Most Outstanding Film at the Africa International Film Festival AFRIFF. It also won Moses Inwang the Best Director award at the Toronto International Nollywood Film Festival. It was given the best international film award at The Peoples Film Festival NY.
The prolific  film director, editor, screenwriter and producer, with a career spanning over a decade and half, got his first movie credit in 1998 when he co-produced Two Good Men. In 2004, he started his production company Sneeze Films and kicked off with the movie Save My Soul. In 2008, he directed the movie, Lost Maiden, a film which brought the issue of female circumcision to the fore of social discussion. 
He also made Save Our Souls, an educative movie about cancer. He also directed and co-produced Damage in 2011, a film which addressed the issue of domestic violence, receiving multiple awards and award nominations.
The psychological thriller Torn, which he produced in 2012 and which was released in cinemas nationwide in 2013, earned him and most of the actors who starred in it a lot of award nominations and recognition. In 2012, his film Damage earned Inwang the nomination for best director at the African Oscars held in Florida USA, while the film won the award for Best Film at the African Oscars Awards. In 2013, he won the City People Award for Best Director. His 2013 film Torn received nine nominations at the GIAMA awards in Houston, Texas and six nominations at the Best Of Nollywood Awards.
In 2014 he went on record as the first Director in Nollywood to receive two nominations as best director at the Nollywood Movies Awards. His movie, The Last 3 Digits was nominated for best comedy at the African Movie Academy Awards AMAA in 2015 and was also chosen amongst the few selected Nollywood films that were screened to thousands of people at the Nollywood Week Paris. His movie Stalker, a romantic drama which premiered in Nigeria on 26 February 2016, received 10 nominations and won 3 awards at the 2015 Golden Icons Academy Movie Awards in the United States.
In 2015 Stalker, another film written, produced and directed by Moses Inwang, raked in a 12 nominations at the GIAMA awards Houston and won awards for Best Actor, Best actress and Best Film categories. Still in 2015, Stalker won the award for "Best International Film at the New York film Festival.
 In 2016, his film, American Driver, from his production company Sneeze Films received a best international film award at The Peoples Film Festival, Harlem New York.