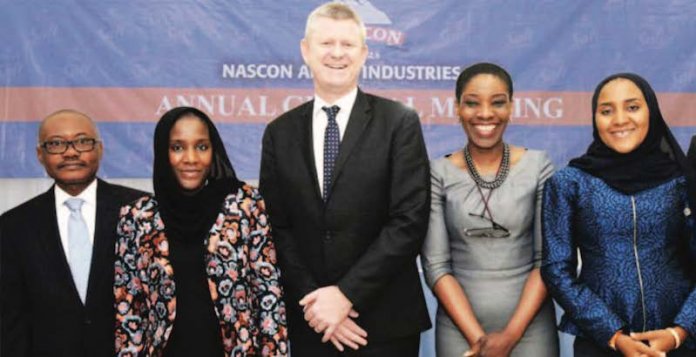 Business/MONEY
It was not business as usual for salt makers, NASCON Allied Industries Plc, during the financial year ended December 31, 2018, as revenue and profit slumped rather than surpass the records of the preceding financial year. But despite the shortfall in earnings, the company has decided to stick to its tradition of putting smile on the faces of its shareholders with about 60 per cent of its net profit earmarked to be paid out to shareholders as dividend at its annual general meeting scheduled to hold in Lagos in June, reports Bamidele Famoofo
Return on Investment
Salt and seasonings manufacturers, NASCON Allied Industries Plc certainly did not meet the expectations of the investing public and perhaps shareholders with respect to earnings growth in the financial year ended December 31, 2018. But shareholders confidence in the ability of the management to continue to deliver to them good return on investment (RoI), was not betrayed.
Even when shareholders are expected to get less dividend than they got for their investment in the company in the financial year ended December 31, 2017, the payout being proposed by the Board of Directors of NASCON for 2018, would rank among the best any company quoted on the Nigerian Stock Exchange (NSE) could pay in the financial year.
Secretary of NASCON Plc, Mr. Adebayo Samuel, disclosed that the board of directors of the company was proposing to release N2.65billion from retained earnings to be shared to shareholders as dividend at the annual general meeting scheduled to hold in June. The amount which translates to N1.00 dividend per share represents about 60 per cent of the company's earnings in the review audited financial year.
The proposed cash payout represents a 5.50 percent dividend yield for shareholders. That is not obtainable on savings account domiciled with any bank in Nigeria. And regardless the gains from capital appreciation, an investor who invested N1million in the company for 12months will get N55, 000 interests from dividend.
Since the company was acquired by Dangote Industries Limited in 2006, record shows that it had adhered strictly to its policy of robust dividend payment as shareholders have enjoyed increment in dividend in the last 12 years. Dividend has increased from N0.40 per share in 2007 to N1.50 per share in 2017 with the exception of 2014, when it dropped to N0.50 per share from N0.90 per share in 2013. The 2018 financial year would be the second time in 12 years, when dividend payout would experience a drop.
Analysis of shareholding in the company showed that the 33,343 ordinary shareholders of the company as at December 31, 2018, owned about 2.65 billion units of ordinary shares of 50kobo while Stanbic IBTC (institutional investor) held about 136million shares while the Dangote Industries Limited, which is the single largest shareholder in the company held 1.7billion units of ordinary shares.
In September 2006, Dangote Salt Limited acquired NASCON Plc, owning 62.19 percent of the issued share capital while 37.81 percent was sold to the Nigerian public. NASCON Allied Industries Plc was incorporated in April, 1973 but it was privatised some 19 years after in April 1992 and listed on the Nigerian Stock Exchange in October the same year.
Financials
Total revenue stood at N25.77billion in 2018, representing 4.8 percent decline when compared with N27.06billion announced by the company for the audited financial year ended December 31, 2017. Shortfall in revenue could be attributed largely to drop in the sales of salt to the tune of 6.7 percent in the review financial period. Sales dropped from N22.25billion in 2017 to N20.76billion in 2018 with cost of sales chopping off about 61 percent of the income.
Besides drop in sales, increase in cost of sales by about 70 percent when compared with total revenue was partly responsible for profit decline. Cost of sales increased by 7 basis points from 63 per cent in 2017 to 70 per cent recorded in 2018. Increase in distribution cost and administrative expenses, though marginal, were other reasons why profit drop suffered a setback in 2018, as distribution cost rose from 2.2 per cent of total revenue in 2017 to 3.2 per cent in 2018 while administrative expenses jumped 0.8 basis points from 6.5 percent in 2017 to 7.3 per cent of revenue in the review financial year.
Contribution of seasoning products to total revenue increased by about 21 per cent in 2018 from N765.30 million in 2017. The figure from seasonings inched close to N1 billion at N924.17million as of December 31, 2018. No revenue was attributed to the vegetable oil business line in 2018 but sales of vegetable oil added about N192millionto aggregate revenue in the preceding financial year. Meanwhile, freight income (transportation cost associated with the delivery of goods to customers) increased by N220million or 5.7 percent to N4.08billion in 2018 compared to N3.86billion in 2017.
Net profit after tax came down to N4.42billion in2018 from N5.34billion in the same period in 2017,representing 17.2 percent decline while earnings per share (EPS) also dropped by the same magnitude from 202kobo to 167kobo in 2018.
The company will retain 67kobo per share in its portfolio having planned to pay out 100kobo per share from the earnings purse. Before tax, profit dropped by 18.5 per cent from N7.91billion in 2017 to N6.45billion in the review period as tax claim by government also suffered a setback to the tune of 21 per cent as payment dropped from N2.57billion in 2017 to N2.03billion as of the financial year that closed on December 31, 2018.
Shareholders of NASCON Allied Products Limited maintained their allegiance to the company putting more cash in the shareholders' purse to the tune of N11.89billion in 2018, representing a 3 per cent increase from N11.54billion as of December 31, 2017. Shareholders' fund swelled by about N350million in the review period going by figures provided in the audited 2018 accounts.
Meanwhile, NASCON maintained a healthy balance sheet as at the close of the 2018 audited financial report with total assets in excess of total liabilities. Total assets stood at N30.27billion in 2018, increasing marginally from N30.12billion in 2017.Breakdown showed that Non-current assets grew by 24.0 per cent or N2.29billion from N9.42billion in 2017 to N11.71billion in 2018, but on the flipsident to N18.57billion in 2018. Total liabilities came down from N18.59billion in 2017 to N18.38billion in 2018.