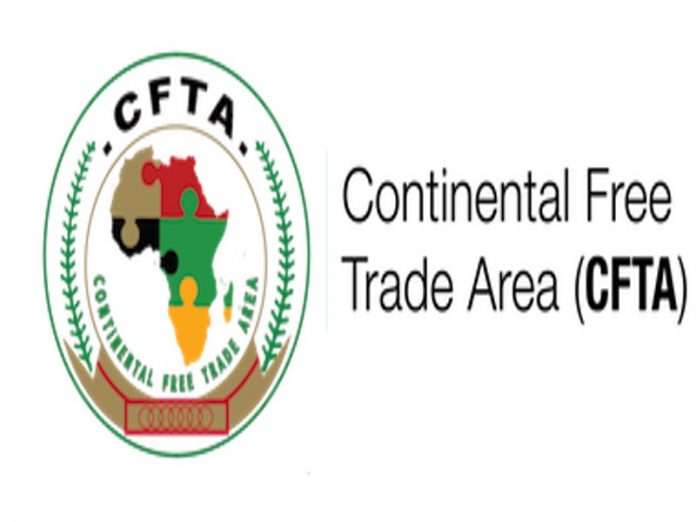 Chris Uba
Some experts have advised the federal government to sign the African Continental Free Trade Agreement (AfCFTA) treaty, saying Nigeria stands a great chance of enlarging foreign direct investment (FDI) inflows through the pact.
The experts who spoke yesterday in Lagos, at the fourth Annual Bullion Lecture organised by the Centre for Financial Journalism (CFJ), stressed that the AfCFTA would create opportunity for African economies, including Nigeria, to take over from China as the World's manufacturing hub.
The President and Chairman of the Board of Directors of the Afreximbank, Prof. Benedict Oramah, who was guest lecturer at the event, said the event would be beneficial to Nigeria.
Oramah said: "Whether or not Nigeria joins the treaty, it will in one way or the other be impacted given its size and geographic location in Africa."
The Afreximbank president said as at date, 49 out of 55 African countries have signed the agreement while 20 countries have ratified the deal.
He pointed out that 16 countries have deposited their instruments of AfCFTA ratification with the Chairperson of the African Union Commission just as an additional four countries have received parliamentary approval for ratification, adding "we expect additional two ratifications by April 2019 for the AfCFTA to come into force. Negotiations have commenced on tariff offers received from the different countries with the objective of having the agreed tariff schedules the Rules of Origin at the AU Summit in July 2019.
On the potential impact of the AFCFTA on Nigeria he said "It is understandable that Nigeria has not yet made a decision regarding signing the AfCFTA, because entering into such an agreement must not be taken lightly.
"It is important to carry everyone on board. Broad consultation is most critical for the success of the AfCFTA at national and continental levels.
While there are various interest groups, including labour, whose concerns need to be understood and accommodated, a survey of the business community by the Nigerian Government shows that 69 per cent of Nigerian businesses believe AfCFTA would be advantageous to the country.
"The top three advantages identified were better business environment, promotion of local business and business growth and expansion."
Overall, according to him, 78 per cent of firms believe that AfCFTA will make a positive impact on local businesses while 56 per cent of the polled respondents believe the country does not have the infrastructure necessary to reap those benefits and gains.
Other speakers included the Director General of Lagos Chamber of Commerce and Industry (LCCI), Mr. Muda Yusuf and Mr Ade Adefeko, Vice President Corporate Relations at Olam , Nigeria, who participated as panellists as well as the President /Chairman Chartered Institute of bankers of Nigeria , Dr Uche Olowu , who was the chairman at the occasion. They all shared the same perspective with the guest lecturer.