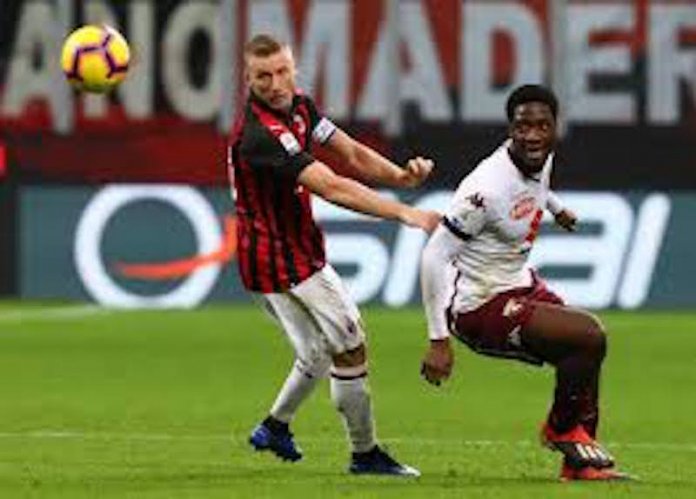 With more experienced players like Cesar Azpilicueta, MarcosAlonzo and Emerson at Chelsea's fold, regular playing timewas hard for Ola Aina, he was therefore loaned to Hull City last season before another loan spell to Torino. With the season just a little beyond half, the Chelsea loanee is already enjoying a cult hero among Torino fans. It, therefore, came as no surprise that the Serie A club has handed him a permant deal 
Last month, with the season halfway, Ola Aina was named the fastest player in the Italian Serie A.
The official website of the Lega Calcio published infographics of the first round of the Serie A and the Chelsea loanee reached the highest speed peak calculated over a period of three seconds.
The Nigerian wing-back clocked a top speed of 29.66kilometres per hour to rank first, though Aina has to improve in the defensive phase, he is considered Nigeria's best offensive wing-back at the moment and his strengths are his pace and acceleration, which helps him against his opponents.
Aina has completed a permanent move to Italian club Torino after the Serie A side completed the permanent signing of the Nigerian defender at the end of the season after his impressive games in Italy.
Aina has seen Cesar Azpilicueta consolidate his right-back position at Chelsea this term under manager Maurizio Sarri and even captaining the Blues. "The football here is very tactical. You have to concentrate a lot. They spend a lot of time on set-pieces and getting the right movement. It has been very good so far and I'm loving it,'' Aina said.
With the deal sealed, Chelsea have lost Ola Aina even with the recent transfer ban imposed on them by the world football governing body after the club were found guilty of breaching codes guiding the signing of youngsters. The Premier League giants have also been handed a fine of £460,000, while the English FA bags £390,000 sanction. Though, the FA have a chance to appeal the fine, citing "concerns" with FIFA's disciplinary processes.
Aina has played in all but three games this season for Torino. He has been one of the loan army's success stories of the season. Despite playing most his time at Chelsea and his 2017/18 loan at Hull City on the right, he has been Torino's starting left wing-back since opening day.
Aina has already justified Torino executing his Euro 10 million option. Torino are in a five-team battle for Serie A's final Europa League spot: 6th – 10th place are separated by two points. If they qualify, they will need reinforcements for the additional campaign. Whether they do or not, they need to fortify their defence until they either return Andrea Belotti to last season's form or find a goal-scoring solution. Additionally, Aina's counterpart on the right, Lorenzo de Silvestri, will be 31 this summer. The Italian side need a line of succession for the wing-backs and Aina can cover either side as necessary.
Chelsea would have an easier time projecting their needs atdefence if they had anyone whose job it was to project such needs. Their current starting full-backs are looking increasingly uncomfortable in their positions, although extenuating circumstances wield strong influence.
Azpilicueta is likely at his physical and mental brink from overuse, having played nearly as many minutes as Kepa Arrizabalaga this season. He will also turn 30 this summer, making workload management increasingly important. On the other side, Marcos Alonso is looking more like the journeyman left-back he once was than the world-class wing-back he more recently was.
With question marks surrounding Azpilicueta performances of late and a transfer ban on the way, Aina's departure could be another deal that does not go down well with Chelsea supporters.
However, the Torino defender has said severally he is delighted with his new environment and the opportunity to hone his skills in Italy after he joined Walter Mazzarri's men for the 2018-19 campaign after extending his contract with Chelsea to 2021 last month.
After spending the majority of his career in England which included a season-long spell with Hull City last term, the 21-year-old highlighted differences between the two countries.
"I really like Turin. It's not as big as London, but it's a bit more relaxed and relaxing, a bit like me. In England, we train a lot in the morning, here it's more the afternoon. I'm getting used to it though. Everyone is adapting to me, and obviously vice-versa. My teammates have made me feel good from the beginning, I thank them because it made it much easier for me to settle in," Aina was quoted as saying by Football Italia.
"Serie A is very different from the Premier League, the football in England is more physical and fast. It's slower here and there's more time to think, but you need a very different, more intense, attention to tactics. That's good for me because that's exactly what I need to improve.
"I chose Torino because of the coach Walter Mazzarri, I talked to him and I got the feeling he wanted me and wanted to help me grow. I also felt he wanted me to work for him, that I could be important for his cause. Then, of course, Torino have a great history and the Italian league is one of the best, so I couldn't say no."
The 22-year-old believes he has started brightly this season and looks to continue to make a good impression on the first team.
He said: "I have started very well this season, thanks also to my team mates and to the coach, when there are challenges I always face them openly because I believe in my potential."
He went on to praise Mazzari's tactics and team set up,emphasising how he likes to be given the freedom to attack as well as defend.
Little wonder he has suddenly become a vital part of the team.
 "I've been enjoying it so far. I'm enjoying training and the games, and all the challenges as there are some top sides here. I'm settling in just fine. My Italian was good but it's dipped a little."
"The difference is a lot," Aina said, adding "The level is a lot higher, the concentration and tactical side of things are a lot higher than the Championship. For me, that is what is key for me this season. Right now, the squad are just focusing on each other, and to take each match as it comes. We want to play good football and get as many points as possible and win games. So if we can focus on this, then who knows."
Normally placed on the right side, Aina has been operating on the left, though he admitted it makes no difference where he plays.
"Both right and left are the same," Aina continued, "the only difference is you have to use your other foot. Simple really."
He was born in London and was raised by two Nigerian parents, he was also one step away from participating in the last World Cup in Russia. He was in fact included in the preliminary list but was not chosen in the final 23.
 A few years ago, when Josè Mourinho was still the manager of the Blues, he spoke highly of the player and his efforts. Aina won a number of titles with the youth team at Chelsea which forced the Special One to say "He has great potential and I believe that he will represent the future of the club."
After Mourinho left, Aina was mentored by Conte and with the Italian Aina played in the 3-4-3 and on 3-5-2 systems and knowing Mazzarri, a young player that knows how to play in a system with three defenders is ideal. 
Aina said, "I only arrived in August, but I immediately got along well with my new teammates, I tied up with Meite, Ferigra, Edera, but also with many others.
"I feel at home and for this I thank them. I started this season very well thanks to my teammates and to the coach. When there are challenges I always face them openly because I believe a lot in my potential.
"Chelsea allowed me to be here because they know that this is an excellent championship and an opportunity to improve even tactically, I chose Torino because I talked to the coach and he immediately made me feel important for this team, and then because this club has an important history."
The 22-year-old Chelsea Academy product is good in making short passes and is a good dribbler. He was a right winger when he first joined The Blues at U-11 level before he was converted into a defender.
It, however, remains a wonder how Chelsea allowed Aina to join Torino permanently considering the prevailing circumstance at Stamford Bridge.