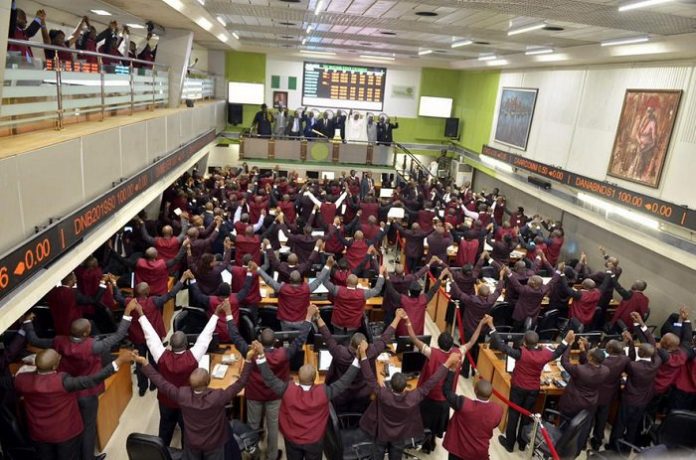 By Goddy Egene
Investors staked N11.192 billion on 1.107 billion shares in 14,430 deals at the stock market last week even as the market recorded a marginal decline.
The amount   was, however, lower than the N14.277 billion invested in 1.199 billion shares exchanged in 15,841 deals the preceding week.
The market had ended the month of November with a fall of 4.9 per cent following persistent bear run.
While the market is heading towards a negative close this year, the first week of the last month of the year witnessed a performance that raised the hopes of some level of recovery.
The   Nigerian Stock Exchange (NSE) All-Share Index (ASI) posted a marginal depreciation of 0.02 per cent to close at 30,866.82, while market capitalisation ended at N11.269 trillion.
Similarly, all other indices finished lower with the exception of the NSE CG, NSE Main Board, NSE 30, NSE Banking, NSE Consumer Goods, NSE Oil and Gas, NSE Lotus II and NSE Pension Indices that rose by 0.82 per cent, 0.41 per cent, 0.10 per cent, 0.89 per cent, 0.64 per cent, 1.98 per cent, 0.08 per cent and 0.03 per cent respectively while the NSE ASeM index closed flat.
Daily Market Performance
Although the market ended with a marginal decline, three out of the five trading sessions were positive. The local bourse started the week on a bearish note as investors took profit in  bellwether stocks such as Dangote Cement Plc, Nigerian Breweries Plc, Stanbic IBTC Holdings Plc, PZ Cussons Plc and Access Bank Plc among the losers' led to the decline recorded.
 But activity level improved as  volume and value traded rose by 0.1 per cent  and 13.6 per cent  respectively to close at 249.7 million shares  and N2.7 billion respectively. The top traded stocks by volume in today's session were FCMB (103.5 million shares), FBN Holdings Plc  (22.1 million shares) and UBA (20.3 million shares ) while the top traded stocks by value were Dangote Cement Plc  (N674.7 million), GTBank (N609.5 million), and Zenith Bank Plc (N453.6 million).
The equities market rebounded  on Tuesday following   bargain hunting in banking stocks propelled  the  rebound  as investors swooped  of UBA, GTBank, FBN Holdings, Stanbic IBTC Holdings and Zenith Bank  Plc among others.
In all,  24 stocks appreciated, while 14 depreciated. AXA Mansard Insurance Plc and Diamond Bank  Plc the price gainers with 9.8 per cent apiece  trailed by  University Press Plc with 7.5 per cent.
United Bank for Africa Plc added 6.6 per cent, just as Union Diagnostic and Clinical Services Plc went up by 4.1 per cent. GTBank Plc and FBN Holdings Plc chalked up 3.7 per cent and 2.7 per cent respectively.
Conversely,  Linkage Assurance Plc led the price losers with 9.6 per cent, followed by Veritas Kapital Assurance Plc with 9.0 per cent. May & Baker Nigeria Plc and Mutual Benefits Assurance Plc shed 8.0 per cent each. Other to price losers were: Regency Alliance Insurance Plc (4.7 per cent);  Lafarge Africa Plc (4.4 per cent). The cement manufacturing firm, yesterday announced plans to raise  N89.2 billion from  the market through a rights issue. The positive performance was  sustained on Wednesday.
However, on Thursday, performance was negative as the  NSE ASI  shed 1.1 per cent  due to profit taking in market bellwethers. To close the week, the market rebounded, hence a marginal weekly decline posted.
Other Markets
Just like Nigeria, performances of other markets in Africa were bearish as  five   out of six  markets declined due to renewed sell-offs by investors. Egypt's EGX30 recorded the largest loss, down 7.0 per cent, followed by Ghana's GSE Composite   that  fell by 0.7 per cent.  Mauritius SEMDEX index shed 0.5 per cent, while  Kenya NSE-20 closed 0.2 per cent lower. Morocco Casablanca MASI emerged as the lone gainer closing the week 0.3 per cent.
According to Afrinvest (W.A), the recent arrest of Huawei's Chief Financial Officer rattled the investors and led further uncertainty in the United States. As a result of this, the performance of developed markets was largely bearish across board. In the US markets, the S&P 500 and the NASDAQ closed the week lower, down 2.3 per cent and 1.9 per cent  respectively while the UK FTSE shed 2.8 per cent. Similarly, France's CAC 40  went down by 3.2 per cent;  Germany's XETRA DAX shed 3.5 per cent while   Japan's Nikkei 225  depreciated by 3.0 per cent. Hong Kong's Hang Seng fell by 1.7 per cent.
Also, in Asia and the Middle East, there was a bearish performance  as four  of  five  indices recorded losses.  UAE's ADX General Index and Qatar's DSM 20 index equally recorded the worst return of 2.2 apiece  followed by Saudi Arabia's Tadawul ASI that shed 1.9 per cent  and Thailand's SET Index  which went down by 1.0 per cent.  Turkey's BIST 100 emerged as the lone gainer with a return of 2.5 per cent.
Market Turnover
A look at the turnover for the week showed that the Financial Services Industry remained  led the activity chart with 891.032 million shares valued at N7.180 billion traded in 8,929 deals, thus contributing 80.5 per cent and 64.2 per cent to the total equity turnover volume and value respectively. The Oil and Gas Industry followed with 76.097 million shares worth N519.777 million in 993 deals. The third place was Services Industry with a turnover of 45.890 million shares worth N81.670 million in 355 deals.
Trading  in the top three equities namely: FBN Holdings Plc, First City Monument Bank Plc, and Diamond Bank Plc, accounted for 547.260 million shares worth N2.409 billion in 2,605 deals, contributing 49.44 per cent and 21.53 per cent to the total equity turnover volume and value respectively.
Also traded during the week were a total of 84,714 units of Exchange Traded Products (ETPs) valued at N1.219 million executed in 10 deals.
A total of 2,908 units of Federal Government Bonds valued at N2.516 million were traded last week in 11 deals compared with a total of 16,686 units valued at N16.442 million transacted the previous week in 10 deals.
Price Gainers and Losers
Also, the price movement chart showed that  30 equities appreciated in price during the week, higher than 25 in the previous week, while  38 equities depreciated in price, lower than 41 of the previous week.
Diamond Bank Plc led the price gainers with 56.9 per cent, trailed by Ikeja Hotel Plc with 11.3 per cent. AIICO Insurance Plc added 11.1 per cent, just as Jaiz Bank Plc and Champion Breweries Plc garnered 10.0 per cent and 9.6 per cent respectively.
Other top price gainers included: Oando Plc(9.5 per cent); Learn Africa Plc (8.6 per cent); Cutix Plc(8.2 per cent); Wema Bank Plc (7.8 per cent) and FBN Holdings Plc (7.0 per cent).
Conversely, Continental Reinsurance Plc led the price losers with 12.5 per cent, trailed by Prestige Assurance Plc with 10.9 per cent. NewRest ASL Nigeria Plc shed 10 per cent, just as MRS Oil Nigeria Plc went down by 9.9 per cent and 9.8 per cent in that order.
Other top price losers were: Northern Nigeria Flour Mills Plc (9.4 per cent); Tans-Nationwide Express Plc (9.2 per cent); First Aluminium Nigeria Plc , Niger Insurance Plc (9.0 per cent apiece) and Cement Company of Northern Nigeria Plc (8.3 per cent)