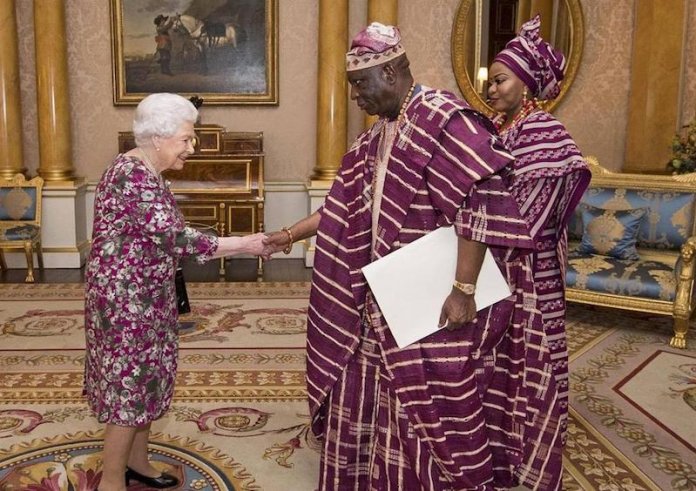 Sunday Glitz
His gait reflects the agility of a 40-year-old man as he emerges to join the gleeful crowd at London's Kessington Town Hall. His sartorial elegance is enchanting for a diploma of his age. He was a legal colossus that once traversed the length and breadth of Nigeria. A modest mind with towering intellectual capacity, he is a dream companion for every man and woman. As with age and grace, he has almost all the aces – he is versatile and agile. Classy, cosmopolitan and connected; his articulation and conviviality have endeared him to the Nigerian High Commission's staff and foreign diplomats and dignitaries. You can describe his transition from the judiciary to international diplomacy as dramatic given his age. With a sombre, confident but humble mien, his metamorphosis is dramatic. Meet Nigeria's High Commissioner to the United Kingdom, George Oguntade, as unveiled by Funke Olaode
Funke Olaode, who sat down with the jurist-turned-diplomat in London, the United Kingdom, writes about Oguntade's episodes and exploits
He has often been trailed with many accomplishments both in his private and public life.  As a judge, he rose through the ranks to become a justice of the Supreme Court. He has also recorded successes as a family with his charming, beautiful wife – Modupe – by his side and children who call the shots in their various endeavours. He is an accomplished jurist with over 40 years' experience in the Nigerian judicial system before he retired in 2010. But there is something about the Epe-born judge-turned-diplomat. It his personality: charming, friendly and humorous.
Oguntade as a judge of high repute is also a people's man who holds his family in high esteem. He is always present at events organised by his family and his close friends; and always supportive. This has endeared him to his friends of many decades including his long-time ally and famous Eleganza boss, Razaq Akanni Okoya. He spent many decades traversing the Nigerian judicial system until he reached the apex court. Oguntade has remained true to himself with no air of arrogance.
When the lists of ambassadors nominated by the then newly elected President Muhammadu Buhari surfaced early last year, one name stood out: Oguntade's. At almost 78, the doubting Thomases felt he was too old for the special assignment he was nominated to perform. But after almost one year at the helm of the affairs of the Nigerian Embassy in the UK, Oguntade has proved himself to be a man that Nigerians can count on. As with age, Oguntade has almost all the aces – he is versatile and agile. Classy, cosmopolitan and well connected. His sartorial disposition, articulation and conviviality have endeared him to the Nigerian High Commission's staff and foreign diplomats and dignitaries.
Surrounded by staff of the Nigerian High Commission at the 2018 Commonwealth held at Kessington Town Hall on Hornton Street in London, Oguntade's conviviality was infectious as he moved around to ensure that the event ran smoothly.
"This fair is done annually to encourage all Commonwealth Countries  to come together under one roof to sell  their crafts, cuisines and try to raise money to sponsor less privileged students particularly girl-child to enter secondary schools in the Commonwealth nations. It has been going on for more than 15 years," the ambassador told THISDAY.
"After raising the fund," Oguntade continued, "we would give it to less privileged students girls who are talented but cannot afford fees to go to secondary school. They would apply for scholarships. There is an emphasis on girl-child education, which has been an issue in the third world countries. The majority of girls are unable to afford school fees to enter post primary school. This we believe is the avenue to help them to attain higher education."
A humane persona, Oguntade is an embodiment of empathy and a vocal advocate of education particularly of girls.
"I am pleased to say that some of the girls that have been sponsored through the Commonwealth Fair Funds have become teachers, doctors, nurses," he enthused, adding, "They have also formed an alumni association. So it has been a wonderful experience for us touching lives through various high commissions. So away from home and even in Diaspora we are touching lives. And I am happy to say at the moment we are sponsoring three girls in Nigeria in secondary school. And after secondary we can help them to aspire to go for tertiary education."
Yet, there is more to his sense of accomplishment – if you like call it fulfilment. A willing heart, Oguntade is more than ready to be part of a just cause. His yearning to offer selfless service to humanity is further illuminated when he said: "I am delighted to be part of this life-changing experience. It is very deserving and I am very committed to it because if you educate a girl, you empower a woman in the process. You inspire a community and you've definitely touched a life. I am pleased that as Nigerians in Diaspora we are here all taking part in it."
You can describe his transition from the judiciary to international diplomacy as dramatic given his age. With a sombre, confident but humble mien, he explained the metamorphosis.
"What I can say? It's the work of the Lord. The switch has been very smooth because it is a question of service to the country in one sector and moving to another – both of have a substantial relationship. So it has been awesome," the former Supreme Court justice said modestly.
With a rich past heritage, a dynamic present and a glorious future, Oguntade was born in Epe on March 10, 1940. He began his education at St. Michael's C.M.S School, Epe, Lagos State – that was between 1946 and 1952. Thereafter, he moved to Ijebu-Ode Grammar School where he had his secondary education between 1953 and 1958. It would appear that the Nigerian ambassador to the UK was destined to belong to the Bench as a professional because when he graduated from Ijebu-Ode, he was employed as a clerk at the High Court of Justice, Ibadan in the then Western Region.
He was there until 1961. After almost three years working as a clerk, Oguntade decided to raise the bar beyond the confines of carrying files in the courtroom. A man of intuition and ingenuity, in September 1961, he travelled to London and there he enrolled at Holborn College of Law for his LL.B., completing the course in 1964 from the University of London. Eventually, he was called to the Nigerian Bar on the January 15, 1966.
Armed with a degree in law, Oguntade was set to excel. For 14 years, from 1966 to 1980, he was in legal practice. His foray into the Nigerian Bench began in 1980 when he was appointed as a judge of the High Court of Lagos State. Between 1984 and 1986, he was appointed as the chairman of the Lagos State Armed Robbery Tribunal.
In September 1987, he was appointed a justice of the Court of Appeal.  Oguntade's brilliance and intelligence shone brilliantly as he moved up on the judicial ladder. Between 1987 and 1993, he served as the Enugu Court of Appeal's justice; later, he was transferred to the Court of Appeal in Ibadan between 1993 and 1995. Between 1995 and 1998, he was appointed as the presiding justice, Court of Appeal, Jos. That is not all. In 1999, he served as the presiding justice of the Court of Appeal in Lagos until 2002. Then, between 2003 and 2004, Oguntade was the presiding justice of the Court of Appeal, Abuja.
In 2004, Oguntade was appointed as a justice of the Supreme Court and served in that capacity for eight years until March 2010 – when he retired from the Bench, having attained the statutory retirement age of 70 years.
A man of high intellectual stature, Oguntade in September 2005, delivered a paper at a conference organised by the International Bar Association in Chicago titled, 'Barriers to Justice – The Nigerian Experience'. Also, in 2008, he was at the International Symposium on Economic Crime in Cambridge, where he delivered a paper, 'Fighting Corruption and Money Laundering in Banking'.
His judiciary and intellectual pursuits have earned him different honours at different times. In 2005, he was conferred with the honour of Commander of the Order of the Niger (CON) by former President Olusegun Obasanjo. In 2008, he was also honoured with the Commander of the Federal Republic (CFR) by ex-President Goodluck Jonathan in recognition of his outstanding contributions to the development of law in Nigeria. The same 2008, he was awarded the "First Anglican Communion National Award for Integrity and Excellence".
Following his retirement as a judge, Oguntade has remained relevant: he was appointed regularly as an expert witness in international arbitration and civil proceedings abroad. He has also chaired a Nigerian Civil Aviation Authority Appeal Tribunal among other notable appointments. On September 16, 2015, Oguntade was appointed the chancellor of the Lagos State University Governing Council.
At 78, you can argue he still has the energy of a man in his 40s with a sound mind to boot.
"If I attempt to make an answer to that question I will be lying. The secret is the Lord Almighty who has kept and preserved me over the years. I am hale and healthy," he replied when asked what the secret to his agility and capacity was.
With an undying sense of humour, he urged anyone in doubt about what he does after a hectic day saying: "Come to my house in the evening. You will see me in action. I jog; I run around and do other exercises. This is how I keep fit."