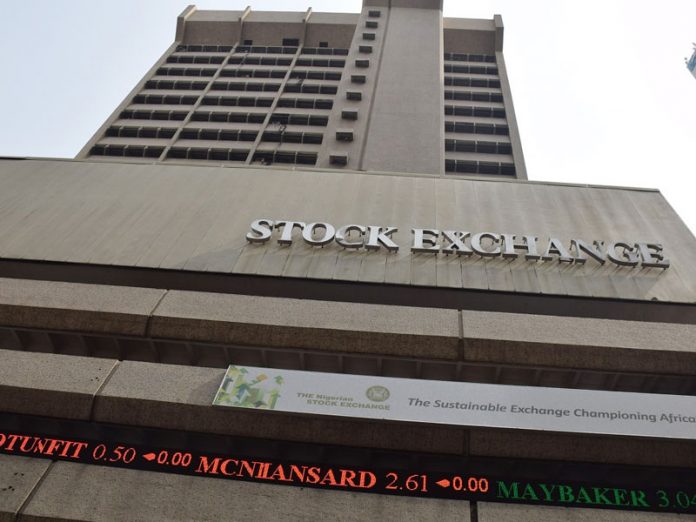 By Goddy Egene
The local bourse market extended its negative performance last week with the Nigerian Stock Exchange (NSE) All-Share Index (ASI) falling below the 32,000 benchmark.
Specifically, the NSE ASI declined by 1.2 per cent to close at 31,678.70, compared with decline of 0.44 per cent.
Similarly, market capitalisation shed N138.6 billion to close at N11.6 trillion. Although the market started the week on positive note last Monday, the gains were eroded in the subsequent trading sessions.
As a result, the month-to-date and year-to-date losses stood at   2.4 per cent and 17.2 per cent respectively. On sectoral basis, losses recorded by the NSE Industrial Index (-5.3 per cent ) and  NSE Banking Index  (-0.8 per cent)  largely offset gains  recorded by the NSE  Consumer Goods Index  (+1.1 per cent), NSE  Insurance Index  (+1.4 per cent), and  NSE Oil & Gas Index  (+0.3 per cent ) indices.
Assessing the performance of the market, analysts at Cordros Capital Limited said in the short to medium term, they expect the negative performance for the equities market to persist, amidst growing political concerns ahead 2019 elections, and absence of a positive market trigger.
"However, positive macroeconomic fundamentals remain supportive of recovery in the long term," they said.
In other African countries, Ghana Stock Exchange, Nairobi Stock Exchange and Mauritius Stock Exchange trended negatively, while  Egypt and Morocco markets ended the week in bulls' territory. 
The Ghana's GSE Composite, Kenya NSE-20, and Mauritius SEMDEX declined by 2.9 per cent , 1.0 per cent, and 0.6 per cent respectively, while  Egypt's EGX30 and Morocco Casablanca MASI appreciated 1.4 per cent and 0.3 per cent in that order.
Commenting on the performance of other markets across the globe, analysts at Afrinvest said investors would be looking for hints on the direction of trade policies as President Donald Trump of the United States (US) and Chinese President Xi Jinping meet during the G-20 summit in Buenos Aires, Argentina this week.
According to Afrinvest, much of the negative sentiments in global financial markets continue to be driven by trade tensions between the US and China.
"Based on the potential for further trade restrictions, conditions in markets could worsen if an agreement is not reached. While the Chinese companies affected have benefitted from government support, there are indications that companies with global supply chains are rethinking their stay in China to avoid punitive US tariffs.
"In the US, President Trump continues to face pressures from farmers who are incurring storage costs as output have remained unsold due to the trade tensions," they said.
As a result of concerns about the upcoming meeting, the performance of developed markets was largely bearish across board last week. In the US markets, the S&P 500 and the NASDAQ closed the week lower, down 3.2 per cent and 3.8 per cent respectively while the UK FTSE shed 1.0 per cent.
In the same vein, France's CAC 40, Germany's XETRA DAX, Hong Kong's Hang Seng and Japan's Nikkei 225 depreciated by 1.9 per cent, 1.8 per cent, 1.0 per cent and 0.2 per cent respectively.
Across the BRICS markets, performance was largely bearish as all indices trended southwards. The largest loss was recorded in China's Shanghai Composite, down 3.7 per cent.  It was followed by South Africa's FTSE/JSE All Share, Brazil's Ibovespa, Russia's RTS and India's BSE Sens that shed 3.1 per cent, 2.2 per cent  and 1.75 per cent and 1.3 per cent   in that order.
However, in Asia and the Middle East, the markets showed a bullish performance as four of the five  markets recorded gains. Thailand's SET index posted a strong return of 2.1 per cent  to lead others.  UAE's ADX General Index trailed with 1.4 per cent, just as  Saudi Arabia's Tadawul ASI  and Turkey's BIST 100 gained 0.7 per cent  apiece.  However, Qatar's DSM 20 index declined of 1.1 per cent.
Market Turnover
Meanwhile, on the NSE in Nigeria, investors traded 1.282 billion shares worth N23.142 billion in 11,467 deals, compared with   1.285 billion shares valued at N11.539 billion that exchanged hands last week in 13,245 deals. The Financial Services Industry led the activity chart with 1.058 billion shares valued at N18.744 billion traded in 6,558 deals, thus contributing 82.5 per cent  and 81 per cent  to the total equity turnover volume and value respectively. The Oil and Gas Industry followed with 96.818 million shares worth N644.178 million in 925 deals. The third place was Consumer Goods Industry with a turnover of 83.134 million shares worth N3.244 billion in 2,114 deals.
Trading in the top three equities namely Zenith Bank Plc, Diamond Bank Plc, and Oando Plc, accounted for 877.505 million shares worth N16.146 billion in 1,423 deals, contributing 68.4 per cent and 69.7 per cent to the total equity turnover volume and value respectively.
Also traded during the week were a total of 5,637units of Exchange Traded Products (ETPs) valued at N1.301 million executed in 5 deals compared with a total of 5,727 units valued at N2.284 million that was transacted two  weeks in 11 deals.
A total of 3,032 units of Federal Government Bonds valued at N3.046 million were traded last   week in 16 deals compared with a total of 1,034 units valued at N980,295.60 transacted  the previous week in 10 deals.
Price Gainers and Losers
A look at the price movement chart showed that 30  equities appreciated in price during the week, higher than 24 in the previous week, while 24 equities depreciated in price, lower than 36 of the previous week.  Prestige Assurance Plc led the price gainers for the week with 41 per cent, trailed by PZ Cussons Nigeria Plc with 18.3 per cent. Consolidated Hallmark Insurance Plc and Flour Mills of Nigeria Plc garnered 15.2 per cent and 15.1 per cent respectively.
Other top price gainers included: NPF Microfinance Bank Plc( 12.5 per cent); Double 11 Plc (10 per cent); Glaxosmithkline Consumer Nigeria Plc (9.9 per cent); CAP Plc (9.7 per cent); UACN Property Development Company Plc (9.0 per cent and Veritas Kapital Assurance Plc (8.7 per cent).
Conversely, Ikeja Hotel Plc led the price losers with 18.5 per cent, trailed by Lafarge Africa Plc with 12.5 per cent. Jaiz Bank Plc and Law Union Rock Insurance Plc shed 8.8 per cent and 8.7 per cent in that order.
Other top price losers are: Unity Bank Plc (8.6 per cent); A.G Leventis Plc (8.3 per cent); Mutual Benefits Assurance Plc (8.0 per cent); Forte Oil Plc (6.8 per cent); Presco Plc (6.1 per cent) and WAPIC Insurance Plc (4.7 per cent).