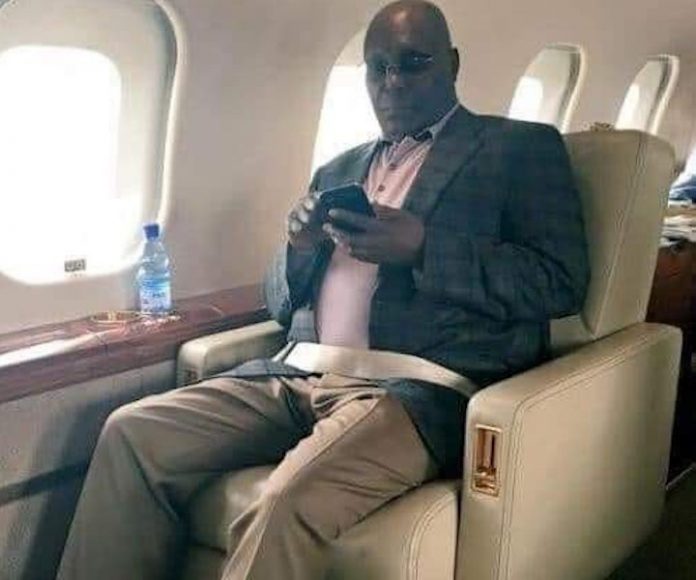 A recent search conducted on Alhaji Atiku Abubakar, presidential candidate of the PDP and his plane upon his return from Dubai, the UAE was a total misadventure, writes Olawale Olaleye
Nigerians woke up to a rather curious piece of news on Monday morning, which unexpectedly fired up the tenor of presidential debate. Presidential candidate of the Peoples Democratic Party (PDP), Alhaji Atiku Abubakar had returned from Dubai, the United Arab Emirate (UAE) that morning, where he had gone to hold strategy meetings with some members of his campaign team and also observe some deserving rest.
But as he landed at the airport that Monday morning around 1.30 am, he reportedly did to the waiting arms of some special security forces that had been deployed to search him and his plane. The news was not well received by a majority of the people, who suspected an attempt to embarrass the former vice-president and heighten tension especially, when there had been a gradual build-up to that moment.
Days before his arrival, the ruling All Progressives Congress (APC) had called for a probe of the trip, insinuating that it could be one of such trips designed to move illicit funds for his campaign.
Deputy National Publicity Secretary of the APC, Yekini Nabena, called on security agencies to probe the so-tagged "strategy meeting" held in Dubai and its real motive.
"There is more to the meeting that meets the eye. Nigeria has enough meeting/conference rooms, many of which meet international standards. It is therefore clear that the Dubai meeting was for other sinister political purposes ahead of the 2019 general election.
"Our intelligence, anti-graft and security agencies must be awake to their responsibility of investigating the Dubai meeting. Cash-and-carry politicians must be prevented from moving illicit cash around to induce voters and sponsor election violence and rigging," he said.
Describing the meeting reportedly attended by Mr. Peter Obi, Senate President Bukola Saraki and PDP's National Chairman, Uche Secondus as both "comical and ridiculous", he claimed that those involved in the meeting had held a series of meetings in a similar fashion in the country and that because the meetings failed to yield the desired results, they resorted to a follow-up in Dubai.
Urging security agencies to check suspicious movements of cash especially, by politically exposed persons, both locally and internationally, Nabena recalled, "We are mindful of how millions of dollars were confiscated in an aircraft belonging in a Nigerian PDP sympathiser in South Africa in the lead-up to the 2015 elections.
"Another round of election is here and it is not unlikely that they are playing a repeat performance, under the guise of holding a meeting in Dubai. Our security agencies should be on the watch for a stitch in time saves nine."
Not long after this, the APC again went to town with the news that the Atiku campaign team was broke and was desperate to raise money at all cost. The APC thus became obsessed with Atiku such that an average observer had queried of what concern was theirs if the campaign was broke and working on how to raise money.
Curiously, the dusts raised by the APC had yet to settle when Atiku returned to the country and to the waiting hands of security, who described the move as routine security checks.
It suffices to say that it was not the first time Atiku was flying around with his private jet without being subjected to special security screening. But that this came at a time he had become the candidate of the main opposition party, suggested that the federal government and its agencies should have exercised some circumspection.
It was even the more embarrassing that government would resort to releasing needless pictures of VIPs, including those of the Inspector-General of Police, Ibrahim Idris and the Oyo State Governor, Abiola Ajimobi, while being frisked at the airport.
That, unfortunately, does not address the latent mischief that was believed to have motivated the Atiku airport search. It was also the thinking of a generality of the people that government ought to have been a little more careful in dealing with opposition without having to bend or break the rules. It does not have to be Atiku per se.
It is also worthy of mention that moves such as the one that subjected Atiku to an avoidable embarrassment are capable of heightening tension in the land, knowing full well that the nation has already entered a critical phase in the lead up to the 2019 election.
Without having to mealy-mouth, the idea was a very wrong move and poorly timed. It goes without saying that the stakes are high for both parties, the more reason everyone must observe utmost circumspection in dealing with each other.
Whilst the election comes with its own challenges, creating artificial atmosphere of tension is not in the best interest of anyone particularly, the government of the day.
This is why, going forward, government must ensure coordination and exhibit maturity in its dispositions, most especially in dealing with the opposition, yet without having to gloss over extant rules and procedure for the sake of anyone. Mutual respect and understanding is sacrosanct at this stage of campaigns and nothing should supersede the security of life and property of every Nigerian.