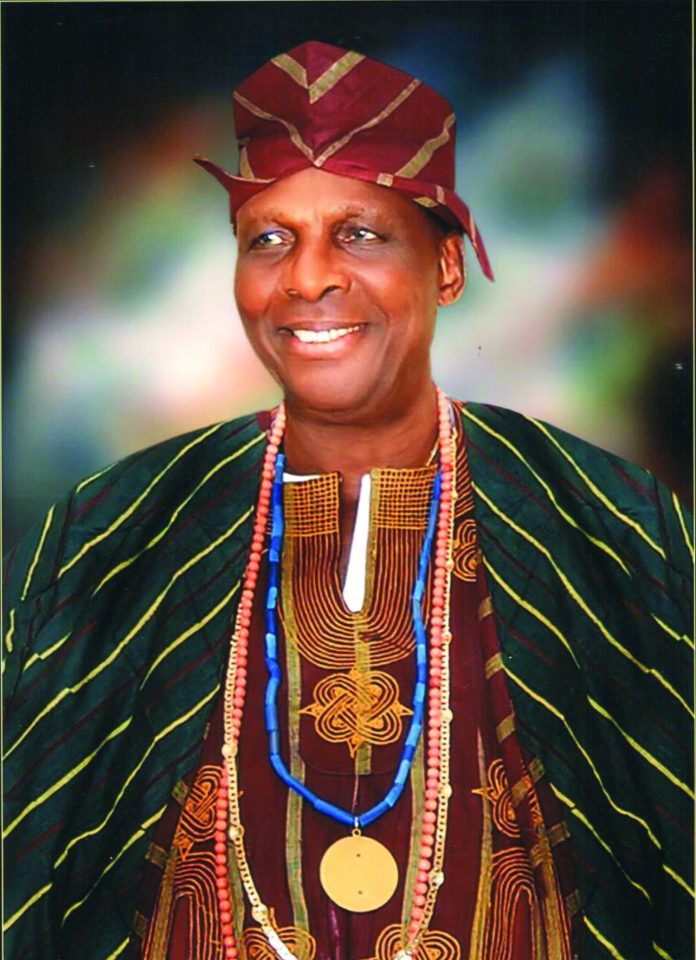 SATURDAY TRIBUTE 
By Joseph Ushigiale

The University of Ibadan will today roll out the red carpets for an illustrious son of the soil and Parakoyi of Ibadan Land, an industrialist extraordinaire and philantopist, Chief Bode Akindele who is billed to received an Honorary Degree of Doctor of Letters from the institution to add to scores of others recognising his immeasurable contributions to humanity.
Born in 1933 as a privileged child to a well-known Ibadan family of Late Pa Laniyan Akindele, the first Chief Tax Officer of the then Ibadan Native Authority and the Late Alhaja Rabiatu Adedigba Akindele, a prominent merchant and the first lady in Ibadan to go on Holy Pilgimage to Mecca and Medina, Akindele's journey through the university of life is in reverse mode. Rather than coming from grass to grace, his was a grace to greater grace story given his background.
Unlike his peers who craved for university education after secondary school, Akindele even with his wealthy family background decided that after his primary and secondary education in Ibadan and Abeokuta opted to enroll for overseas tuition correspondence courses in Secretarial skills, Accountancy and Business Management.
Rather than basking in the glory of his upper class background, Akindele chose the uncharted path of striving to be self-made. His gamble paid off handsomely and he is today an international acknowledged industrialist and highly respected person.
Working Life
Between 1952 and 1956, he worked and grew through the ranks and learning ropes in various commercial enterprises including U.A.C Limited as a Trainee Manager; Ibadan Traders Association Limited as Personal Assistant to the Managing Director; Ibadan Bus Services Limited as an Assistant Accountant and later also as an Under-Secretary of the Western Nigeria Union of Importers and Exporters (Incorporated).
Foray into Business
Akindele founded Modandola Group, one of the largest Nigerian-owned conglomerates with interests across the agriculture, beverages, food processing, manufacturing, maritime, real estate and transportation sectors. His company has its international headquarters in the UK where another of his companies, Fairgate Group, deals mainly in commercial properties and counts retail chains like Sainsbury's and Asda Walmart as tenants.
As a man with deep foresight, Akindele visualized far into the future and founded Modandola as a commodities trading house in the 1950s.  When the Nigerian government issued an indigenisation decree in 1972 that mandated British companies to transfer some equities to local businessmen, Akindele acquired a stake in Umarco, a leading shipping company controlled by the Rothschild family. He was also part of a consortium that acquired Stockholm-based tobacco company, Swedish Match in 1990 and sold it to Procordia two years later. Furthermore, he holds significant stakes in blue-chip companies in the US, as well as a sizeable real estate portfolio in the country.
Within this same period (1956 and 1962), he established Oke 'Badan Brothers & Company (Produce Merchants); moved its headquarters to Lagos as he felt that the then Western Region, consisting of what is now known as Mid West and Delta States was becoming too small for his business. He took a bold move to establish Modandola Investments Limited which is into property development and later became the flagship and Holding Company of the following companies: Associated Match Industries (Nigeria) Limited, Coastal Services (Nigeria) Limited, Obelawo Farcha Fishing Industries Ltd, Standard Flour Mills Ltd, Standard Packaging (Nigeria) Ltd.
Encouraged by the huge success that greeted him at home, in 1983, he set his sights on much higher business stakes and deciding to establish various businesses in Europe, Eastern and Southern Africa and the Pacific Regions.
By 1990, he confounded his competitors by successfully acquiring a major international conglomerate called Swedish Match, the world's largest manufacturers of Matches and lighters with operations in sixty-two countries covering the five continents of the world. He is also the founder of Bode Akindele Foundation (BAF) for Charity and Alhaja Rabiatu Adedigba Akindele Medical Centre (ARAMED) and currently serves on the Board of Directors of several international companies in both Europe, Eastern and Southern African Regions.
Awards and HonoursOther awards already in Akindele's kitty are Oyo State Government Award as the best contributor to the social economic growth of the State in 1989; His Royal Highness, the Late Oba Adetayo Akinbiyi, the Olubadan of Ibadan conferred on him with the chieftaincy title of Parakoyi of Ibadan Land in 1981; the Central Council of Ibadan Indigenes honoured him with a Merit Award for his exemplary services and special contributions to the development of Ibadan Land in 1994.Others are, the Methodist Church Cathedral, Agbeni, Ibadan, bestowed on him the title of Baba Ijo of the Cathedral in 1995; The Methodist Church Nigeria bestowed on him the Knighthood of John Wesley (KJW); Honorary Life Vice-President of NAACIMA; Vice PATRON, Nigerian Red Cross Society, Oyo State Branch; PATRON, Nigerian Red Cross Society, Lagos State Branch; Life Patron, Wesley Group, Methodist Cathedral, Yaba, Lagos; Patron, Wesley Guild, Hoare's Memorial Methodist Cathedral, Yaba, Lagos; Holy Pilgrimage to Jerusalem (JP) in 1999.He was also conferred with the National Honour of the Officer of the Federal Republic (OFR) by the President, Olusegun Obasanjo in 2002; Fellow of Nigerian Institute of Management (FNIM) in 2004; Nigerian Chamber of Shipping, awarded Certificate of Recognition, of Outstanding pioneering contributions to the development of the Maritime Industry in Nigeria in 2005; Chairman, Board of Trustees, Wesley University of Science and Technology (WUSTO); Redeemer's University honoured him with An Outstanding Contribution Award and awarded an Honorary Doctorate Degree of Management Technology at the Federal University of Technology, Akure in 2006.
Having accomplished his set goals in the corporate environment, Akindele is now set on doing good to society and has established the BAYI Foundation. At its launched in 1985, he said it is primarily a service to Nigerian Youths, adding that BAYI is a collaborative youth development project that has been conceived to provide platforms to stimulate and support youths in innovation, entrepreneurship, leadership and development.
"The primary objective is to develop millions of positively focused and well oriented Nigerian youths as innovators, entrepreneurs and leaders.  As some of you may have known because of our association over the years, my inspiration through God's help is to be of benefit to mankind. This inspiration led to the establishment of the BODE AKINDELE FOUNDATION (BAF) in 1985 which has been involved in several special projects, some of which are also dedicated to the development of our youths.
"BAF in addition, has sponsored and financed a good number of Nigerians, Christians and Muslims, including clergies, to perform holy pilgrimages. At BAF we try to assist in alleviating the sufferings of others, promote good causes and sustain good and laudable visions. We cover education, research and offer support to the disabled and deprived; it is therefore easy for us to collaborate with others to seek to do what is required for the development of our youths.
"We have to come together for the youth (our tomorrow) by taking meaningful actions to tackle the threats and the challenges that are militating against their proper development.  These challenges are real. They may take a long time to solve, but that shouldn't discourage any of us from the belief that we can make a difference. It should inspire us to take immediate actions. And more than anything, that's what is needed today – the engagement of everyone who wants to see a better future for our children," he said.