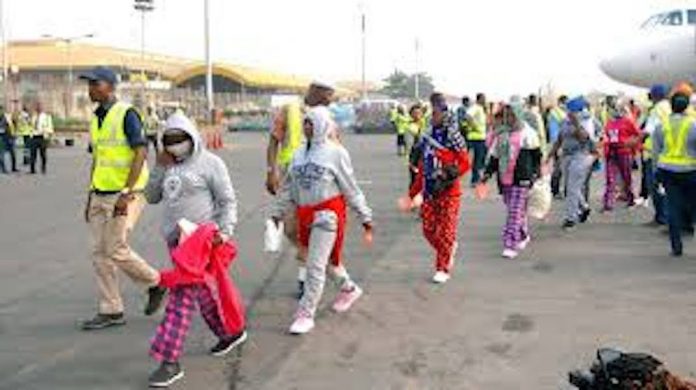 Kayode Fasua
As another batch of 161 Nigerian migrant-returnees recently arrived Lagos under the EU-IOM joint initiative on migrant protection and reintegration, a group, Migration Enlightenment Project Nigeria (MEPN) has renewed its call on the federal government to mount pressure on the Libyan authorities to set free thousands of Nigerians in various detention camps in that country.
A recent report of the National Emergency Management Agency (NEMA) however, indicated that no fewer than 10,000 Nigerians had been repatriated from Libya between April 2017 and October this year.
The MEPN, in a statement by its Co-Project Directors, Kenneth Gbandi and Femi Awoniyi, congratulated the returnees for their safe return, even as it praised the efforts of the Federal Government, the European Union (EU) and the International Organisation for Migration (IOM) for the humanitarian repatriation programme.
But it nonetheless demurred, stating, "The MEPN would like to use this opportunity to note that thousands of Nigerians may still be stranded in Libya and other transit countries.
"The case of a group of recent Nigerian returnees who were held captive inside a government-run detention centre in the Libyan town of Zawiya indicates that many Nigerians could still be in forcible custody in the North African country.
"A video recording made by one of the migrants and sent to the international media in July 2018 led to IOM's efforts that freed the Nigerians, who have since returned home."
The MEPN added that it believed that many Nigerians could still be held in Libya, not only in official detention centres but also in camps run by smuggling gangs and militias.
It, therefore, called on the federal government to demand from Tripoli, a list of Nigerians being detained in its facilities, and release them immediately so that they can return home.
"The case of the Nigerian migrants should serve as a lesson to young Nigerians and deter them from embarking on the dangerous journey to reach Europe without visa.
"The MEPN calls on young Nigerians to seek legal ways of migrating as thousands of Nigerians have lost their lives in the past five years in the process of irregular migration."
It then urged the government, the EU and the IOM not to relent in their efforts until all Nigerian migrants stranded in Libya and other transit countries are safely brought back home.
Meanwhile, some of the Libyan returnees who chatted with THISDAY, alleged the federal government neglected them since they arrived the country; some, about two years ago.
One of them, 25-year-old Sade Aliyu, a resident of Ipaja area of Lagos, bemoaned her fate, saying since she arrived from Libya in October last year, exactly one year ago, she had not been able to get any job.
"This has turned me to 'fine bara' (stylish begger) in my neighbourhood, as I go to family members and friends to demand money," she lamented.
Besides, a distraught Sade said she had been stigmatised by her neighbours, many who see Libyan deportee ladies as prostitutes, thus limiting her chances of getting a suitor.
In his own case, 32-year-old Joel Osarenren, a resident of Benin, Edo State, says he is now an outcast of sorts, as his father has virtually disowned him.
But in spite of these tales of woes, the Director General of National Agency for the Prohibition of Trafficking in Persons (NAPTIP), Mrs.Julie Okah-Donli, said the agency was doing its best to meet the needs of the returnees.
Okah-Donli, who spoke recently at an interactive session with journalists in Sokoto, said 6,000 victims of human trafficking had been rehabilitated since 2014.
She said three females out of those rehabilitated were trained to university level and were now employees of the agency.
"It may interest you to know that three of the victims that were rescued by NAPTIP were sponsored in school and are now graduates, working with NAPTIP.
"So we do not only train our victims but we also give them employment. We partner with sister agencies to train and ensure that they are empowered,'' she said.