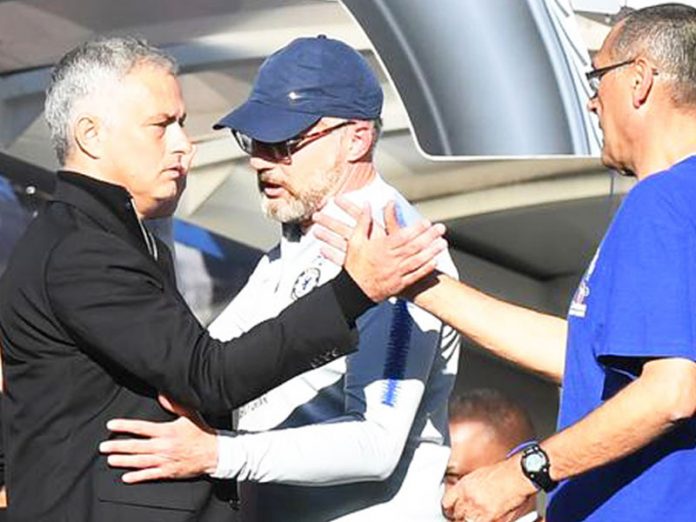 Manchester United manager Jose Mourinho was involved in a furious touchline bust-up after Ross Barkley's 96th-minute equaliser rescued Chelsea's unbeaten Premier League start at Stamford Bridge.
Mourinho's side looked on course for an outstanding win over his former club after two goals from Anthony Martial overturned the first-half lead given to the hosts by Antonio Rudiger's 21st-minute header.
He bowed his head in disappointment as Barkley scored in the dying seconds after a goalmouth scramble, but then reacted angrily as Chelsea technical assistant Marco Ianni celebrated in front of him before then pumping his fists in Mourinho's direction again.
The Portuguese jumped from his seat and was then held back by a mixture of stewards and Manchester United staff as he attempted to get down the tunnel at Ianni.
It was a dramatic conclusion as Mourinho saw victory snatched away after he had replied to the taunts of Chelsea fans by holding up three fingers to remind them of the three Premier League titles he won while in charge at Stamford Bridge.
The Blues looked in control when Rudiger took advantage of Paul Pogba's poor marking to head home Willian's corner, but United responded superbly after the break and Martial's double – a smart, swivelling finish and a composed, low effort – put the visitors on the brink of three points until that frantic finale.
As the game entered stoppage time, everything seemed so orderly. Mourinho had kept to his promise that he would demonstrate restraint if his team were winning and, in fairness, Chelsea's supporters had shown no appetite to hound him in the way they had on previous visits to his former club with Manchester United.
But then the dramatic, extraordinary finale: 96 minutes gone, the moment when everything erupted, when Mourinho lost the plot and a confrontation in the tunnel that made it literally shake because of the number of people involved.
Mourinho was clearly incensed by the provocative manner in which Ianni, celebrated Barkley's late equaliser directly in front of him, fists pumping, and it was true the home team's coach seemed unduly keen to rub it in.
"Bad education," Mourinho noted afterwards. The FA is likely to want an explanation and in the circumstances it was almost a surprise Mourinho calmed down quickly enough to shake Sarri's hand at the final whistle a few moments later.
Sarri was not impressed with Ianni either, describing it as a "big mistake" and instructing his assistant to apologise to Mourinho. "The situation is now between me and my staff, face to face," Sarri said, indicating that would not be the last Ianni, who worked with him at Napoli, would hear of it.