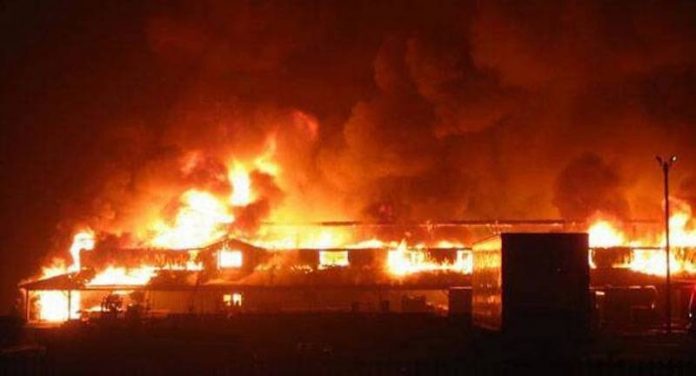 Seriki Adinoyi in Jos
Residents around Dutse Uku and Tina Junction of Jos North Local Government Area of Plateau State yesterday were scared by cloud of thick smoke billowing from that axis, believing that another crisis had started again.
The news quickly filtered through the Terminus and thickly populated area of Ahmadu Bello Way but nobody was patient enough to ask what the matter was before running, causing serious stampede with vehicles colliding against one another.
While the Christians were suspecting the Muslims to have started the round of violence by setting ablaze the building, the Muslims too were suspecting the Christians.
Mobile policemen together with a handful of both Muslims and Christians rushed to the venue only to meet a house burning on its own while the religious and ethnic bigots seemed to be put to shame.
The policemen quickly invited the fire fighters who came to put out the fire when the neighbours then told the sympathisers and the security people that there was an upsurge from the electricity especially when light was restored suddenly, causing a spark which later engulfed the building.
The security operatives warned the people not spread unsubstantiated and unfounded rumours, knowing that the state is on the verge of recovering from the recent violent conflicts which claimed many lives and property.
Meanwhile, Plateau State Governor, Simon Lalong, has approved the review of the curfew period imposed on Jos North and Jos South Local Government Areas.
In a statement signed by the acting Secretary to the State Government (SSG), Mr. Richard Tokma, the curfew starts from 12 midnight and end by 6.00a.m. daily.
The statement advises citizens to go about their normal businesses without fear of molestation but to report any suspicious persons to security agencies.
Meanwhile, Commissioner for Information and Communication, Mr. Yakubu Dati, said the ban on public procession is still in force, warning that anybody or group who is aggrieved by the result of the local government election results should go to the tribunal constituted to handle such cases.