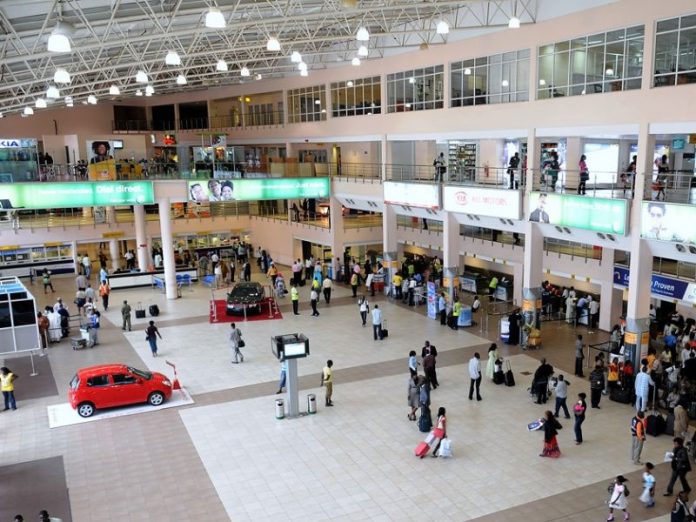 Chinedu Eze
Hundreds of passengers were stranded yesterday at the Murtala Muhammed Airport Terminal Two (MMA2) as aviation unions picketed the terminal early in the morning over the disengagement of some workers of Bi-Courtney Aviation Services Limited (BASL), operators of the facility.
The unions-Air Transport Services Senior Staff Association of Nigeria (ATSSSAN), National Union of Air Transport Employees (NUATE) and the National Association of Aircraft Pilots and Engineers (NAAPE) were involved in the obstruction of operations at the terminal.
Last Tuesday, BASL obtained court injunction that refrained the unions from picketing the facility but this was rejected by the unions which have had long battle with BASL over sack of its workers.
When THISDAY visited the terminal early yesterday, passengers billed for early flights of Arik Air, Dana Air, Azman Air and Max Air were stranded, as the unions prevented the airlines from airlifting them.
The angry passengers hauled invectives at the union members, alleging that they were being driven by selfishness and added that they went that far because they were not "settled."
The Public Relations Officer of Dana, Kingsley Ezenwa, also confirmed the development.
Ezenwa disclosed that the airline found a way to operate its first flight this morning amid the challenges on ground but regretted that the situation had become worse as other flights of the airline and other airlines had remained affected.
He said the obstruction of flights has caused the operators and airlines millions of naira and passengers schedule and appointments disrupted.
However, the Federal High Court sitting in Lagos yesterday granted an order restraining the unions from disrupting the operations of MMA2 in the suit filed by Bi-Courtney Aviation Services Limited (BASL), operators of MMA2.
The unions had given notice that they would disrupt operations at MMA2 from yesterday over the disengagement of some workers of BASL who they said were disengaged for their alleged attempt to join them, but who the company said had attained retirement age or were found not to be diligent in their duties.
But a statement issued by BASL yesterday said: "We will like to bring it to the attention of the public that the Federal High Court in Lagos in suit number FHC/L/CS/16412/18 has granted an order restraining the unions from carrying out their threats of disrupting the activities of the terminal.
"Pursuit to this order, members if the unions found in the premises of MMA2 would be liable to trespass. We reserve our right under the law of Nigeria to deal with such person as a trespasser."
BASL also assured customers and passengers of MMA2 that they will continue having seamless access to the facility.