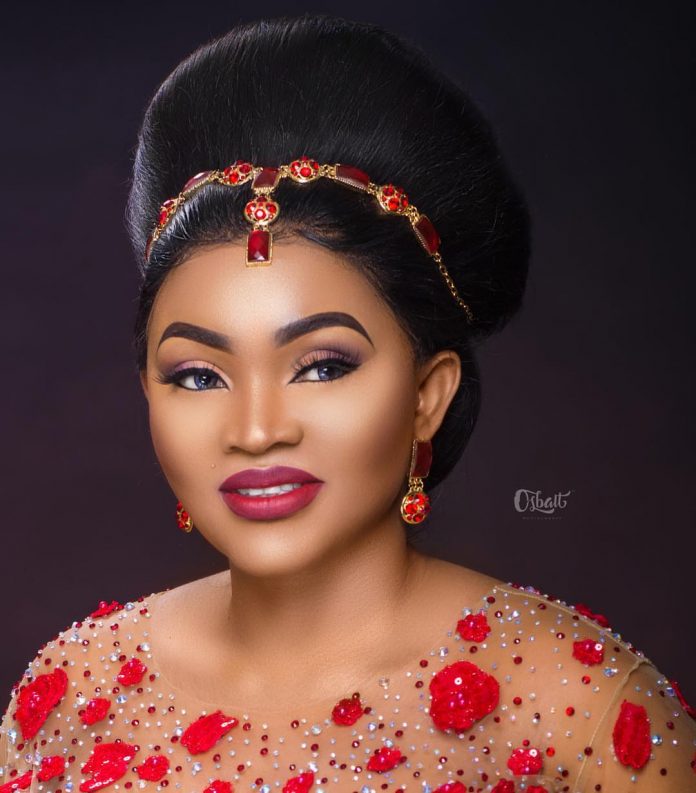 Mercy Aigbe is one of the most celebrated actresses in Nollywood today. Her excellence and style have earned her roles in both Yoruba and English movies. She tells Tosin Clegg about an upcoming movie, her new partnership deal, her life, career and much more
My new movie is titled, 77 bullets
The title should tell you what to expect from the movie. It will come out pretty soon at the cinemas and people are going to love it; that I'm 100 per cent sure of. 
I have a few big names in the new movie
Yinka Quadri, Abimbola Ogunlowo, myself and a lot of other names that I will want you all to see. By the special grace of God, the movie would be out later this year. 
There are so many other movies set for cinemas
There is a Movie I did with Dayo Amusa which will be hitting the cinemas in a few weeks. I did another one with Uche Jumbo and Ini Edo, among many others. Aside movies, I'm a fashion entrepreneur, and my daughter also launched her makeup line. It's just been work, work and work for me. 
Success drives me to do more
I always want to be successful in what I set out to do and that's what keeps me going. My social media is big and a lot of people follow me, and they can attest to the fact that I am a trendy and fashionable person. So, I always want to succeed in whatever I do. 
My son is showing interest in acting
Like I always say, I'll give my 100 per cent to whatever my children want to do. 
Cinema has been revived in Nigeria
I remember when I was young; we used to go and see Ogunde and other such performances. But now, people are accepting the cinema culture that has been revived. It is now another avenue for movie makers like myself to make more money. 
Both home videos and cinemas make money
These are just different channels to make money for your movies. But I believe that as long as people are asking for your movies, it's going to be in cinemas for as long as the demand is high. But if we weigh the maths from cinema tickets and DVD sales, you can tell the difference in revenue, but for me, both are revenue earners for movie makers. 
I represent very credible brands
I do my investigation when brands approach me with my team working on the investigation. I make sure they are brands that a brand like mine can associate with because I would want the feedback from the people marketing this product to be good and favourable. So, I would make sure I go into any sort of partnership with brands that have integrity. I'm a businesswoman and I know what marketing is all about and how to push brands. The energy I put in is what may attract people to me. 
I'm delighted and happy with my new partnership
Even before now I have tried Mary Maks products, and when the contact person got to me I asked for some of their products to try it to be sure it's going to work. I like to represent credible companies, and when I tried it, I was so happy because the results were amazing. 
Now that we are having this collaboration, I am thrilled and looking forward to greater things. I will be representing some of their products; the Skin body scrub, facial cleanser and face cream alongside some other products. 
I have so much joy seeing my daughter do what she is doing
And it's so beautiful. She has gone to school now, outside the country and it's not easy for me. For 17 years we've been together, as she is my best friend, we gist and talk together. Letting her go was so emotional for me and I miss her a lot. But it's fine, she is a big girl now and she is starting her own journey in life. I have brought her up well and I have imbibed the value I want her to live with. The joy is unexplainable. 
Piracy is still a major challenge
Now they have taken it online. For example, my soon to be released movie, 77 Bullets had a situation. One day someone sent me a poster of the movie that said the movie is showing on YouTube with my picture. I quickly went to the YouTube channel and lo and behold it was another movie entirely. That isn't good for us as movie producers and directors. 
I try to live a healthy lifestyle
As much as possible I stay away from fatty foods and drink lots of water. Eat healthily and do a lot of vegetables and fruits. This may sound cliché but it's the routine that has kept me this young. I also exercise when I can, because of my busy schedule. I jump on a treadmill and work out most times.