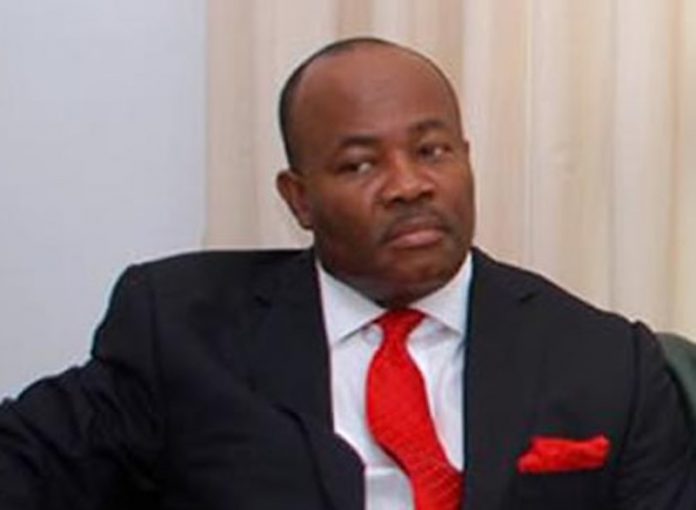 The former Governor of Akwa Ibom State, Senator Godswill Akpabio, has attributed his support for the governorship bid of the Managing Director of the Niger Delta Development Commission (NDDC), Mr. Nsima Ekere, to the latter's forgiving spirit, despite being forced to resign as his deputy six years ago.
Akpabio said at the thanksgiving service by the Akwa Ibom State Executive Committee of the All Progressives Congress (APC) at New Birth Bible Church, Osongama Estate, Uyo, that Obong Ekere has
never abused him, despite their rift then.
Addressing Ekere, he said : "It is me that asked you to resign as Deputy Governor. You went and continued your business and even became richer. But not one day did you open your mouth to abuse me. Even in your public speeches and in newspapers, I did not find you abusing me. Do you know why God closed your mouth? It was because it was not your time. And God knew that when it is your time, God will still bring men to help you."
The former Senate Minority Leader likened Ekere's story to the Biblical story of Saul and David.
"No matter what Saul did, it did not stop David from becoming king. No machinations, no lies, no incantations of the devil will stop you from becoming the Governor. The fire of God will bring you victory in 2019. When God speaks, He does not need over 200 prophets to go round the local government areas and in the end, the church will collapse. Not all prophets are truly called. God does not do many things with too many prophets. Your
Excellency, the next Government House prayer team should not have too many prophets," he said.
Akpabio admonished Ekere's opponents for the APC ticket to realise that both the primaries and election were already decided spiritually.
"We have about two or three people contesting. But God has already enthroned the next Governor in Akwa Ibom State. What the bishop and prophets did here today is not about the primaries. It is about the general election.