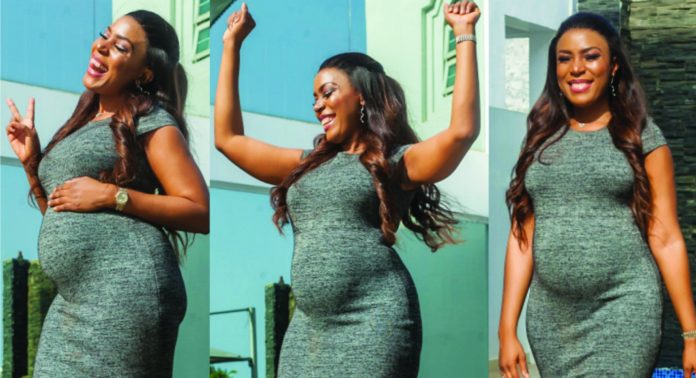 Africa's foremost blogger, Linda Ikeji has successfully delivered her a baby boy in Atlanta, United States of America, but that is not the gist.
Given her penchant for uncovering secrets from celebrities and reporting it salaciously on her blog, it came as a huge shock when she went all secretive about her acclaimed fiancé.
Within the past few months, Ikeji has been in the news; first for her coded engagement, then pregnancy and baby shower, before she delivered a baby boy simply known as Baby J.
The reason is not far-fetched. Given her stance on celibacy, it came as a rude shock when she announced her pregnancy status.
The social media space went wild with many calling her out on her double standards in preaching celibacy and then doing the contrary.
First, allegations began to swirl that she might not truly be pregnant, but planned to use a surrogate and to put paid to those claims, throughout her pregnancy journey, she showed off her baby bump.
Meanwhile, another major issue her pregnancy threw up was the secrecy shrouding her acclaimed fiancé and even in the baby shower that was held recently in Atlanta, it was difficult to pinpoint whether he was there.
The recent hullabaloo about Ikeji started again after she announced through her Instagram account that she has been delivered of a baby.
She uploaded a hospital photo of herself gradually recuperating on a bed covered up with the custom maternity bedsheet.
That set the ball rolling as social media trolls began to send snide congratulatory messages.
One of the messages that stood out was the idea of referring to her acclaimed fiancé as Mr. Ikeji, thus inferring that the man now bears the Ikeji's surname instead of vice versa.
Some men even offered derogatory prayers that they would never be in the shoes of Ikeji's acclaimed fiancé, who is being treated like a secret and has no place in his baby's life.
The 36-year-old later unveiled the face of her child as she cradled him with so much expressed passion.
Her sister, Sandra who was with her during labour likewise revealed that she just pushed twice and baby J came out crying.
She wrote: "Mummy J pushed just twice and baby J came out crying, I haven't seen labour as easy as this, the doctors were so happy because this happened within minutes.. "I know this because I was in the labour room Congratulations @officiallindaikeji. we welcome J with much love. Thank you baba God."