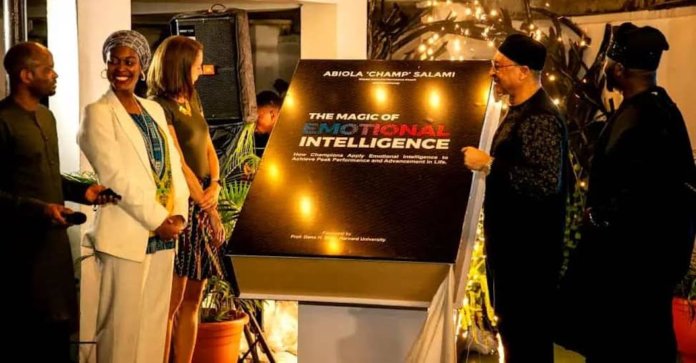 Sunday Ehigiator
World-class performance strategist, Abiola 'Champ' Salami, has harped on the importance of emotional intelligence in the workplace and society at large in achieving better productivity and development.
He made this known recently during the launch and unveiling of his latest book, 'The Magic of Emotional Intelligence', held in Victoria Island, Lagos, which is an offshoot from his 'Champ sessions', aimed at aiding the public to better understand how to be in control of their emotions.
According to Salami, "I discovered a gap in emotional intelligence. While many people use the term because it sounds cool, some other people use it to appraise and describe other people, and some erroneously think it's a tool for deception or manipulation, but only a few people really and truly understand and deploy emotional intelligence.
"Emotions are powerful; they can make or destroy any individual. A lot of time we hear someone say, 'This is business, I'm getting emotional'. That very moment, the person is actually being driven by some kind of emotion.
"Available research says that 61 per cent of professionals admitted that they let emotions get the better of them at work. 86 per cent of workers said, when a colleague doesn't include his or her emotions, it affects their perception of that person's level of professionalism.
"Also, a study that looks at the failures and successes of 11 United States Presidents, shows that emotional intelligence was the key quality that distinguished the successful from the unsuccessful."
Salami also asserted that, no matter how much one earns, "you must be in charge of your emotions. If you cannot manage your emotions, you cannot manage your money, and this is according to Warren Buffett."
He revealed that the book was put together after receiving hundreds of testimonies from heads of organisations, executives and company owners, "that we have a problem to solve across class rooms, conference rooms and board rooms.
"Hence our team considered designing a tool that will equip more organisations who haven't experienced 'Champ Sessions' to achieve better minds.
"Based on our conversations, we felt that the tool should deliver the same experience of simplicity, fun and inspiration that could be relatable, insightful, and transformational just as Champ sessions are well known for.
"Our commitment to designing a masterpiece took me to the best experiences around the world, engaging with the faculty, senior executives across public, private sector, and social sectors.
"We also released the free e-book during Covid-19 lockdown, to help our targeted audience, for them to enjoy sound emotional and mental health, at the wave of the pandemic.
"We served hundreds of thousands of people during this COVID-19, on the campaign of sound emotional health, which reached about a million people across the globe.
"In December 2020, we released the ebook, which is another innovation of 'The Magic of Emotional Intelligence'. In May 2021, we circulated the print version," he added.
Also part of the book presentation were dignitaries and professionals across various sectors of the country.
They include, renowned Political Economist, Prof. Pat Utomi; Publisher of Today's Woman, Adesuwa Onyenokwe; Legendary Comedian, Ali Baba; and Human Rights Lawyer, Segun Awosanya.
Others were, J. J. Omojuwa, Dr. Ibiene Ogolo, Nkemdili Begho, Adefunke Adeyemi, Khadijah Lamidi, Stephanie Busari, Lanre Olusola, Audu Maikori, Juliet Ibrahim and Joshua Ajayi.