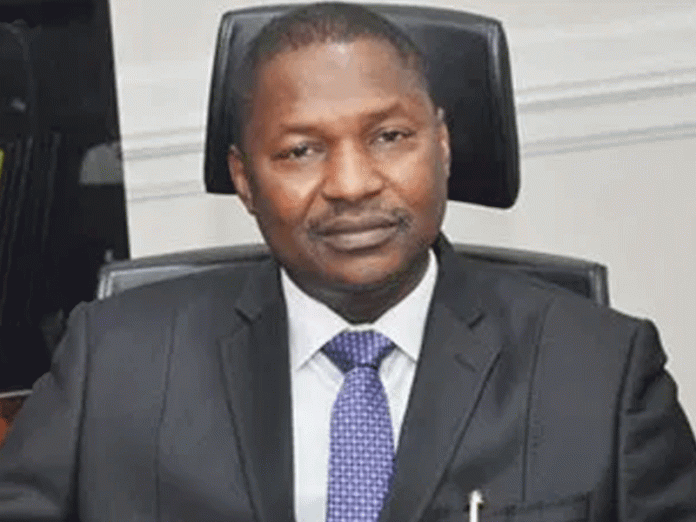 The Attorney General of the Federation and Minister of Justice, Abubakar Malami, is living up to the expectations of his employer – President Muhammadu Buhari in discharging his duties.
Accordingly, the Attorney General is the legal adviser to the government of the federation. He also advises the government on constitutional and legal issues which arise prior to or at government meetings, including whether proposed legislation complies with the provisions of the constitution, acts and treaties of the African Union, the African Convention on Human Rights or other international treaties to which Nigeria has acceded. The attorney general also advises as to whether the state can ratify international treaties and conventions. The attorney general represents the state in legal proceedings.
Going by the aforementioned, Abubakar Malami has never rested on his laurels in making sure he doesn't disappoint. It's in the public knowledge how Malami is treating the most challenging uproar in the P&ID case, which sends Nigerians into legal battle with the connivance of unscrupulous elements within and outside the country.
The government is in the proper direction for the disposition set by this workaholic legal adviser and member of the federal executive Council. Malami deserves accolades for the number of executive bills sent to the National Assembly for deliberation and passage, many of which are accented to by the president. These tremendous works are for the benefit of all Nigerians.
The Kebbi-born legal practitioner is doing all what it takes in promoting the country both home and abroad. The number of cases won by these government in fighting corruption is a fitting tribute to Malami. Setting good pace for others to follow and promoting the image of Nigeria is something that Malami has become good at.
The accolades he has earned such as anti-corruption crusader of the President Buhari administration by Citizens Participation Against Corruption Initiative, Charted Institute of Forensic Investigative Professionals of Nigeria, Charted Institute of Public Resources Management and Politics, Ghana, Security and Forensic Studies, and others are all good examples. They didn't come to us as surprise, looking at his track record of prudence and pragmatism in all his dealings.
Malami has all that it takes to continue with the good work he has started since his appointment as a minister. His performance is excellent, his leadership style is commendable. Malami always stands for justice and equity. This informs President Buhari's confidence and the desire to keep him as the federal attorney general.
• Hon. Muhammad Garba Gololo, Bauchi State