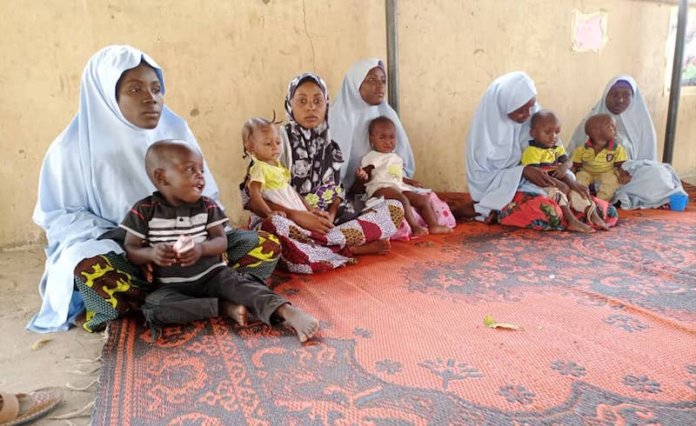 Working to Improve Nutrition in Northern Nigeria and Food For Peace are platforms used by UNICEF, USAID and other partners in ending malnutrition in Zamfara state. However, the fear of insecurity and its spread have become an albatross as they force mothers to remain at home for fear of uncertainties. Kuni Tyessi writes
The rising case of insecurity has continued unabated in several parts of the country with the north as worst hit.
The long term implications which cannot be seen from a shortsighted lens has continued to brew with devastating consequences on children, and their mother's inability to access the United Nations Children's Fund (UNICEF) intervention, thereby watering down its efforts in Working to Improve Nutrition in Northern Nigeria (WINNN) programme.
In Zamfara state where most boarding schools have been closed down as a result of the kidnapping of over 300 secondary school students in Jengebe, Talata Mafara Local Government Area of the State, as well as other cases of insecurity, mothers have lamented that fear of bandits and the unknown have become an impediment, resulting to their timidity of going to Primary Healthcare Centres (PHC), where the Micro Nutrient Powder (MNP) for prevention of malnutrition in children from six to 23 months, and the Ready to Use Therapeutic Food (RUTF) for six to 59 months old children are kept for distribution.
Maryam Adamu, a mother of a one-year-old baby who said she left Gwagwalada in the Federal Capital Territory, was in Zamfara to access RUTF, as evidence from other children has shown the supplements are nutrition boosters.
She alongside Zulai Ibrahim, a mother of five years old Khadija, who was a beneficiary of the foods, and a one year old sister who is in the process of using the treatment, supported other mothers who were present in advocating for security from the government as lack of it they said, has created distortions in seeking healthy and fulfilling lives for their children.
They said they are aware of the vicious cycle that malnutrition poses in the lives of mothers who are not educated and enlightened enough to know and understand the importance of nutrition in the lives of their children. They said the simple efforts they have put in place by leaving their homes to access the nutrients have been tampered with, no thanks to insecurity.
According to Zulai: "The drugs are magical because of their efficacy. This is my daughter who is five years old and a beneficiary of the treatment. She is now well. This is another child of mine who is in the process of the treatment and she's recovering fast from when we first came. However, our problem here, just like other mothers have told you is the issue on insecurity.
"Many of us are afraid to come here as we don't know if we might end up being victims of kidnappers. We are happy with the drugs because they are working and we will always want to come for them, but honestly insecurity has become a big challenge."
The mothers of Birnin Magaji LGA of the state are being enlightened about the importance and benefits of nutrition through the Community Nutrition Mobilisers (CNM) and the caregivers at the PHC which is situated at the headquarters of the LGA.
While the CNM, all women and mothers give non- formal education at the community levels and go from house to house with the support of community leaders, the PHCs wait for them at the facility which has been sectioned into five units, simply for nutrition. The units include the consultation area, waiting, health education, admission and the Infant and Young Child Feeding Practices (IYCFP) units.
They are encouraged to bring their children whom if weighed and have fallen short of the expected weight based on their age and physical appearance, are given the Severe Acute Malnutrition (SAM) treatment.
UNICEF in collaboration with USAID and other supporting partners have made the supplies of the supplements less cumbersome, as the PHC always has then in stock. These are given to the mothers on weekly basis and are encouraged to give to the children alone as it will have no formidable impact on adults.
The assistant nutrition officer, Bello Ibrahim, revealed that the supplements have been 100 per cent effective on the children as so far, there has never been a recorded case of relapse from the children treated.
He said mothers are always made to go through health talks once at the facility and one thing they are taught and reminded of is personal hygiene and the need to observe all Water Sanitation Hygiene (WASH) protocols when feeding their children in order to forestall childhood diseases like diarrhea and others.
According to him: "We see so much improvement in the children. You can even see the difference from when the children were brought and when the started using the foods, till the period they stopped. When they come, we take the measurement of the children. Usually, in six to eight weeks of accessing the foods, they recover and fall into line. When they come back, we see tremendous improvements.
"There's no challenge because we take time to ask questions when filling their forms. However, the little challenge they are facing which stops many of them from coming is that of insecurity, especially for many of them who stay quite faraway.
"The mothers have been very cooperative with instructions they receive from here. None of them feed on the foods alongside their children. I only hear stories about such in other places, but we are yet to witness or detect such here. We ensure they stop such practice even if they are secretly involved in it.
"Whenever we weighed the children and detect there's a shortfall in weight, we bring the attention of the mothers, as this might be evidence that the baby was not completely fed with the supplement, and henceforth, there are changes.
"UNICEF usually tells us to inform the mothers when their children have added weight and have improved, as this will encourage them to continue and also serve as boosters for other mothers."
This is not forgetting the fact that nutritionists and experts in the field of medicine have continued to reiterate the importance of exclusive breastfeeding for the first six months of a child's life, with emphasis on the first breast milk after delivery. It is said to contain the colostrum, a yellowish substance which is an important component in the breast milk. This is cognitive for a child's mental, physiological and emotional development and stability. It in turn boosts a child's immunity to diseases as well as early childhood care development in learning.
At the lapse of six months, the child is expected to be gradually introduced to other child friendly foods which are expected to be balanced in nutrients of adequate proportion alongside the breast milk until 18 months of the child's life.
Moreso, it is also advised that nutrition for a child starts from the foetal stage with respect to what the mother consumes. These are indices and determinants to causes of wasting, stunting and malnutrition in children which must be tackled in their early months of existence.
Moreover, the government of Zamfara State says all hands are on deck to change the negative narrative that insecurity has cast on the state that prides itself in farming. How far the crusade will go remains uncertain as only time can tell.
Attachments area