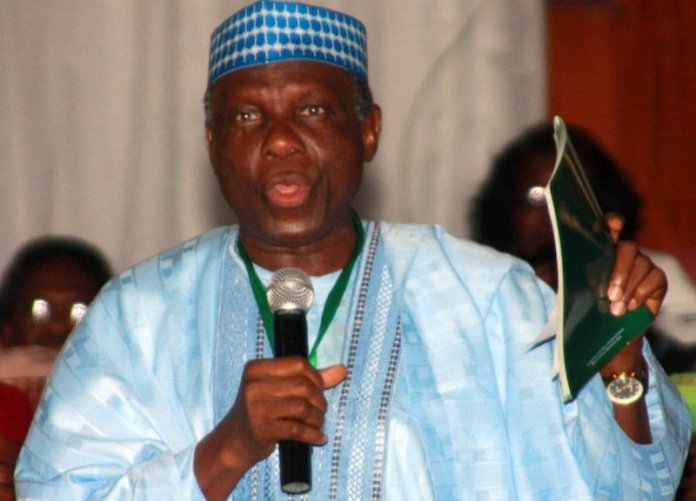 Laleye Dipo in Minns
Former presidential aspirant of the Social Democratic Party (SDP) Professor Jerry Gana has dumped the party and returned to the Peoples Democratic Party where he was a foundation member.
Gana lost the presidential ticket of the SDP to former Cross River State Governor Mr Donald Duke in 2018 and since then had been inactive in local and national politics.
Gana rejoined the PDP at his Busu ward in the Lavun local government of Niger state on Wednesday.
At a brief ceremony Professor Gana who was Information Minister in the General Babangida military administration said: "there is no Government in Niger State or Nigeria" adding that: " Nigeria is nosediving and needs urgent rescue"
Professor Gana said "today is not a day for lecture, it is not a day for campaigns, we just want to rejoice that we are back together solidly; and we are going to work together solidly, that we are going to work together effectively, that we are going to campaign powerfully.
"I tell you, we are going to go round strategically, in such a way that the All Progressives Congress Party (APC) so called government, whether in Niger state; is there a Government in Niger state? Because many people are not aware, or at the Centre? At the federal level, we don't even have a government".
A close ally of Professor Gana and former Speaker of the Niger state House of Assembly Alhaji Musa Maali said the return of the former presidential aspirant was as a result of pressure mounted on him by the stakeholders in the state in order for us to realise our 2023 ambition of winning the governorship of Niger state.
A Publicity Secretary of the Social Democratic Party Alhaji Alfa Mohammed described the exit of Professor Gana from their party as "a painful exit but I don't begrudge him because if I was in his shoes I will take the same action "
Alfa told THISDAY that Professor Gana invited him and about 24 others to a caucus meeting last week where he informed us of his decision to quit the SDP.
"As an individual I support his action and I wish him well but declared that: " I have no intention of following him to the PDP.
"He is a big asset to the SDP, you cannot expect a person of that Calibre to continue to remain idle when he is still very active and agile," Alfa said.