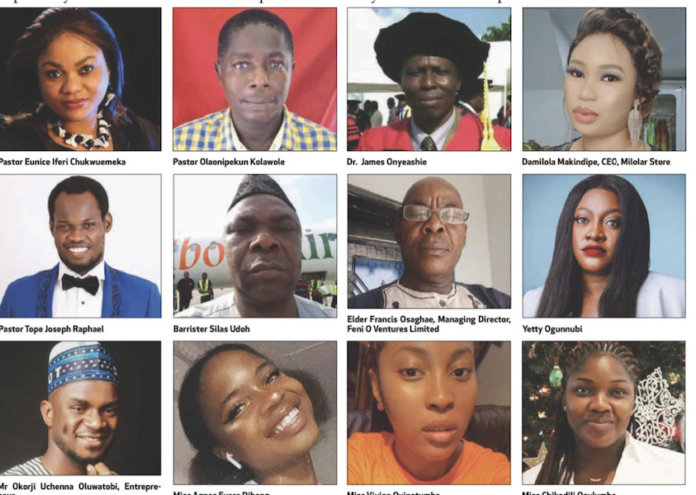 Mary Nnah, Rebecca Ejifoma, Chiamaka Ozulumba, and Oluwabunmi Fache, who sampled the opinion of some Nigerians, write that aside their personal goals, their expectations and aspirations for 2021 are for government to provide infrastructural development, tighter security, basic amenities, as well as create better business environment for all to thrive in, especially with the economic slump occasioned by the COVID-19 pandemic
Despite the travails of 2020, many Nigerians welcomed the New Year with great hopes and expectations. Hoping against hope that this year will yield better results, given the prevailing presence of the second wave of COVID-19 occasioned by the economic slump and hardship, especially for the low income earners, most Nigerians who spoke to THISDAY called on government to provide infrastructural development, tighter security, basic amenities, as well as create better business environment for all to thrive in.
Going by what was witnessed in 2020- the brazen attack on the nation's security architecture (terrorism, increased kidnapping, banditry, and armed robbery), lack of access to healthcare, COVID-19 pandemic, economic slump and hardship, their demands were understandable and relatable.
Pastor Eunice Iferi Chukwuemeka: Chairman Eagle Group and co-Pastor of Winning Power International Ministry
Looking at the performance of the global economy you realise that Global GDP is expected to dip to a very reasonable percentage in 2020 due to the impact of COVID-19. My expectations are that the economy globally will recover in 2021 as countries relax lockdown and social distancing policies.
I expect the discovery of a vaccine for the virus, coupled with improved consumer demand will speed up recovery in 2021. I expect China to lead recovery with an expansion in 2021. According to the IMF, China's exports recovered due to earlier restart of activities and a strong pickup in external demand for medical equipment.
I expect the US economy will expand reasonably while the economy of Sub Saharan Africa should expand likewise in 2021. I also expect that according to psalm 36vs9, "In God is the fountains of life and in his light may we see light" I see 2021 coming with fountains of life and so much light, it is my expectation that we see this light, because there can actually be so much light and you don't see the light, it's my prayer and expectation that we will see the light that God will surely bring to us in 2021.
Olaonipekun Kolawole: Clergy
As we are entering into this new year of grace with thanksgiving, my desire and expectations for our leaders and followers alike is to appreciate God by turning a new leaf. Our year of Grace; grace in the sense that no one both the rich and the poor, the powerful and the powerless who are able to see the year 2021 will not know that it is the grace of God that sees us all through. 2 Samuel 1:27, those called the mighty fell and money and power even position could not rescue or save.
My expectations in accordance with the word of God in the book of Ephesians chapter 4 is to see everyone dropping their wicked way of life if we desire anything better this coming year 2021. To put off our old self which is being corrupted by our deceitful desires and put on the new self-created to be like God.
My desire for the new year for everyone is to see those that are stealing the wealth of this nation that belongs to all to stop their evil way of life; both the arm robbers and the pen robbers alike so that every citizen will enjoy the blessings of God together.
I desire to see Nigerians to be more hard working this coming year rather than looking for short cuts in making their ends meet; dignity in labour not through internet fraud while our government will equally make the environment more conducive for our young ones to work in a safe country. Our government should take security more seriously.
My expectation is to see our leaders leading us in truth by putting away lying tongues. This is a part of the old man that must be put off; shameful and abnormal behaviour, lack of self-control to the point of having no shame or thought for public decency, and that branch of the new man that must be put on in opposition to it is speaking the truth in all their sayings.
My expectation is for me to be able to trust our leaders anytime they speak to us as citizens.
My expectation is to see my country Nigeria in 2021, a new Nation, as one country indivisible neither by tribe or religion, a country that lives together in love and prosperity, a country that lives in peace, not joyful in shedding of innocent blood; a country where her wealth will be a blessing not a curse, a country where every tribe will live together as one in love.
A country where everyone can live and work in any part of the nation without fear, a country where our young ones can apply for work in any government ministry without discrimination, a country where the citizens and the security officers will be friendly, a country where the system will not only work for the rich and the powerful but for everyone; a country where one can sleep with his two eyes closed, travel on the highway without fear and trepidation and farmers can work in peace on their farms and look forward to a great harvest! A country that fears God.
These are my expectations for this nation Nigeria, my country. Yes, it is possible if only me and you will do our part with the fear of God.
Dr. James Onyeashie: Senior Lecturer and Ag. Head, Department of English, Augustine University, Ilara-Epe, Lagos
I expect the pandemic to be history largely due to human resilience. The new normal created by the pandemic has destroyed predictability in everything, so I expect adaptability and flexibility in everything.
I expect the security situation in Nigeria to improve based on the balance of terror because citizens will be forced to defend themselves against all the criminal elements destroying the peace and unity of the country. I expect that the government of the day will realize that history is an unforgiving tyrant chaos and anarchy is an evil wind, so everything legitimate may be done to create and sustain peace.
I expect that the Nigerian government will understand that while it is commendable to establish more tertiary institutions, it will be more productive to build industries to employ graduates of different levels of education.
I also expect that our leaders will be more humane to understand that the country is in a direction straight and that private and public businesses can inject new life to the economy. So, I expect that double or even multiple taxations need to be addressed because taxation fatigue has set in already.
I expect that parents will be more able to provide the necessaries of life for their children and wards and so contribute to the upbringing of the total person in their children. I expect to still have a safe country where I can travel in safety and a safe home to return to without fear of terrorism.
I expect to be alive and to be me and not to be seen as a second class citizen in my own country.
And finally, I expect that in spite of all the difficulties in our lives, that we will still have the capacity to love and care for each other and one another.
Damilola Makindipe: CEO, Milolar Store
As everyone else, I'm optimistic about even a brighter 2021. I can't say 2020 was a bad year really, it's been a great year for me and my brand despite the plaque of COVID-19.
So, I look forward to a more fulfilling experience in the year 2021. Plans to plant more stores are in the pipeline. Also will be expanding on our products offerings to better serve as esteemed customers. I'll be adding new products lines, improving on existing ones and developing more structure to ensure we are better equipped for the growth we anticipate.
As an advice, I'll also like to suggest that as we go into the New Year, we should have renewed hope, we should guide our minds and purify our thoughts, because our predominant thoughts manifests in our lives and we should be mindful of sabotaging ourselves thinking negatively on the state of the economy thereby generating a national karma of unpleasant experiences that stem from our collective minds.
It is important to note that 2021 isn't formed yet and we will build it as we journey along, so let's make it a beautiful year consciously.
Tope Joseph Raphael: Clergy
Everywhere has been dark, in 2021 it will still be dark, but in the long run, there will be light that will expose the dark forces that were operating all these while. This year 2021, there will be light.
At the end of all that will happen in 2021, it will be seen that there is a God in heaven who ruleth in the affairs of men.
Christianity will face a lot of attacks. Personally I see it as a year Christians should know God for themselves, because their faith will be tested..
It is a time Christians should not be discouraged by whatever they see or hear, but hold fast to the profession of their faith and God will give us victory at the end.
I have great expectations for 2021. Last year on the 31st night of 2019, I spoke in our cross over night service, that in 2020, there will be fear of death, and it will be on the rise all over Europe & Africa, but God says His covenant is over us that we will not die young and here comes COVID-19. The funny thing I am hearing is that this coming year is still going to be worse, and this could come in a different form. But there is an assurance of God for the redeemed ones.
So my personal view isn't to have quick expectation of everything becoming better quickly because we just stepped into the new year, we need to be patient, preserve, and be prayerful, There is a battle against the agenda of the dark kingdom in the heavenlies, at the end light will prevail and expose them all.
Silas Udoh: Lawyer
2021 will be full of blessings. However, l expect the National Assembly to make laws that can eradicate poverty in Nigeria, promote unity in Nigeria and opportunities for employment and empowerment. I also expect churches to practice old time religion which humanity services were the main focus.
I expect Nigerians to embrace genuine investments and think business always because even if the government or people fail, an individual should not fail his or herself. I expect Nigeria as a nation to love God above all other things so that the citizens can have confidence in the activities of government.
Elder Francis Osaghae: Managing Director, Feni O Ventures Limited
My expectation is for Nigeria to discover COVID-19 vaccine for Nigerians and for the African continent. I look forward to seeing our economy bounce back in 2021 as the year 2020 was a disaster.
Yetty Ogunnubi: CEO YD Company
Most times we have New Year resolutions at this time but we can agree that 2020 was not the best year with COVID-19 and of course vaccines are being given well in some parts of the world but ultimately we are still bringing COVID-19 into 2021.
The goal is not to have expectations but to take each day at a time, for me my goals are in moderation 2021 by being intentional to making sure 2021 is a successful one as I enter into my 5th decade on earth, personally there are few personal things I'll like to achieve if the year permits but ultimately the goal is to stay alive, making sure my mental health and general health is well looked after and I hope my organisation (YD) will be more impactful in the New Year.
Lastly, I also look forward to making a deliberate effort to make a positive change to the community at large.
Mr Okorji Uchenna Oluwatobi: Entrepreneur
My expectations for 2021 would be for the economy to get better and also for an end to COVID-19. Beliefs for me would be that the Nigerian government would make life better for its citizens. Strength is prayer for the country always.
Miss Agnes Eyere Dibang: Student/Baker
My expectations for 2021 by the grace of God, is achieving my goals especially the ones that have to do with school, taking my baking business to the next level and just living life to the fullest and being happy.
Miss Vivian Oyinatumba: Entrepreneur
I hope for a healthy year void of pandemics, more productivity, better implementation of laws and promises made by the government in relation to Law enforcement and the educational sector. In summary, a peaceful yet productive year.
I guess I'm all braced up for 2021!
Miss Chikodili Ozulumba: PR Analyst
I pray for a good year, way better than 2020. I hope the government does more to help the ordinary man and make live meaningful for them. I am hopeful that 2021 would be a pandemic free year.
Miss Henrietta Okoye: Customer Care Rep
2020 wasn't a bad year for me, but I expect 2021 to be way better. Let the pandemic be a thing of the past, let the country come out of recession and let there be an end to the current economic, political and security issues plaguing Nigeria presently.
Mr. Olufemi Egunjob: Engineer
My expectations for Nigeria is to see a Nigeria where citizens will begin to think Nigeria, think more of what we as individuals can do more to take the country back to its giant nature. I want to see a Nigeria where citizens will stop expecting only what the country can do for them; a Nigeria where I will wake up and say God bless Nigeria; a country where institutions will work independently of any government of the day; and above all a country where rule of law is included in the exclusive list of the government. God bless my country Nigeria.
Nimsi Momoh: Accountant
My expectations are that 2021 should be more prosperous than the previous year/years. Then if it's from the government, I expect to see more transparent governance and more youth involvement in politics.
Temidayo Alailedoye: Civil Servant
Just like other years in the past, things will be getting worse. However, students will resume back to school after some time. Unemployment will be on the increase as usual.
Concerning COVID 19, I think we are in for a hard time but I don't expect the second wave of COVID-19 to be as deadly as that of the year 2020 because the vaccines will readily be available.
Daniel Adebayo: Civil Servant
Personally, I am more determined to continue showing love for God and my neighbour come 2021. I want the government to show more commitment to alleviate the many problems that Nigerians are facing.
Adabara Peter: Administrator
After COVID-19 enforced lockdown in 2020 which affected my income, I have decided to leave my salary work and engage myself in selling and buying of food items as this will help me to be self-reliant in 2021.
Agatha Aliu: Banker
I can't say yes or no to 2021 about what the year will bring, it all depends on how much social mixing resumes and what kind of prevention we do and how people comply.
Ikem Obi: Businessman
My expectations are for people who are able to do their businesses through their phones should be doing that and avoid contact with people, also limit outings unnecessarily, plan yourself well and reduce unnecessary stress and make sure you go out with your face mask and always wash your hands, as well as avoid crowded areas.
Vivian Vihanna Godonu: PR expert
I hope the security issue will be sorted honestly; the accusers of the Lekki massacre will also be brought to book, and that miraculously, Boko Haram will be abolished.
My other expectations are that the nation's education and health systems would be immediately reformed.