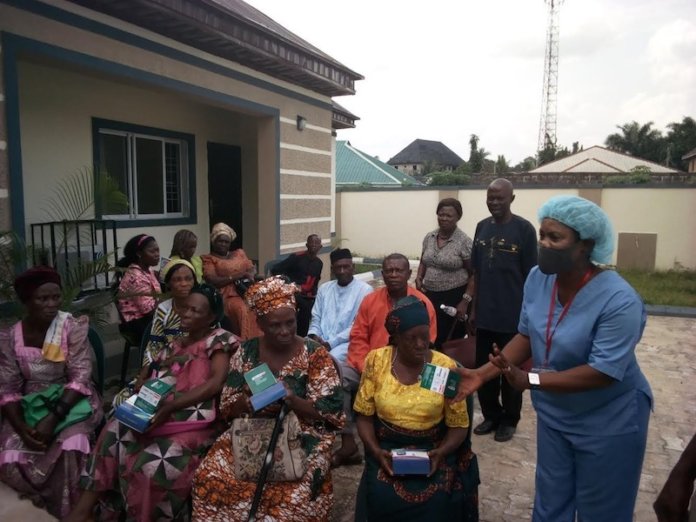 Emmanuel Ugwu writes that the recently held free medical outreach of Senator Theodore Orji was targeted at the elderly, thus ensuring they get the best medical care and awareness training in diabetes and high blood pressure management
At 67, Obioma Emenike frets over his health. He dreads the possibility of being afflicted with any of the old-age related disease that could make his old age a nightmare. A commercial bus driver by profession, the sexagenarian told THISDAY that he had always been keen to seek expert advice on how he can maintain a healthy living and enjoy his old age.
However, one of his regrets was the cost of getting expert advice from health professionals, which he lamented has been a stumbling block. Emenike recounted how he went to a dietician to seek advice on the appropriate foods he should be eating and the ones to avoid at his age but was asked to pay N25,000. He offered to pay N10,000 but the dietician turned it down. The driver went home disappointed and frustrated.
However, that challenge has become a thing of the past as the medical outreach of Senator Theodore Orji has come to Emenike's rescue. He was among the beneficiaries of the free medical outreach for the screening and awareness training in diabetes and high blood pressure management for persons who have reached 50 years and above.
Emenike, who was among the 60 beneficiaries of the three-day medical outreach which took place at the Federal Medical Centre (FMC), Umuahia, not only got the expert advice of a dietician he had longed for but was also screened for diabetes and high blood pressure. In addition, he was given kits to monitor his sugar level and blood pressure. "Today, I have received the health information I had been seeking and at no cost," the driver who hails from Ndume Ibeku enthused.
Medical Director of FMC Umuahia, Dr Azubuike Onyebuchi said the free medical outreach targeted at old persons was a product of his discussion with Senator Orji on health related issues. According to him, the Senator representing Abia Central displayed a good knowledge of health issues, being a member of the Senate Committee on Health.
"I suggested to him to do something on high blood pressure and diabetes. He accepted, and that's why we're here (for the free medical outreach)," the MD of Umuahia FMC said. This medical outreach targeted at the elderly was Ochendo's way marking his 70th birthday. It had participants drawn from Umuahia North, Umuahia South and Ikwuano Local Governments.The second phase is expected to be organised for beneficiaries drawn from the other three component council areas of Abia Central, namely Isiala Ngwa North, Isiala Ngwa South and Osisioma.
Senator Orji, popularly called Ochendo by admirers, is not new to provision of free medical services to his constituents. In line with his belief that provision of infrastructure would amount to nothing if the people are not healthy enough to use them, the former Abia governor regularly sponsors free medical outreach, including free eye care services which he has sustained for years.
Former Umuahia North Council boss, Chief Frank Ibe, who represented Senator Orji at the opening ceremony of the free medical outreach, said the beneficiaries should count themselves lucky to be chosen. He said the participants would, apart from going home fulfilled, would also be equipped to manage high blood pressure and diabetes should they develop such health issues. The knowledge so gained, he said, would make the participants add more years to their age.
Ibe, who is a former rector of School of Healh Technology, Aba, commended Senator Orji for his responsiveness to the health needs of the people he represents at the Red Chamber, adding that he is somebody who likes to replicate any good thing he sees outside by bringing it home for the benefit of the people.
Health professionals including consultant endocrinologist, dietician, health educator, among others, gave talks on various health issues such as diabetes, high blood pressure, unwholesome lifestyle and inappropriate food intake and its risk factor at old age. Dr Ignatius Ezeani, an endocrinologist and head of Diabetes unit FMC Umuahia told the participants that they should maximise the opportunity offered to them through the Ochendo free medical outreach to sustainably maintain a healthy living. "This is the best thing anybody can do for you," he told the participants.
Taking the participants through the causes and effects of diabetes and available remedies, Dr Ezeani identified type 2 diabetes as the most prevalent, adding that type one mostly affects pregnant women. He said unwholesome lifestyle such as smoking, lack of exercise, taking unwholsome foods easily predisposes people to type one diabetes. The endocrinologist added that high blood pressure basically share the same risk factors with diabetes. He identified the risk factors to include obesity, family history, high salt and fat intake and a life style of indulging in high intake of alcohol and smoking.
He advised the participants to develop the habit of going for medical checkups on regular basis, noting that hypertension is better managed if detected early enough before it damages body organs such as heart and kidney thereby causing complications.
According to Ezeani, health is so important that one should not hesitate to take extreme measures to avoid anything that could compromise one's health. "It is recommended to avoid salt totally because a lot of things we take contain sodium," he said. This advice did not in any way amuse the elders listening to the health expert but they have everything to gain by taking health precautions no matter its unpleasantness.
Speaking on the nutritional management of diabetes mellitus, the Assistant Chief Dietician FMC, Umuahia, Otuodichinma Solomon stated that "proper care of diabetes is essential to prevent or at least reduce incidents of complications". According to her, a proper nutrition plan translates to management of the disease hence "control of diabetes rests on the tripod of diet, exercise and insulin.
The dietician advised the participants to always watch out for the symptoms of diabetes which include excessive thirst which increases frequency of passing out urine and feeling of hunger. However, Solomon further noted that the clinical symptom of diabetes entails the presence of sugar in urine above normal sugar blood level. "A fasting blood sugar level of 100mg/dl or higher on two different days indicates that the person suffers from diabetes mellitus," she said.
The dietician urged that people should take necessary precautions to avoid suffering from diabetes as the disease "cannot be cured (but) can only be kept under control by the patient with the help of the physician, assisted by the dietician". In fact the complications that could result from diabetes are so frightening that the disease should be avoided by all means. According to her, the complications that could occur are loss of sensation in peripheral nerves, resulting in injury, infection and even amputation of lower extremities, eye disorders leading to blindness and kidney dysfunction.
To be on the safer side, Mrs Solomon advised the participants to avoid skipping breakfast, consume more of complex carbohydrates, consume foods high in protein, limit intake of saturated fat and increase activity level(exercise) as against sedentary lifestyle. Other dos and don'ts listed by the dietician include consumption of fruits and vegetables rich in vitamins and minerals, eating less salt of no more than six grammes per day, drinking plenty of water and high intake of fibre rich foods. She harped on the need for people to undertake routine checks to have their cholesterol, blood pressure, and blood sugar levels tested.
Fortunately for the participants, all the above tests were done on them within the period of the medical outreach. It was a novelty for most of them who had never done such tests before due to ignorance, lack of money or sheer lack of chance. For instance, a businesswoman, Mrs Ifeoma Ndubuisi confessed that it was her first time of being tested for diabetes and high blood pressure. Those whose test results showed signs of the diseases investigated were given medications and advised on followup treatments and management of the specific ailment.
At the end of the three day event, the participants expressed satisfaction having got good knowledge of how to maintain a healthy living. Not only that, the myths some of them held about diseases were dispelled by medical experts who answered their questions during the interactive sessions. Other gains include the health checks carried out on the participants at no cost as well as drugs and either of high blood pressure or diabetes test kits distributed to them for use at home.
Exuding a deep sense of relief, Emenike said that he was glad to have received at no cost the health information he could not afford when he had sought for it. "We are advancing in years and good spirited persons should emulate Ochendo and help us stay healthy. But for Mrs Ndubuisi the valuable health talks would be wasted if the beneficiaries failed to put them to good use. "If we adhere strictly to their instructions it will be good for us," she said.