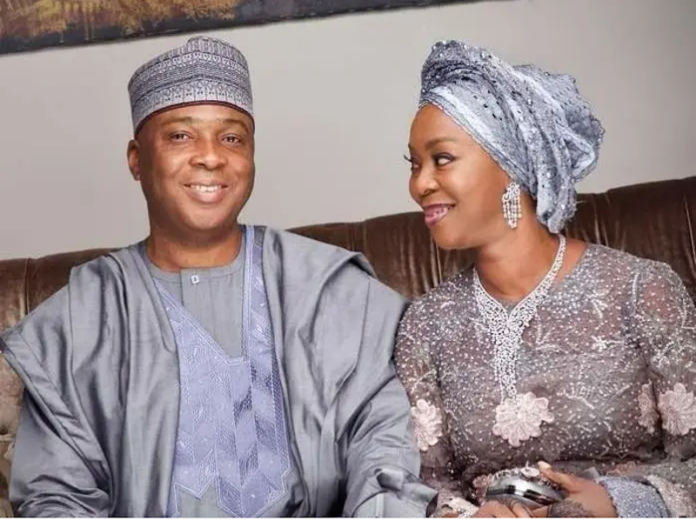 Dr. Bukola Saraki, former Senate President and ex-governor of Kwara State, must have been very popular among the big girls around in younger days for his handsomeness and intelligence. At a time, we gathered that many sophisticated girls were reportedly swarming around him like bees to nectar. But he chose to spend the rest of his life with Toyin Ojora, born into a wealthy and aristocratic family.
When they were joined in holy matrimony 29 years ago in Lagos, not a few might have expressed doubts about the survival of the marriage. But today, they have been able to shame their critics, as they are still rocking the scene to the surprise of many.
The former senate president and his wife have been able to keep their conjugal bliss out of scandal, even as they are always in the spotlight. Perhaps, this explains why the beautiful Lagos State-born former Kwara State first lady, last week, celebrated her husband on their wedding anniversary on social media.
The founder of the Wellbeing Foundation Africa wrote: "Our 29th wedding anniversary today, an amazing journey through life together. I celebrate the many incredible years of life behind us. Happy anniversary!"
Toyin, by all standards, is a role model par excellence and an epitome of womanhood. A very supportive wife, she ensures that the success of her husband, in his political career and other endeavours, is prioritized in her prayer points very religiously.
Indeed, she ensures that the home front is peaceful, thereby guaranteeing her husband's peace of mind.
Evidently, events in the past years have shown that God has always granted her prayers for her husband and children. She not only trusts her husband, but she also believes in his cause.