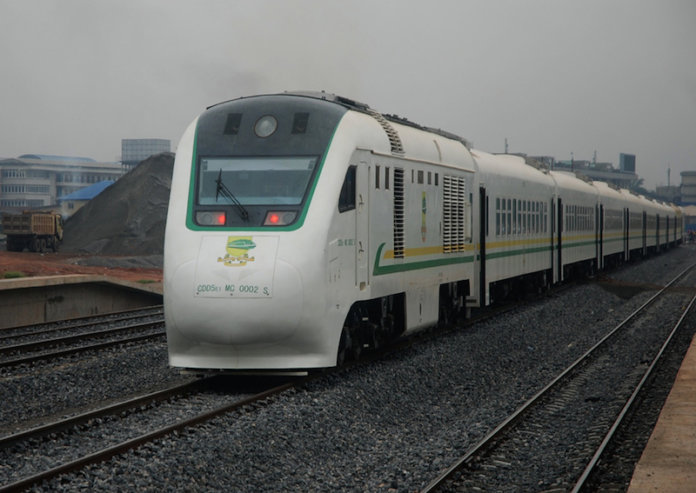 Mujib Dada-Gadri urges government to subsidise rail transport to make it affordable
Hon. Rotimi Amaechi, the Minister of Transportation, was speaking at the inauguration of the governing council of the Chartered Institute of Transport Administration of Nigeria (CIOTA) in Abuja on Friday, 4 December 2020 and he said categorically, "Today I approved the charges on passengers from Lagos to Ibadan, we just transfer how we charged from Abuja. We charge N3,000 per economy seat, N5,000 for business class, and N6,000 for first class, the same is applicable to Lagos to Ibadan". He hinted about the commencement of operations by January 2021. The Lagos-Ibadan railway (SGR) is to track on 156km and stations will capture these "corridors": Apapa, Agege, Agbado, Kajola, Papalanto, Abeokuta, Olodo, Omi-Adio and Ibadan. This is undoubtedly fantastic as this remarkable project connects three states strategically.
What are the cost implications of the railway project?
Lagos-Ibadan rail project is to gulp $1.6bn through a loan scheme masterminded by China Exim Bank subject to federal government of Nigeria fulfilling 15% counterpart funding. China Civil Engineering Construction Corporation (CCECC) is to oversee the construction of the railway which has actually started trial operations. Just like a reaction of lightening to rain, many are already complaining about the ticket charges of between N3000-N6000. Many people are asking why railway transport charges should be more than the cost of road transportation. For example, the cost of road transport from Lagos to Ibadan is not up to N3,000 despite the hike in fuel price. Rail has lower fuel costs compared to road transport, especially when shipping a high volume of freight. Rail also has less costs associated with drivers and typically has better costs.
Furthermore, less is known about the contractual terms involving Nigeria and China but it is vivid that the Lagos-Ibadan railway will be based on concession (build, operate and transfer strategy). The exact years of operation is the biggest controversy as "conflict" will surely arise on whether to run the rail as purely commercial project or "public service project".
Let's compare the Mombasa-Nairobi gauge railway and Lagos-Ibadan railway. The Mombasa-Nairobi Standard Gauge Railway (SGR) is a 480- km-long line that connects the port city of Mombasa with the capital city of Nairobi. Construction began in 2013, and parts of it completed in 2017 at a cost of approximately USD$3.8 billion. An additional USD$1.5 billion extension to the tourist hub of Naivasha was completed in 2019. While the railway operates passenger services, its primary function is to improve freight transportation to and from the port of Mombasa. It must be emphasized that China Exim Bank also "inspired" the $3.8billion loan to Kenya for this rail project just like it did for Lagos-Ibadan railway but with scary controversies engulfing the repayments of the loan.
Interestingly, the repayment of the loan whose interest is 3.6% coupled with railway operations is being handled for three years by a Chinese subsidiary. According to Quartz, a reputable online publishing platform, a report by Kenya's transport ministry stated that in 2018, the railway made a loss of $90.3million in its first year of operation. Port authorities are diverting shipments to the new railway, said a Nairobi-based customs clearance agent. "You are made to pay for it whether you like it or not." The outcry in Kenya is similar to what we anticipate in Nigeria as Kenyans are dissatisfied with the more expensive rates compared to road transport rates, limiting the benefits to middle-class mostly.
Can rail transport be affordable without government subsidies? Historically and conventionally, it is believed that rail transportation is cheaper compared to road transportation amidst other economic advantages. But many observers have not considered the "subsidy" aspect of it especially as it operates in more advanced countries. For example, fullfact.org reported that the UK government direct subsidy of the railways is around £5 billion per year, an increase of over 200% since "privatisation". EU rail subsidies amounted to €73 billion in 2005. Subsidies vary widely from country to country in both size and how they are distributed according to European rail study. Prior January 2019, the government of Kenya used to pay subsidies on rail transportation specifically for children between the ages 3-11 specifically Mombasa-Nairobi Standard Gauge Rail.
In conclusion, in light of above economic realities, Nigerians must view the statement of the minister of Transportation and proposed railway rates beyond the prism of emotion. The following are the only forthcoming options and solutions to achieve affordable railway services that will be cheaper than road transportation. This is because achieving a cheaper rail transportation is the best maximization of potential in rail transportation which will involve "cheaper cost of transportation of food, cheaper transportation of persons so as to attract more rail users beyond middle-class and allow more consuming power". The solutions and options go thus: renegotiating contractual terms with the Chinese company to allow for transparent and frugal operations cost so as not to run into loss or increment of ticket rates. The federal government should initiate subsidies for railway services by converting "taxes on railway revenues to subsidies" and weakest of the option is maintaining the "status quo" which only limits the biggest enjoyment of the Lagos-Ibadan railway to middle-class.
Mujib Dada-Qadri, a Lawyer and Policy Analyst, wrote from Abuja