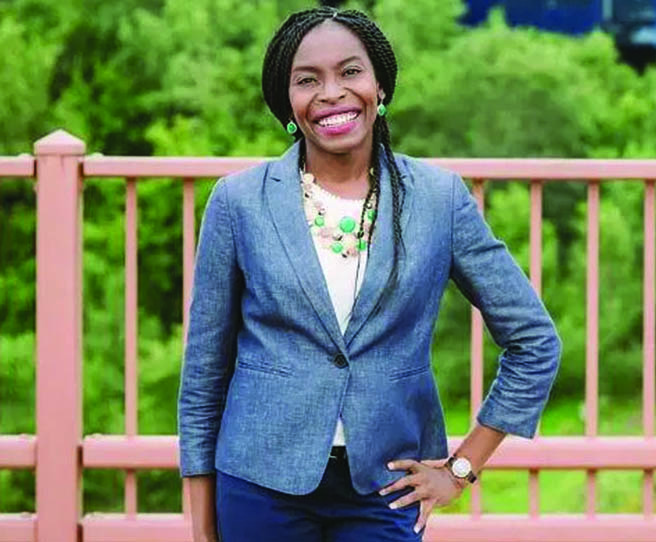 Nigerian-American, Esther Agbaje, one of the revelations of the 2020 United States election, who described herself as a child of parents whose mission was to serve, will be living her dream of following her parents' footsteps through quality representation at the Minnesota House of Representatives in the United States, writes Festus Akanbi
Esther Agbaje, the 35-year-old daughter of immigrant parents, dreams of bringing positive changes to her immediate communities in the United States. She now has the opportunity to do this, with her election into the Minnesota House of Representatives She will be representing District 59B on the platform of the Minnesota Democratic–Farmer–Labour Party (DFLP), an affiliate of the U.S. Democratic Party as the first Nigerian-American legislator in Minnesota after winning the seat formerly held by long-time state Representative Raymond Dehn.District 59B covers a growing and diverse area in Minneapolis, including Near North, Harrison, Willard-Hay, North Loop, Bryn Mawr, and Downtown. Agbaje described the district as the heart of the city, from the vibrant communities of the North Side to the Hennepin County Medical Centre and the Mississippi River.
Agbaje was born in St. Paul, lived in Brainerd, and went to high school in Faribault. After law school, she moved to downtown Minneapolis in 2017 to contribute to the place she calls home. She recalled, "My parents came to Minnesota from Nigeria to further their education. They started a family here, and my brothers and I owe the opportunities we've had to their hard work, example, and inspiration."
Telling her story, she stated: "My father is a priest in the Episcopal Church, and my mother has directed a homeless services centre in the past. As a child of parents whose mission was to serve others, I have followed in their footsteps throughout my life. In college, I worked to advance labour rights. In graduate school, I helped build healthy and sustainable communities. In the State Department, I managed programmes advocating for civil rights. And in law school, I defended tenants from eviction."
Expectedly, her campaign ahead of the election was robust and issued based. She made the care of the middle class the centre of campaign and she explained this.
"As a transit rider and renter, I am passionate about reliable public transit and affordable housing. Sky-rocketing rental costs affect everyone from senior citizens to young professionals and working families. I also advocate for environmental justice, serving on climate groups through TakeAction Minnesota and St. Mark's Cathedral to promote renewable energy. Throughout my work, I make sure to centre the voices of low-income people and communities of colour.
"I have always had a focus on public service, always a desire to make sure that I'm using my skills and talents to help people and to make the community around me a little bit better."
An advocate of equality among races, Esther raised questions bordering on huge racial discrepancies in Minnesota given the state's progressive income tax, and a Fiscal Disparities policy that shift tens of millions of dollars within metropolitan areas to meet different school districts' various needs.
"I think a lot of it is due to remaining vestiges of segregation and institutional racism," Agbaje said, which persists even though "we have all of these institutions that are meant to be progressive and support the people of Minnesota." To counter issues including vastly lower Black home ownership rates, poverty rates, and high school graduation rates, Agbaje plans to support bills to change the income eligibility to qualify for current subsidized housing options and build more affordable housing.
Agbaje is also interested in prison reform, a set of issues she became aware of during her successful lawsuit that forced the state's Department of Corrections to provide incarcerated people infected with Hepatitis C with antiviral medication in 2019.
The case "opened my eyes," Agbaje said, to issues including the kind of food incarcerated people are given and "how we look at punishment," including solitary confinement, which she would like to prohibit. In addition, she said, although she is still learning about incarceration in Minnesota, she is definitely looking forward to "using my platform to advocate for prisoners and making sure that while they are serving their time, they're not treated unfairly."
The lawmaker-elect is an Associate with Ciresi Conlin LLP. She practices in general civil litigation and medical malpractice. She also has experience in class action lawsuits. Her experienced earned her a selection as part of a team that settled with the Minnesota Department of Corrections to allow prisoners who qualify access to potentially life-saving Hepatitis C medication. Minnesota Lawyer recognised her for this work when naming Esther, a 2019 Attorney of the Year.
Before she began her law practice in Minnesota, Esther attended Harvard Law School. While in Harvard, Agbaje distinguished herself as a defender of tenants. The opportunity came when she became a student attorney and in a period of two years, she relied on the Harvard Legal Aid Bureau to fight for the right of students. Through this experience, Esther developed a passion for housing justice after seeing many of her clients living in unsafe or unhealthy buildings or paying rents they could barely afford. Interestingly, she has continued to support tenants by volunteering with the Volunteer Lawyers Network Housing Court Project in Hennepin County.
Before she embarked on law practice, Esther had a stint as a Foreign Affairs Officer with the U.S. Department of State, where she managed rule of law projects in the Middle East focusing on Egypt and the Gulf states. She also facilitated exchange and scholarship projects for judges, lawyers, journalists, and students between the region and the U.S. In this role, she learned how to manage varied stakeholders while pursuing programs that focused on outcomes. Her work emphasised how the government can be a supportive partner to advocates and community members looking to build their own future.
At the University of Pennsylvania where she earned her Master's in Public Administration, Esther worked with local government offices to develop their performance management systems. These systems helped to better track and report on the impact and outcomes of city programs. Additionally, Esther developed indicators for recreation centres and homeless shelter programs in the City of Philadelphia. She also presented a research project on best practices in city management to advance the goal of creating healthy and sustainable communities.
At the George Washington University, where she studied Political Science, Esther was active in mentoring incoming students and advocating for labour rights in different internships. Upon graduation, she received the Thomas R. Pickering Graduate Foreign Affairs Fellowship, which led to her career at the State Department.
As a new legislator representing the city where George Floyd was killed by police, Agbaje has also joined the call to divest from the police department and invest in social support work.
QUOTE: I have always had a focus on public service, always a desire to make sure that I'm using my skills and talents to help people and to make the community around me a little bit better."…. "I think a lot of it is due to remaining vestiges of segregation and institutional racism," Agbaje said, which persists even though "we have all of these institutions that are meant to be progressive and support the people of Minnesota." To counter issues including vastly lower Black home ownership rates, poverty rates, and high school graduation rates, Agbaje plans to support bills to change the income eligibility to qualify for current subsidized housing options and build more affordable housing. Agbaje is also interested in prison reform, a set of issues she became aware of during her successful lawsuit that forced the state's Department of Corrections to provide incarcerated people infected with Hepatitis C with antiviral medication in 2019