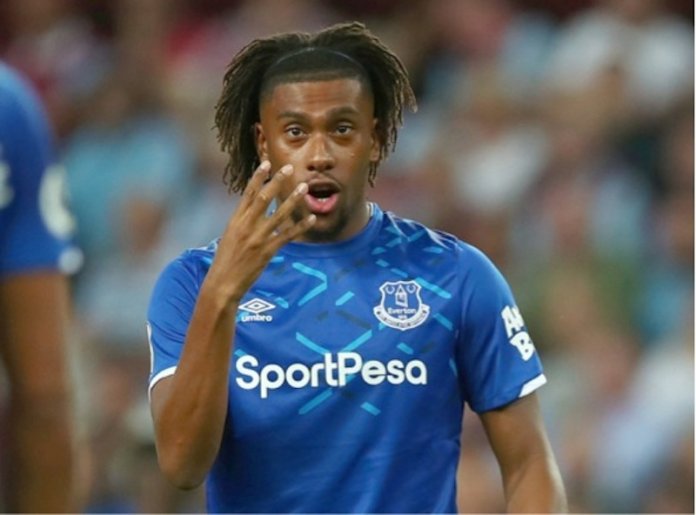 When he left Arsenal for Everton two seasons ago, opinion was divided especially among Nigerian soccer fans as to whether the super Eagles attacking midfielder had made the right move or not. While some saw the move as 'climbing down the ladder', others hailed it on the ground that he will get more playing time at Everton. However, with the arrival of some quality players at Carlo Ancelotti's fold this season, getting a regular playing time has become increasingly difficult for Alex Iwobi and with just one start to show for his efforts; he may be playing his last season at the Goodison Park
Everton look set to be the Premier League's surprise package this term and Carlo Ancelotti's appointment as head coach has been an absolute game-changer for the Toffees who now look capable of pushing for a top six finish.
As it stands, the Merseysiders sit in seventh place in the table, representing an excellent start to the season and it is no way a fluke.
Everton have been one of the most entertaining sides to watch so far this season.
With the likes of Allan, Abdoulaye Doucoure and James Rodriguez adding vital quality to the midfield, it was always going to be exciting for supporters.
Not to mention the splendid form of Dominic Calvert-Lewin in attack.
While some players have thrived under Ancelotti, others have fallen short of expectation leading to criticism.
One of those players is, Alex Iwobi.
The former Arsenal man has failed to impress this term leading to a diminished role under Ancelotti at Goodison Park.
As a result, he's started just one Premier League game so far – something he deserved after some very poor displays.
Former Everton forward, Noel Whelan
said: "Iwobi has had his opportunities and he has failed to take them up to now.
"When you do not take them you fall down the pecking order. That is what has happened to Alex Iwobi.
"His performance against Southampton was shocking. He was brought off at half-time and rightly so.
"You do not get too many chances at life in general and football is no different.
"Unfortunately, Ancelotti has seen enough and he believes there are others that deserve their opportunity now."
In his reaction, respected English sports commentator, Phil Spencer said things just aren't working out for Iwobi at the moment.
After arriving from Arsenal it was expected that the midfielder would really kick on and prove himself to be a top player at Premier League level.
That hasn't really happened yet.
Competition is tough under Carlo Ancelotti and Iwobi may need to be patient to an extent.
But more than anything, it's vital that he impresses when he does make it onto the pitch.
If he doesn't and Ancelotti can't trust him then it's not going to be a happy time for Iwobi on Merseyside.
First teamer Richarlison was sorely missed in Everton's defeat by Southampton, as the Brazilian began his ban for the red card sustained in the Merseyside derby.
The former Watford forward has been hugely influential this season as Ancelotti's side have shot to the top of the table.
Iwobi filled in for Richarlison at St. Mary's, but the Nigerian international is just one of a number of options for Ancelotti as he attempts to get his team back to winning ways, with Bernard, Iwobi or Anthony Gordon all contenders to step in on the left.
Iwobi had a tough time at Southampton, playing just 45 minutes before being replaced by Bernard for the second half.
It was a first league start of the season for the former Arsenal winger, who had previously come off the bench in the games against West Bromwich Albion, Crystal Palace, Brighton & Hove Albion and Liverpool.
However, with his early withdrawal, the 24-year-old set an unwanted record under Ancelotti.
The manager has made just eight half-time substitutions in his time at Goodison Park, and Iwobi's early exit at Southampton meant he has been the player to leave the field at the break more often than any other.
The other two occasions came in back-to-back games in July, with Anthony Gordon replacing Iwobi at Tottenham and Djibril Sidibe taking his place at home to Southampton.
The numbers behind Iwobi's starts and substitution appearances may offer a guide to his future under Ancelotti on Merseyside.
In a recent interview with Football Insider, former Everton striker Kevin Campbell urged Iwobi to improve his performances following the player's lacklustre start to this campaign. Campbell said, "Iwobi is a frustrating player because you know the ability he has got but it is that battle for consistency.
"A lot was expected from him when he came into Everton from Arsenal. He was seen as a player who could take them on, but they were not at that level yet. He could not do it all on his own and he has struggled.
"This is the time now where Iwobi has to pick it up. It could be a confidence thing with him.
"He is supposed to be performing better. He is a lot better than he is showing and I know his form will come back but I do not know if he will be able to get into that team with Richarlison, Rodriguez and Calvert-Lewin.
"It is going to be difficult for him. It needs to be now."
The ex-Arsenal wide player has made a stuttering start to this campaign as he failed to find consistency with his performances out on the wide areas. Iwobi has featured in nine matches for the Merseyside outfit this term, scoring just one goal and grabbing two assists on all fronts.
The 24-year-old has mostly been used as a substitute in the Premier League this season which has affected his form in the final third. Iwobi is averaging 0.1 shots, 0.4 key passes and 0.1 dribbles per game in the Premier League which is simply not good enough from a player of his skillset.
At the moment, the Lagos-born wide player's Everton career is going nowhere as he currently finds himself behind the likes of Richarlison, James Rodriguez and Bernard in Ancelotti's pecking order. However, if Iwobi is willing to put in the work in the training ground, then he might still be able to redeem himself to the Toffees supporters by turning his career around for the better in the coming months.