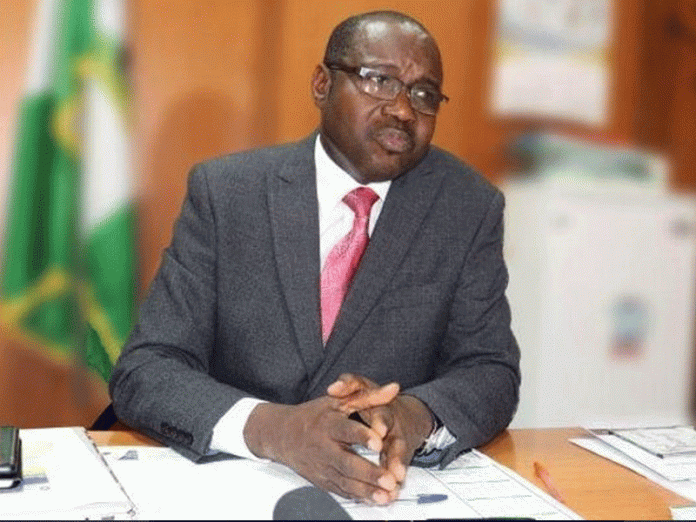 By Adedayo Akinwale
The Managing Director, Transmission Comapany of Nigeria (TCN), Sule Abdulaziz, on Tuesday revealed that higher authorities, which the agency could not refuse, introduced new projects into its 2021 budget proposal, despite owing contractors the sum of N165 billion.
Sule disclosed this when he appeared before the House of Representatives Committee on Power to defend his agency's budget.
He said TCN has a total of about 158 major capital projects awarded from 2001 to date.
Giving a breakdown of the projects, Sule said completed projects are 39, which comprised 28 substations and 11 transmission lines.
The managing director stressed that 25 projects are completed and commissioned to service without outstanding payments to contractors.
He added that another 14 projects are completed and commissioned to service, but with indebtedness to contractors.
Sule noted that ongoing projects between 0-95 per cent completion are 119, including 45 transmission lines projects (Green Field); 70 substation projects (Green Field); and four reinforcement projects (brown field projects).
He revealed that 14 new projects are planned in the 2021 budget proposal.
The Chairman of the committee, Hon. Aliyu Magaji, recalled that TCN wrote the committee last year indicating that the agency had almost N165 billion debt on abandoned projects.
He stated: "I don't know what they will do with N4 billion out of the N165 billion. It is still within our purview to look at the budget and do the needful for them. I keep asking this question even though you are not the proper person to answer the question: what relationship is between the TCN projects and Siemens?
"The president had a very wonderful and good intention but it is my opinion that until these TCN projects are achieved, the Siemens projects might not be what we expected them to be. I will see the involvement of our leadership both in the House and the Senate to ensure that you get proper funding. Without the transmission, there won't be distribution. So, we have to really play up the transmission aspect of it."
Also, a member of the committee, Hon. Shehu Garba, said that power was at the centre of the crises that Nigeria faces.
He was of the opinion that the recent youth restiveness could be traced to the collapse of power over the past two decades, leading to the collapse of small businesses.
According to him, "Therefore, your mandate is central to the revival of economic growth and job creation in the country. There is the need to engage the leadership at a very high level for this issue – the issue of funding. I'm at a loss seeing you proposing almost 30 new projects when you have such a monumental outstanding.
"In fact, I have a specific project in my constituency for the past five to six years without being completed and funds have been committed. You have manufactured panels, they have been delivered on site and my fear is that they may start vandalising these things imported with World Bank loans and multilateral agreements. Now you have new projects – 30 to 40 – when you have a huge number of ongoing projects. Honestly, I think this is an area that you need to look at."
Responding, the TCN boss said what the lawmaker said was right.
He said: "Actually, what the Honourable said is correct but you have to understand that we are civil servants. Some of these requests are coming from higher authorities and we cannot say no."
Magaji, however, said there was no need introducing new projects while having a debt of N165 billion.
He stated: "We are trying to be realistic. What the Honourable member is saying is that we have a huge debt of almost N165 billion. We cannot complete these projects. Why are we introducing new projects? You are so lucky that whoever is sending requests to you is not sending it here and we are here to appropriate funds and we don't have the funds. So, I think it is only correct if we stop you from doing new projects in 2021, that you concentrate on finishing the ones you have. If members feel strongly about this, you should move a motion and we will adopt it and delete all new projects from the budget."
But members of the committee unanimously voted against the motion to delete all new projects in the 2021 budget.
Magaji said: "If you read Page 10…there is 'emphasis on completion of ongoing projects'. It is unrealistic, even though I have ruled on the motion and the nays had it, you cannot do N165 billion projects with N4 billion. It is not possible. And we cannot give you money to embark on new projects while you cannot complete ongoing projects. It does not make sense. So, we will sit with them.
"It is my opinion that we must concentrate on the ongoing projects. If we are going to give money, we are going to give it to the low-hanging fruits. They will give us the projects they feel they can complete as soon as possible and we allocate the money we are going to get from the leadership to ensure that those projects are completed. And they will be distributed evenly according to geographical location. At least we will have projects that we are sure you will complete. Let us have the costs and we will approach the leadership. We are not going to allow you to continue with certain projects in 2021. I so rule."