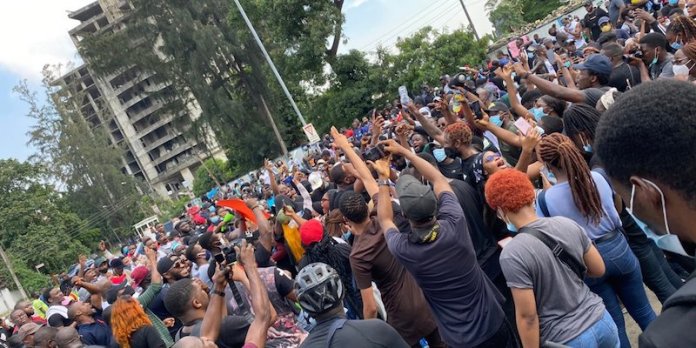 The botched #EndSARS protest came like a thunderbolt and took the entire country by surprise. The protest, which kicked off to end police brutality morphed into a powerful and formidable platform seeking among other things, an abrupt end to bad governance. As expected, the nationwide demonstration was ticked to wear off in couple of days, especially with regard to previously held ones spearheaded by NLC/TUC. But cynics and critics had their prophecies and predictions crumbled like pack of cards.
While that peaceful protest went on with camaraderie, powerful elements across political and economic lines in the country felt uneasy and a surge of chills up their spines with the attendant toll on disruption and destruction of property. Sensing the protest may be heading the way of Arab spring which erupted after a fruit seller, Muhammed Bouazizi self-immolated himself following Police corruption and ill-treatment in the tiny village of Sidi Bouzid, Tunisia, the federal and Lagos State governments in a swift and bizarre manner connived to unleash mad dogs on peaceful protesters in Lekki, leaving innocent lives ricocheted with bullets, and paving the way for hoodlums, miscreants and thugs to have field day to loot, and wreak havoc on public and private infrastructure.
Almost as usual, bickering, allegations, counter-allegations and counterintuitive bantering ensued between Lagos and Abuja with confusion renting the air. President Muhammadu Buhari did not address the nation two days after the killing at Lekki and when he did it was omitted.
As characteristics of the government, the president rolled out his government's empowerment initiative especially the one targeted and directed at the youths in the last five years, mentioning top to bottom policy that include: N-Power, N-Agro, N-Teach, among others. The president also enjoined youth to embrace and apply for N75 billion investment fund made available through the Ministry of Finance in collaboration with Ministry of Sport and youths development. These policy framework, the president and handlers of his next level government thought are enough to keep millions of unemployed graduates at bay, busy and away from protests and other agitations for a better country.
Interestingly, the flip side to the president's speech is that his call and concern seem to fall on deaf ears as most young Nigerians interpreted it to mean the continuation of the status quo which originally gave birth to the #EndSARS protest. Indeed, the body language of the government gave most Nigerians a leap of faith to look forward to another exciting, worthwhile and new wave of protests where sheer brilliance and tech power would be displayed to the admiration of the world – again. Fortunately, the government has the ample opportunity and time to turn the tide by doing the needful but in a brilliant, well-thought out and innovative ways.
––Muftau Gbadegesin, muftaugbadegesin@gmail.com