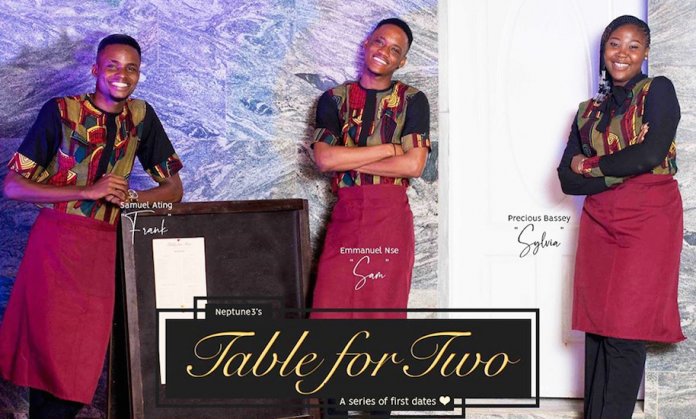 By Ferdinand Ekechukwu
"Table for Two: A Series of First Dates" is a dramatic look at modern dating etiquette through the eyes of the rather peculiar guests that visit a fine dining restaurant that goes by the name "Table for Two". At the restaurant are three waiters and two students who came to promote and work together to attract customers to the place. In no particular order are the students & the businesswoman: Jeiel Damina and Abasikpongke Uko as "Bella" and "Benny". Chioma Ohaegbuchi as "Mrs Essien".
Then meet the waiters: Precious Bassey as "Sylvia", Samuel Ating as "Frank" and Emmanuel Nse as "Sam". Their day to day encounters with different customers amusing, albeit interesting. A short series about work-place friendships and achieving one's goals, the series is 10-episodes long with each issue on average of 10-12 minutes. The series takes viewers through a unique look and social commentary on young-adult dating, hence a must see for new daters. The overall message in "Table for Two" is team work, adding value to friendship and ethics of dating.
A Neptune3 Studios original series, the producers of the hit web series, Best Friends in the World, this first episode is titled "Instagram Queen." It opens with the scenery of the restaurant showing customers seated in pairs. "A slow night" it seems as one of the waiters intoned, a conversation ensued behind between them as regards who to attend to the customers with each of the waiters having an exchange. Just then a couple on a date steps in, and was greeted with the chant "Welcome to Table for Two, fine dining restaurant".
The couple Joey and Kate happens to be on their first date at the restaurant. Kate in this episode is the "Instagram Queen", who according to her is "a lifestyle guru and influencer". Right from the very moment they entered the eatery she fiddles her phone non-stop, taking photographs of every piece of artwork and items on display. Not even after they were received and served list of menu. She captures the foods and drinks and posts on her Instagram page while her partner pathetically looks on. "Just look I just posted this and am having over 30 likes already," she said.
Joey, already uncomfortable with her attitude, responded inaudibly, as she adds: "I swear people are just seating around waiting for me to post." He would then remind her of the essence of their outing. "Kate did you forget,"? She responds, "Yeah", while Joey, an architect, expresses his distaste, sounding it out loud to her "we are here on a date why don't we start by getting to know ourselves better."
But to Kate, "everything that's there to know about me is on my page". Like really? While the drama between the two plays out the waiters spy on them from the inner room.
Now, imagine outing on a first date and your partner (slay queen, slay mama, wannabe) distracts every moment of it with her social media activities, capturing everything within and without for content to feed her page… that's just the scenario on episode 1 of the series titled "Instagram Queen."
This episode is a must watch! It behooves readers to go view the full content on YouTube. It's very fascinating…and entertaining.