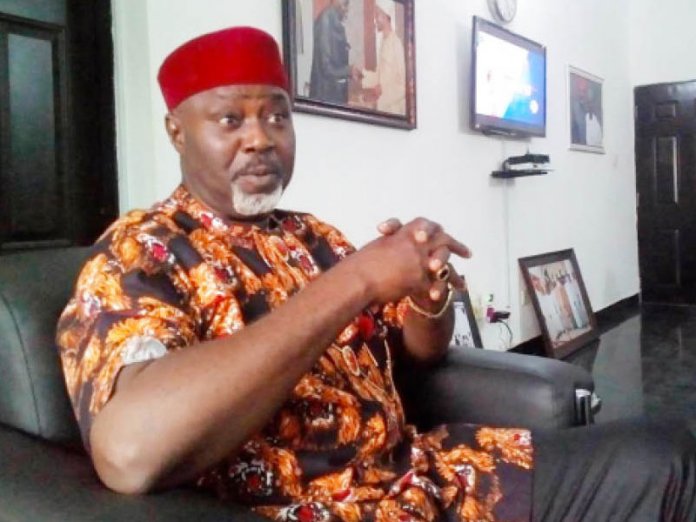 When George Moghalu resumed duty as Managing Director/CEO of National Inland Waterways Authority (NIWA), on October 2019, he promised to continue with all ongoing viable and justifiable projects of the agency as long they conform to due process and the Act establishing the agency. In this interview, he shares his experience and challenges in the past one year. IYOBOSA UWUGIAREN brings the excerpts:
Take us through your effort in repositioning this agency in line with your mandate in the past one year.
Like I said, the first day I got into office, precisely in October 2019, if there was anything I knew, it was the fact that this agency is under-reported. People didn't know what the agency is expected to do; but not only what the agency is expected to do, but even the responsibility of the people to the agency. Most people didn't know about it. And the fact that it's even an agency under the Ministry of Transportation most people didn't know about it. So, I felt that it was quite under-reported, so I solicited the support of the media to help us let the people know who we are, what is expected of us and then to let them know what we expect of them. So far, so good, the response has been quite encouraging. The press has been there for us. I think that majorly that was a challenge. And don't forget that within a few months of my coming to office, came the Covid-19 pandemic. So, it kind of distorted the entire arrangement, so we had to deal with it. We tried to model ourselves in line with approved protocols, looking at what we can do to be part of helping our people and re-engineering the economy. These were not anticipated, but they were challenges we had to overcome.
So, how did you respond to the challenges?
We had to plan and respond immediately to address the problems. Now, everything appears to be gradually normalising. But we had to adapt to the protocols and make provisions for the washing of hands, sanitisation, wearing of facemask. To enter any of our facilities across the country, you must obey all the protocols. We also made financial contributions both to the Lagos State government and to the Presidential Task Force (PTF) on Covid-19. We also offered some of our vessels to be able to move palliatives and other supplies to the hinterland. Basically, it was a challenge, a serious challenge, but we were able to key into the arrangement in the scheme of things.
Is finance a problem?
I always say that funding is a challenge; but it is not limited to NIWA. It is a universal thing because the resources available to the federal government is not as much as it used to be in the past. So, emphasis is now on making efforts to grow the Internally Generated Revenue (IGR), so that we can have, if not all the resources, but part of it to address the challenges and live up to expectations in line with the expectations of the people and mandate establishing NIWA. Financing is a challenge, but we are also making every effort to improve on our IGR. But for the pandemic, we know where we would have been. But be that as it may, we are still doing our best to make sure that we use technology to standardise our operations, identify our clients and those who are owing us and then see how we can build synergy to ensure that things work well.
Within this period also, we realised that there are strategic locations that require jetties. Fortunately, during the 2019 procurement process we set in motion the procurement of a jetties for places like Odoekpe in Anambra State, Iwopin in Ogun State, then a few others. Even building some platforms. Within the period, we were able to secure a federal government's approval through the Federal Executive Council (FEC) for the contract for the Jamata River Port to be reviewed upwards because of some hiccups in the past. So, from four point something billion naira to over N6 billion now. It is expected that the contractor will soon go back to site so that they can proceed on the actualisation of that project which we consider key.
Tell us about the planned concessioning of some of your jetties
We have fast-tracked the concessioning of Onitsha River Port, commenced the concessioning of the Baro River Port and you may have heard; because in the last few weeks, the news has been everywhere that we are trying to do Barge-operations between Onne in Rivers State and then Onitsha through Lagos. As we speak, the pilot scheme for Onitsha/Onne has been carried out and we have moved cargo between the two locations. We are now putting final touches to our plans as it affects Lagos to Onitsha and vice versa. So, these are some of the things we have been able to do. We have undertaken the renovation of our headquarters and a few other things we have been doing to reposition the agency. But most importantly, we have been able to win back the confidence of our staff. We have done a lot of work in terms of boosting morale so that they can contribute as expected of them. I embarked on a tour the moment I was appointed, of all our 26 area offices across the country. I had done about 16 of those area offices with the hope to do the rest before covid-19 slowed us down. But the truth is that we are happy with the responses we are receiving with regard to our staff. A lot of them have seen our vision and they have keyed into it and we need to conclude with that and move ahead. So far, so good.
Before now, the complaints from the players in the Nigerian inland waterways was that it's for all comers. That there's no proper regulation of the activities in that sector. What are you doing to change that narrative?
We are doing a lot to change that narrative. I told you that a lot of things were taken for granted in the past, but it's no more the same. We have engaged the boat operators, the boat owners, barge owners and all the critical players in the sector. As we speak, our training school in Warri that we initiated, has started training and for you to be a boat operator, you have to be trained and be certified. We have also commenced the process of certifying all vessels that operate in the inland waterways. We are getting our police to ensure and enforce all protocols because we were rattled when we started having repeated incidences of accidents on our waterways that were taking lives. So, we realised that something had to be done and drastically too and then we now focused on that and started addressing it and getting the people to know why we were doing that. It's no more business as usual. We are enforcing the protocols.
What about the facilities and structures needed to do that? Are they available?
The facilities are in place. Yes, there's room for improvement, which we are working on. But we have enough to be able to do what we are expected to do. And we are doing that now. That's why I said, you may be aware that NIWA has a police team. And we have got them to buy into our vision and we are working hard to ensure that all protocols are fully adhered to. No reason to change the narrative. Our staff are up to steam with that. We are enforcing those protocols. You must use certified vessels, the driver must be certified, they must be licenced boat operators before they are allowed to operate. If vessels go against those directives or protocols, we impound them. For example, you can't operate a vessel from any of our NIWA jetties across the country once it is 6.30 pm because we don't want night navigation. Because most of the vessels, we acknowledge, don't have night navigation facilities.
To the South-east, Onitsha is the commercial hub. What is the commercial viability of the recent commissioned Onitsha port or Jetty?
It's a massive thing. Like you rightly observed, Onitsha is more like a hub and business headquarters of the south east. That fact is there. Then getting the river port there to be functional, will add a lot of value. It's going to change the business narrative in the Southeast, attract investment and FDI, create employment opportunities, and enhance business. What that means is that if the waterways between Lagos and Onne is functional the way we want it, containers and bulk cargo, rather than come by road that they are not designed for, will now be brought by water. There's quite a lot, apart from the cost implications and tourism potential, because by the time these vessels start coming from Lagos to Onitsha on a regular basis, the towns where they have their flag stops will now develop. Apart from getting the economies of those communities up, new towns will develop, employment opportunities will be created. So, there is quite a lot it's going to do in the Southeast as a whole, not only in Onitsha.
The one you have in Niger State and Lokoja, Kogi State, are also very strategic in terms of movement of vessels and cargos. How far have you gone with that?
Like you know, the Baro River Port is 100 per cent completed and commissioned by the President. The challenge we have there is the issue of road and this is being addressed now. Apart from what the federal government is doing, the state government is also interested and is working on having another access road. So, that one is a challenge, but being addressed. Like I said earlier, we are commencing the process of concessioning. A lot of people have shown interest because they see the potential in that place. Don't forget that that Baro Port, that particular location had a port before independence. It's the port that the white men were using. The old UAC had a port there. It's been there. But what we have done is to, let me say, rebuild it. But it's a brand new port built from scratch to bring back the port. That is quite symbolic apart from the economic potential. That has been done. For Lokoja, it is strategically located and the port has started and as we speak now, it's over 60 per cent completed before the challenge of COVID-19 came. We are trying to get the place back to active use.
How safe is our inland waterways?
It is relatively safe, but a lot still has to be done. Safety is not a one-off thing that you can just say everywhere is now safe. But it will need to continue to sustain what's been done all year round.
Tell us more about the safety. I asked this question against the backdrop of the issue of kidnapping, especially in the Niger Delta. They make use of these boats. What are you doing to make sure that such incidences are brought under control?
It's one of the challenges we have. We can't rule that out completely. At the same time also, the important thing is that once you realise there's a challenge, what are you doing about it? Like I said, the navy, army, police, everybody is concerned. Everybody is engaged. We have our own police and we are doing everything to make sure they are in high spirits so that we can sustain the security in our waterways because we need it to be secure. Apart from the issue of our international image, the image challenge, if we are seen as a nation that its waterways are not safe. Apart from that, there's need to do quite a lot of things to put it in place.
NIWA is under the Ministry of Transportation. Tell us the general interventions of the federal government in the sector.
First of all, I want to use this opportunity to commend both the President, Muhammadu Buhari and my minister, Hon. Rotimi Ameachi, because the support we have been getting is quite commendable. They want us to succeed and they are doing everything to make sure we succeed. But if you look at the transport and the multi-modal form of transportation, a lot is being done. Look at the railway sector, the marine sector, Nigeria Port Authority (NPA) and others are doing their best, and Shippers Council, NIMASA, everyone is concerned. There is a policy or agenda of one-stop activities in our ports to make sure they run every day. There's a collaboration among all agencies in the maritime sector to ensure that the multi-modal plan comes to fruition. That's why we have a policy of linking all rails to the seaports so that they can be able to move cargo from all locations without hindrance. So, there's quite a lot that is being done at this moment and I am confident that in a very short time it will start manifesting.
There are budgetary challenges in some of these projects. How do you intend to overcome that? Are you also planning to have private partnerships?
We have a lot of private partnerships we are involved in. Some are under negotiations; some are almost being concluded. Through private partnerships, we have our jetty in Oyigbo, almost being rebuilt completely. We have a new jetty coming up on Queen Drive, through Aqua Marine. These are partnerships that we have entered into. There's also the development of an estate in Onitsha. That's also part of our private arrangement. Like I told you about the movement of cargo from Lagos to Onitsha; we are partnering with some Barge owners who are ready to move these cargos on our behalf because we are trying to create the enabling environment for them to operate. That's why we needed to do what we did in Onitsha through Onne, so that people will know it's doable. To break the jinx and make them understand that these things can be done and give them all the enabling environment and support they require and then we do it.
What is the level of financial challenges?
Certainly, there are financial challenges. That's why we are partnering with people. We are partnering with people because these businesses are viable. They are businesses that if investments are made, there will be returns in good time with profit.
What kind of legacies do you want to leave behind?
Like I said, when I was taking over office, I made it very clear that I want a situation where by the time I leave office, that water transportation will become the transport of choice, both for bulk cargo and for personnel. Once I am able to do that, then I am good to go. Then I would have realised my vision.
Are you getting the maximum support of your staff?
Yes, they have been very supportive because they see my heart and my vision.