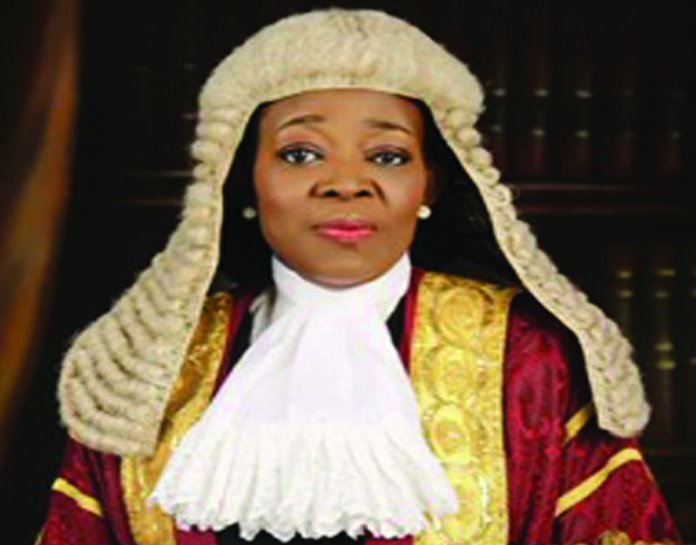 JUSTICE TINUADE AKOMOLAFE-WILSON
She exudes elegance in all facets of life: life, love, and law. In her profession she has equally recorded successes, rising through the ranks to become a justice of the Court of Appeal in Edo State. Hon. Justice TInuade Akomolafe-Wilson is a legal Amazon, an intellectual who combines brain with beauty, and at almost 70 she can pass for a 40-year-old. Versatile, diligent, and focused are the traits that push her through the ladder of success. As the eminent jurist turned 70 and retired from service, she speaks with Funke Olaode about her career and why being a woman shouldn't be an impediment to get to the peak.
Her wig sits perfectly well on the large frame in her exotic sitting room. As a matter of fact, other photographs hung on the walls depict the occupant as one woman full of life. Boisterous, sassy, petite, and yet beautiful and brilliant. In a way, her impeccable dress sense can easily win her an award in the fashion parlance. But 'My Lord' as she is fondly called is an accomplished jurist who retired from the Court of Appeal, Edo State on October 18, 2020, when she reached the mandatory age of 70. Welcome to the world of Hon. Justice Tinuade Akomolafe-Wilson. Sitting on a sofa in her sprawling sitting room, she exudes elegance, confidence, and contentment. And life at 70?
"Seventy years of my life has been of God's endless faithfulness, love, and mercies. Amazing! It means gratitude to God for His divine mercy upon me over these years, and the beginning of another chapter in my life," she said.
For Akomolafe-Wilson her life has been a roller coaster having been raised with educated and comfortable parents. But that fact by no means obscured his determination to carve a personal niche. She craved success early and embraced diligence as a driving force to attain success in a home dominated by girls.
Born in Lagos and moved to Ekiti when her father became the founding principal of Ekiti Parapo College. Living in the school premises far away from town; lots of relations, exciting peaceful and warmth around the home affected her growing up positively and nurtured her accommodative nature early. "I am lucky to have been raised by educated parents. My Dad was a housemaster at Igbobi College. Mum, a housewife, looking after family and doing some business. My Parents' deep Christian faith and strict disciplinarian upbringing have sharpened my life to become what I am today," she recalled her early years with nostalgia.
For Akomolafe-Wilson her intellectual prowess manifested early. She was always among the top in her class in primary school, hence she was able to gain admission into the prestigious Queen's School, Ede-Ibadan, and Higher school in Christ School Ado-Ekiti. She was the school prefect and also won the Prince Kennedy award.
At what stage did the jurist embrace law? "In actual fact, I wanted to study French initially because I love the French language and I wanted to study law thereafter. I had always wanted to study law, back then in my house, my family members always said I love justice and that I am very argumentative. I always loved to talk about the right to justice and I had an uncle, Sir. J.M. Akinola who studied law and my father wanted me to study law, he bought some law books and he encouraged me to study law. At a stage, I wanted to be an Ambassador, so I could project a good image of my country. However, I decide to study law, so I can fight for the rights of the oppressed and uphold justice at all times.
Having come out with flying colours at both 'O' and 'A' Levels, she proceeded to the prestigious University of Ife now Obafemi Awolowo University, Ile-Ife where she was trained as a lawyer. At Unife, her famous classmates are Justice Philomena Ekpe JCA (retd), Justice Dupe Fasanmi JCA (retd), Mrs. Funke Adekoya SAN, Chidi Iluogu SAN, Senator Mike Ajegun, Mrs. Jumoke Anifowose Ajasin. While her famous classmates in the law school; Mrs. Tokunbo Ekunkinam, Justice Rhodes-Vivour, (JSC), Justice Akin Ajakaiye, and a host of many others.
She explained, "I didn't face that problem." Continuing. I came from an educated family, my father a graduate, and my mum a school teacher. Even though we were five consecutive girls from my mother, we all went to school. It was just the norm to go to school in my family irrespective of your gender. There was no issue as to whether a girl should go to school or not.
"So, I didn't have to break any jinx, it was just the order of the day to go to school and do well. We were even conscious of the fact that since we were all girls, we had to do a lot better to prove that we were human beings even though we were not men and also to justify the confidence that inspired our parents to send us to school despite our genders."
"Today, I think there has to be a conscious effort in educating children as early as Primary school. So that the girl child would be conscious of her rights and know that she has the same right as her male counterparts. The girl child also needs to be educated, when you train a woman, you train a nation. I also believe that the girl child should work and do her best, and she should not expect to be given priority over her male counterparts. Also, parents have to educate their children very well on this issue of rape and girls should know about their rights, there should be a close relationship between the girl child and her parents. The girl child should be encouraged to speak up and lay complains if there are any issues."
For the retired Judge, she believes there is no short cut to success as you have to crave for it and embrace diligence. "You have to be extremely hardworking, make up your mind to be the best at each point in time, be meticulous and thorough. It is a good lawyer that becomes a good Judge. So, you have to carry on those attributes, meaning you really have to live above the odd and restrict socialization so as to enable you to decide judgments without any ill or affection, fear, or favour."
Then how did she combine family with a career and still reached the top? "There is no magic wand. It is the determination and strength of character to ensure that you balance between professionalism, family, and domestic duties. That is why I keep saying for a married woman you have to work three times more than your colleagues to be successful. I had to ensure that at work I did my best, put in all that I could. Luckily, my husband is a lawyer so he could understand.
"When I get home, I remove the regale of a lawyer and be as humble as ever to my husband and be as dutiful as ever to my children and grandchildren. In most cases, during weekends I made sure I had time for my family, and sometimes when I have to travel out of town for official assignments whenever it was feasible, I would travel along with the children and my husband if it was convenient. I made up my mind that I would never allow any of my duties to outweigh the other."
Voicing her voice on the state of origin and women when it comes to appointment, Akomolafe-Wilson believed emphasis should be placed on competence. "My husband is from Edo State, but I am from Ekiti State. I think there is an issue as to the state of origin especially when it concerns women. I do not think the emphasis has to be on where you come from, as a married woman, I believe that marriage should be encouraged that if a person is already married and with her husband, she can decide to take that as her state of origin and should not be stopped from becoming whatever she wants to become.
"I suffered that in 2009- there was a chance of becoming a Court of Appeal Justice, my name had already been published even though it had not been confirmed, there were petitions that I am not from Edo State therefore I could not take the slot of Edo State. I believe the nation has to do something about that when it comes to the issue of married women, they should be given that choice."
Recounting how she met her husband, she stated, "I have been married for 43years. I met my husband during my NYSC when I was posted to the Ministry of Justice. My husband was already a state counsel in the Ministry. Coincidentally, my mother is from Edo State so there was no opposition from her. My father on his own part is liberal when it comes to marriage. My immediate elder sister got married to a non-Yoruba man, and my younger sister got married before me to a man from Kwara State.
"Yes, there was an underlying challenge getting married to my husband because I was regarded as the reincarnation of the grandmother of my father and we are from the royal family, so it was the wish and desire of my father that I should get married to someone from my area so I can keep that royalty. However, him being a liberal man he eventually had to give way."
For the Akomolafe-Wilsons, it is a household that boasts of lawyers. "My husband is a lawyer. I am a lawyer and later became a judge. My first two children read law. First, Malaika my daughter she is a Barrister and Solicitor of the Supreme Court of Nigeria and she is also a Solicitor of England and Wales. While my son Michelangelo 11 is also a Barrister and Solicitor of the Supreme Court of Nigeria."
At 70, she has the agility of a 40-year-old woman. What is her secret?
"Contentment and peace of mind. I have worked so hard, devoted my entire career and so much time to serving my country Nigeria. However, I still regard myself as very strong and energetic that I do not even believe that I am 70. In the meantime, I just want to enjoy my family and grandchildren and look up to God to know the next direction."
Life at 70. What is left? Is there any mountain left to conquer? She replied: "I joined the service in 1976, I was elevated in 1999 and retired at the age of 70 in 2020. The mountain left to conquer is to see how I can continue to help humanity and improve a lot of the underprivileged people."
And if there one lesson learnt in her career trajectory is her faith in God. "Life has taught me to hold on tenaciously to God. That it is God that never disappoints and I believe that whatever is worth doing is worth doing very well. Life has taught me that there are hurdles and challenges to be successful in life. Life has taught me to be courageous, straightforward, and honest in everything I do and believe that it is never worth cutting corners because God has a purpose for each person, and if you hold on to God whatever will be will surely be.
"But above all, lesson life has taught me is that life is like a textbook with open blank spaces in the middle. Cover page and back page were already written by our Creator- that is Birth and Death. So, you have to fill in the open blank spaces with your deeds- whether good, bad, or ugly until you get to the back page. We must always have that at the back of our minds –and we should never forget that whatever a man sows he must reap. It pays more to do good deeds no matter what."
For the Ekiti-born judge, her life has been a roller coaster but something still agitates her mind, the welfare of the judiciary.
"Another issue that bothers me is the stagnant salary of judicial officers; it is consolidated so as a Judge that is appointed today earns the same salary as a Judge who has been on the Bench for 30years, there is no increment. For me, in order to have the quality of judgment, I am of the opinion that Judges should be given seasoned legal assistants to assist in legal research for quality Judgment. For instance, a Court of Appeal Justice should not have a legal officer or lecturer of fewer than 10 years at the Bar while the Supreme Court Judges should have Professors as their legal research officers and these officers should be adequately rewarded and have progressed in their careers."
Life at 70. What is left? Is there any mountain left to conquer? She replied: "I joined the service in 1976, I was elevated in 1999 and retired at the age of 70 in 2020. The mountain left to conquer is to see how I can continue to help humanity and improve a lot of the underprivileged people."