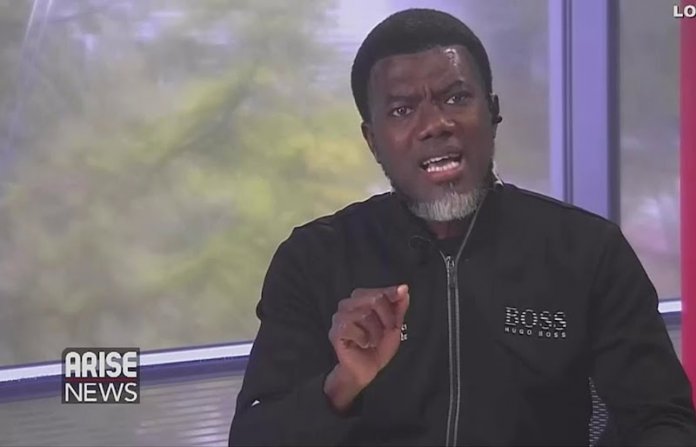 ALTERNATIVE By Reno Omokri
Nigeria has changed and the genie of real change (as against the fake one promised by President Buhari and the All Progressive Congress), cannot be put back into the bottle.
Power has shifted from Buhari's cabal to the Nigerian people, and we are not going to give it back to a clueless President, who only had brawn, not brain, and who does not understand any other language other than steal, kill, and destroy.
This was plain to anyone who watched the President's broadcast on Thursday, 22 November 2020.
Nigeria saw a President out of his depths. Like a deer in the headlights, Buhari was rambling. Talking here and there and ended up saying nothing. No relief, only grief. No solution. He instead was a pollution of the environment of freedom that is spreading through #EndSARS. He should have kept shut, quite frankly.
Nothing tangible was said.
• No condolences to victim's families
• He did not address #LekkiShooting or promise to bring perpetrators to book
• He did not present a coherent plan on the way forward
• He INSULTED #EndSARS
• He took no responsibility
• He should GO!
My summary of the whole broadcast is rather philosophical, and goes thus:
"BETTER TO REMAIN SILENT AND BE THOUGHT A FOOL THAN TO SPEAK AND REMOVE ALL DOUBT."
It was the emptiest, most useless speech I had ever heard from a President in an emergency. God, what did we do to deserve this punishment of a leader?
Mentioning the vandalism of the Oba's palace, which is bad, but failing to mention the killings of innocent, unarmed, peaceful, National Anthem singing #EndSARS protesters at Lekki. As if a building is more important than human lives. Silence would have been better!
That is why I appeal to General Yakubu Gowon, that as the oldest living ex Nigerian leader, he has a moral responsibility to gather all former Nigerian leaders, and go as a group to Aso Rock, to talk sense into General Buhari.
Because it is evident that Buhari is out of his depths. He lacks the leadership acumen to navigate Nigeria and needs your collective help after the #LekkiShooting of peaceful and unarmed #EndSARS Protesters. Nigeria's current driver is driving her to the rocks, and we either need a new driver, or the driver has to have a new attitude. Please intervene before it is too late.
Because, after the LekkiShooting of peaceful, unarmed EndSARS protesters, it is clear that we must either have a NEW NIGERIA or we will have NO NIGERIA. We cannot continue to live under these conditions when we have better options.
Nigeria's government must be answerable to her people, not vice versa! Never again! This same government rehabilitates hardened Boko Haram terrorists and demands that we surrender land for ranching or face death. Some of those killed at the LekkiShooting of peaceful, EndSARS protesters, paid the tax that enables Buhari to rehabilitate his beloved Boko Haram!
As far as I am concerned, the #EndSARS protests were a leadership test for General Buhari, and he failed. He hid away in Aso Rock. The quota-system General in him came out. No brain. Just brawn. No strategy. Just tragedy. No negotiation skills. Just intentional kills. What a bully. Take away his gun, and he is gone!
Nigeria deserves better than Muhammadu Buhari. Never, never, never again, shall the worst of us rule the rest of us. Never again must a man who can't lead his self and his own home be in charge of providing leadership to the nation. A financially bankrupt leader is better than an intellectual bankrupt one!
Message From Reno Omokri to The #EndSARS Movement
In the American Civil Right Movement, the great Martin Luther King Jr once said "In spite of temporary victories, violence never brings permanent peace."
Our Nigerian movement is on a different continent fighting a different form of injustice, but the principle remains. To achieve lasting change, lasting peace, lasting justice for all, we cannot resort to acts of violence.
Letting our movement boil over into violence will sink ourselves to the same corrupt values and shortsighted vision as this government. It would also be a tremendous strategic mistake.
In an exchange of violence, our fists and torches will never compete with the might of our government's tanks and guns.
But we have something far more powerful: a growing, popular movement that will not rest until we have justice. We can sit out their threats. We can stay in the streets. We can boycott those who do not stand for justice. We can extend this march from the streets of Abuja to the feeds of Facebook and Twitter. We can win the hearts and minds of leaders, journalists, organizers, and students. We can register more voters, and show up in numbers never seen before.
That is a war we can win. It may take longer than we want. It will require patience and discipline. But we will prevail.
Let me be clear: the government wants our movement to turn to violence. They can beat us at that game. They can take that opening to bring in the tanks. To quell what we have built. To justify their excessive force and free-wielding expression of it. They want to not only defeat us in the streets now but to delegitimize what we stand for when they do it.
Non-violence is how we stop that outcome. It is how we achieve justice.
I know this is hard. I know how angry you are because I am angry too. But let's stay united. Stay focused. And win this through the right — but hard — means of non-violence.
Pix: Buhari.jpg