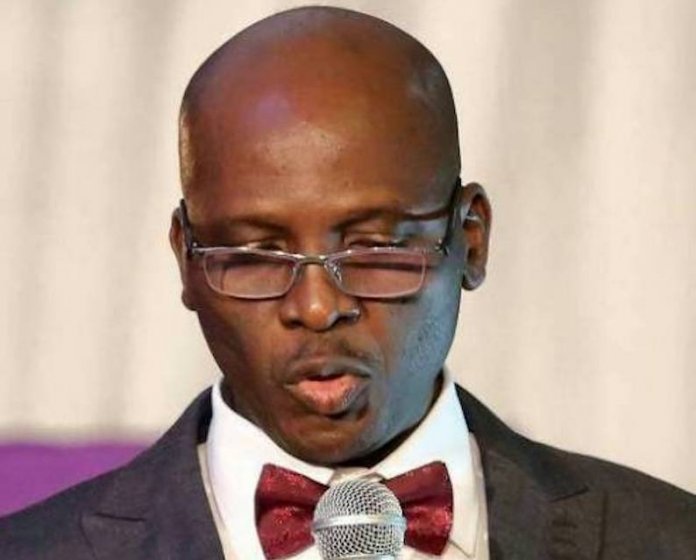 COUNTERPOINT and POLITY STORIES
With Femi Akintunde-Johnson
While I was writing this article, the tenor of my sentiment and the chord that propelled me was rooted in the 1977 monster hit song of same title as my headline… "Dem leave Sorrow, Tears and Blood… Dem regular trademark…". The lanky priest of our national existential struggles, who should have been 82 years old few days ago, immortalised these hauntingly true words. And 43 years after, they are echoing on the major streets of Nigeria.
We have witnessed in the past one week and some days, the truly heroic expressions of our young folks, casting aside the presidential slur on laziness, and stomping the grounds with trenchant declarations of their readiness and urgency to change the minds of government – when it became obvious that appeals and grumblings were inadequate.
For many years, the members of the Special Anti-Robbery Squad, SARS, and their different transformations and futile attempts at redemption, had soiled the land with stories that those who have never encountered them would be quick to assume as exaggerations and embellishments. How can any human being, paid by the sweat and toil of the same people, inflict so much wickedness and brutality on both the young and old, on men as well as women, on suspected criminals and ill-fated innocents?
The stories are legion…the narratives are morbid and spectacularly heartless… tethering on the impossible. How can a group of compatriots, not evil aliens, spread so much Sorrow, Tears and Blood…and for so long, without the hierarchy of the Nigerian Police being alarmed to such an extent that their atrocities could not be exterminated by hauling, before panels of Public Enquiry, these entitled armed terrorists, garbed maniacally in dreadful and dreary paraphernalia of callous intimidation.
From its inception in the early eighties, as far as I can recollect, it had not been so. Wickedness was not moving arm akimbo around our neighbourhood looking for young men and women who seemed to have acquired materials that the agents of death felt were above their station. My friend, Taiwo Lakanu, who retired recently as a deputy inspector general of police, was once a leader of a squad around Surulere/Ebute Metta axis… he was a halo of pride and dignity amongst law-abiding citizens – and a handsome and courageous terror within the ranks of the stubborn denizens of Ebute Metta crime world. Decked in fighting gears, not the ridiculous assemblage of "colour-riot" miasma copied from over-sexed lunatics of my Lagos hoods… the movements and appearances of Lakanu and his valiant band of SARS were a cusp of serendipity and disguised awe, in the volatile environment of Ebute Metta – as they conducted their duties with bravery, commonsense and a touch of class. Not once did I hear he was used to destroy one party for the benefit of another…or was involved in revenge killings or reprisals against attacks by wicked folks… Even many of us were worried for his twin bother who could have been mistakenly attacked by miscreants, in spite of the fact that he lived so long abroad, and was hardly back in Nigeria… but the resemblance was so keen that revenge-seeking could have easily taken the gentle civilian out, in place of the gentle super cop. Kehinde died years ago, in situation that would not concern the focus of this article.
The point is, SARS was once great – dealing with the scourge of our time… armed robbery, vicious armed gangs and terrible weaponised cultists. In the last five years, the stories emanating from the dark holes supervised by corps of the 'defunct' SARS/FSARS or whatever tactical name they have been called, the men – I haven't seen a female member – who took over from the Lakanus of this world, appear to have sworn to some evil vows: to kill, maim, extort, destroy and dehumanize as many Nigerians as are unfortunate to come across their bloody paths – their untactical cruelty knew no boundaries. It is staggeringly improbable that the Inspector Generals of Police – not just Mr. Mohammed Adamu, the current one – would imply that they were never privy to some, if not most, of the heinous techniques and operational recklessness of their men.
That doubt is underscored when you consider their futile attempts to sweep a mountain of fecal deposit enveloping the police force by looking for bigger shovels and buckets. The last so-called disbandment of FSARS was reported as the fourth attempt at restoring that arm of the Police Force to a level of normalcy that would assuage the bruised and brutalised fabrics of the Nigerian populace. Signs from the operational and communication challenges of the Police in the instantaneous swapping of FSARS for the fancy SWAT clearly show that the police leadership, and their employees, have no clue how deep-seated the Nigerian anomie against that dreadful squad, and that our metaphoric fecal mountain needs more than shovels and buckets…. So, lift up your heads, IGP and his management team, and start looking for bulldozers and massive cranes…this mountain stinks to high heavens, and kid-gloves treatment of it will lead to more Sorrow, Tears and Blood.
Demands are pouring from all angles, genuine stakeholders, and opportunists, hangers-on who profit from misery and chaos have flooded the arena… It is time for government and those who have the welfare and peaceful existence of this country at heart…not on their palms, not in their suitcases… nor their dainty handbags… to seek policy direction and communication mindsets that will remove offensive structures, without disrupting operational imperatives to intervene in areas that may be exposed to lawlessness and chaos, in the negative celebration of the demise of FSARS.
Let the nation heal and celebrate that token of success as we jointly build, not only a tactical squad, but a new Police Force that Nigerians and the entire world would not hesitate to point to with pride and respect.
While at it, let us recognize that part of what turned the FSARS to animals in torn uniforms is perhaps traceable to systemic corruption, criminal neglect of police welfare, health and life insurance, complete absence of liveable remuneration, comprehensive housing scheme that makes well-kept and managed barracks the starting point, and the "that's all".
There are litany of issues, big and small, that need the attention of governments, corporate entities and the populace which will go into building a "new" police force – in training, development, funding, medicare, vision, capacity-building, and so many other details that combine to provide us an opportunity to not waste this current general unrest.
Here is an example of what we should discourage…I mean the trainers of police trainees also need extensive training and de-toxification in their management of human resources. How do you train potential police officers like animals, using vicious and inhumane tactics – physical and mental torture, severe beatings, smacking heads with "kondos", and traumatising their psyche…. To instil what? Courage or wickedness? Bravery or brutality? Passion or poison. There are so many issues and levels that need to be unbundled, re-programmed and remodelled…before we move to material and operational matters.
Yet, the simple request to #EndSARS, or #EndSWAT…may appear knee-jerk, and speaks only to assuaging a momentary pain… doubtless, it's a critical first step forward…assuring people that their pains are real, and their voices do matter. How we go from here may take us beyond the streets…but the journey to put a stop to the orgy of Sorrow, Tears and Blood has begun…we all must see to it that we get to a lasting destination. There have been too much pain and sundry losses, on both sides, to peter out into a fleeting nostalgia. End SARS…but start the reforms.
60 Years and Still Going Strong
Femi Fani-Kayode
I am 60 years old today October 16! I give thanks to the Lord for He has been good to me.
As is usually the case with me on my birthdays I shall spend most of the day quietly with a few members of my family, loved ones and household and, for the better part of the day until the afternoon, I shall be fasting and giving thanks to God for His love, grace, kindness and mercy.
This is the way that I have marked my birthday for the last 9 years and I find it gratifying and fulfilling. I have so much to thank God for and more so this year than perhaps any other.
Throughout the year and indeed throughout my life He has been faithful and true to me despite my weaknesses, imperfections and shortcomings. He has exalted my horn, enlarged my coast, caused me to increase, caused me to excel and prosper and met my every need. He has caused me to be a source of blessing to many and constantly worked the most extraordinary and amazing miracles in my life.
He has brought me joy, great memories and wonderful times and always lifted me up even when I am down. He has given me strength to go through the biggest challenges and betrayals that a man can ever face in his life and led me to react with restraint, decorum, self-respect and dignity. He has levelled mountains before me, made a way where there seems to be no way and made every crooked path straight.
I have witnessed the most terrible things that most only read about in books and I have been subjected to the greatest humiliation, suffering and pain from those closest to me yet I have counted it all as joy and borne it with stoicism, silence and dignity refusing to offer a word of explanation or complaint to anyone. Yet God has been faithful. He has healed my wounds with the balm of Gilead, given me a sure word and given me the strength and power to forgive.
He has put my many enemies to shame, delivered me from death and infirmity, protected my children, strengthened my wife Regina, preserved my life, blessed me with faithful and loyal loved ones, met my every need and watched over me for good and not for evil.
He has delivered me from the wicked machinations and the premeditated, well-orchestrated, well-planned and diabolical plans of my enemies who hate me with a perfect hatred.
He has guided me in my life's walk, counselled me even when I refused to listen and forgiven me where and when I got things wrong and disobeyed Him.
He has delivered me from every betrayal, exposed every lie, silenced every adversary, thwarted every conspiracy, strengthened my heart, emboldened my spirit, restrored my soul, helped me to love again and healed my deep wounds.
He has provided for me and mine, met our every need and delivered us from shame and defeat. He has destroyed the counsel of the ungodly and the agenda of the treacherous over our lives, confused their tongues, divided their ranks and brought us to a better place.
Like David who suffered no less, I thank Him for His love, grace, mercy, blessings, peace, joy, deliverance, promises, sure word and expected end.
I thank him for His loving kindness, for my loved ones and children and for all those who have supported me and stood with me and mine through thick and thin over the lady 60 years.
I thank Him for decreeing and determining the bitter end of those who wished me ill and those that have repaid my good with evil and for putting them to shame.
I thank Him for leading and guiding me in the dark places where I could not see and for seeing me through every raging storm.
I thank Him for the love and support that I have received over the years and particularly over the last few weeks and months from my wife Regina, my children, my sister in-law Pastor Claudia Tchapornu, my loved ones both near and afar, my friends, my associates, my colleagues, my political associates, my intercessors, my Pastors, senior members of the Clergy and the Body of Christ (including the President of CAN, Rev. Samson Ayokunle, Prophet T.B Joshua, Bishop David Oyedepo and so many others), Traditional Rulers, my mentees, my disciples and my numerous fans and supporters.
I thank Him because He delivered me from the hand of the enemy and His word over my life cannot be thwarted or aborted. I thank Him for, despite being unworthy, making me His beloved even as I have made Him my God.
I thank Him for our eternal covenant of love which will stand from generation to generation and till the end of time.
60 years today and many years to come. I boldly enter a new phase of life now and a new beginning. It is a phase of victory and a phase of abundance and blessing.
I trust God and I put behind me every setback and disappointment, forgiving and loving all, including those who hurt me, betrayed me, lied on me, repaid my good with evil and sought to destroy my life and that of my children and reduce me to nothing.
I have no enemies and I love and forgive even my darkest adversaries and foes.
I live for my calling and nothing else. I live for God's purpose for my future and my life and all the lies, fabrications, misrepresentation, fake news and hate in the world cannot change that and neither can it resist His power or negate His extraordinary love for me.
Finally I thank God for the gift and privilege of life and good health and for all the love that I receive from those around me. Glory be to His holy name forever.
I have said it before and I will say it again, without Him I am nothing but with Him I am everything. I go forth boldly knowing that I am a warrior and a lion: I have no fear despite my many battles, afflictions, challenges and wounds.
I hold on to Him in the knowledge that as long as God is with me none can stand against me and, in the fulness of time, my enemies shall be made my footstool.
God bless my social media friends, fans, supporters and family too, particularly those that belong to the various FFK groups and that continue to believe in me and stand by me. I appreciate every single one of you.
Since my extraordinary and historic tour of the south there have been many distractions and acts of sabotage thrown our way but it changes nothing and one thing remains clear: we shall overcome and we shall prevail. God has said it and I believe it.
Darkness cannot overcome light and I urge you not to be moved by what you read, see and hear or the malevolent and malicious rantings and intrigues of the naysayers, the trolls, the enemy and his legion of emissaries and paid agents on social media.
As our Lord said of those that crucified Him, I say may the Lord forgive them for they know no better and they know not what they do. On our part we despise the shame, remain focused as ever and forge ahead regardless with our heads held up high.
Your lion and champion is alive and well, the vision is for an appointed time and, though it may tarry, it shall surely come to pass.
Trials, tribulations, malice, premeditated attempts to derail, distract and destroy, collaboration with ancient foes, conspiracies with deadly enemies, fake news, lies and betrayal and the hatred of those who know no better are are unwelcome yet necessary evils. They serve to refine us, make us stronger and prepare us for God's ultimate purpose.
As Joseph said, what our detractors and those that engender and peddle these evil plans and intrigues against us meant for evil, God meant for good. And in the end He shall grant us victory, vindicate us and make all things beautiful whilst they bow their heads in shame. Glory and praise and honor be unto His holy name.
Thank you Father because you alone are my focus and my strength. Nothing else matters to me. You alone can and will bring me to an expected end. You alone can and will reward me for the wickedness I have suffered in the hands of those that seek my destruction and make boast of it publicly and privately every day.
You alone can and will judge them for seeking to destroy and derail that which you have purposed.
He is faithful. I give Him praise. 60 years today! Many more to come! Thanks be to God!