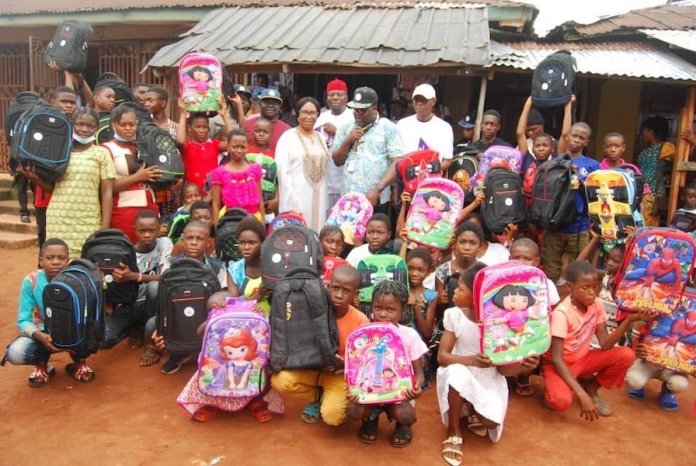 Chiemelie Ezeobi writes that the Odita Sunday Charity Foundation has sustained the tempo of its corporate social responsibility in the past couple of years by giving succor to the less privileged
For five editions, the Odita Sunday Charity Foundation has championed its 'Back to School' project, for the less privileged in Anioma Local Government Area and even beyond. Borne out of the need to touch lives, the convener, Mr. Odita Sunday-Udemaguna, has structured his giving to reach those that truly needs it.
Although he has been a welfarist for years, in recent times, the 'Back to School' project, has been targeted at sending hundreds of less privileged and orphaned kids back to school with all necessary materials ranging from bags to books and other educational materials.
Past Endeavour
In the first year of its launch, the non-governmental organisation (NGO), operating from Delta North Senatorial District in Delta State, decided to reduce the financial burden on parents during the resumption period by backing 120 less privileged children and orphans in the community.
Following the buzz it generated, Sunday-Udemaguna decided to expand his philanthropic gesture to seven other communities in 2018 and they feted 111 less privileged and orphaned kids.
Last year, he made an even bigger commitment by including welfare for widows. On August 31, another edition of the Back to School Programme took place once again at Onicha Ugbo and beyond and no fewer than 100 students and pupils from Onicha Ugbo, Issele-Uku, Ubulu-Uku, Obior, Asaba, Igbodo communities shared in the school materials made available courtesy of the foundation.
The 2020 Project
This year was not different. Despite the misgivings of the harsh economy occasioned by the COVID-19 pandemic, the Odita Sunday Charity Foundation (TOSCF) did not dash the hopes of teeming school children. He kept faith with them and hosted the fifth edition of the Back to School Project.
Sunday-Udemaguna was supported by Comrade Christopher Oji of the Sun Newspaper and Publisher Crime World Magazine, Prince Albert Akpor to put smiles on the faces of the crowd. While the school children were equipped with school books, bags, dictionaries and even bibles, the widows were not left out as they got a seed cash of N25,000 each to help boost their respective small scale businesses.
According to the convener, the project was devoid of any political colouration, adding that his quest was borne out of his passion for charity and the stark reality he passed through whilee growing up even though he wasn't an orphan.
Charging well meaning Deltans to freely give to the needy since it is more blessed to give than to receive, he noted, "Many of us had gathered to witness the four previous editions here in Onicha-Ugbo in 2016, 2017, 2018 and 2019. We are therefore, deeply appreciative and appreciative to the Almighty God for making it possible for us to keep faith with this laudable project which is aimed at helping the less privileged ones in our communities.
"Like I said in my previous speeches in the past years, I am personally not driven by any political intentions or monetary gains but rather by the passion to be my brothers' keepers through this onerous task of trying to give a helping hand to our less privileged ones.
"Let me put it on record that the bible we are sharing was donated by an Assistant Commissioner of Police, a Yoruba man and a Senior Pastor with the Mountain of Fire and Miracles Ministries, Lagos State, ACP Olasoji Olasunkanmi Akinbayo. Please assist me to pray for him for God's protection and rapid promotions.
"As we mark this fifth edition of the back to school project, may I once use the opportunity to appeal to our people to wake up from their comfort zones amd join this task of helping others.
"Like the TOSCF slogan aptly says: "Don't give to get, give to inspire". I am therefore, appealing to every one of us to make a paradigm shift by adopting a selfless approach in our giving attitude.
"Let the culture of giving cheerfully to the less privileged ones with no string attached be our hallmark. We must not wait till we have excess before we give, the little we give today may be the miracle somebody is expecting to launch him or her to greatness. Therefore, we should learn to give even from the little God has blessed us with."
Also speaking, the Director General of Asaba Capital Territory Development Agency, Hon. Mrs. Joan Mrakpor, while being presented with a Holy Bible as part of the school items donated to hundreds of orphans and the less privileged pupils by the foundation in his Anioma Back to School Project at Onicha-Ugbo community in Delta State, commended the convener for the laudable gesture.
She said: "The Lord says that what He appreciates most is to take care of the orphans and the widows. So for doing this or for starting this, by giving to the orphans and widows even in the face of not too comfortable, one thing you must know is that your pocket will never run dry.
"It is for taking. I am into all these things; and what is it that your pocket will never run dry because God has so many persons He wants to send to you, so in wanting to send them to you, He first makes provision before He sends them to you.
"He sets the tap to continually flow so you can fetch from it to give those that are thirsty. That is what you are doing; and the Lord will continually reward and keep you. This is a very wonderful gift not just that it is coming from my father in Lord, Pastor DK Olukoya, but because here, we have the truth about the word of God.
"Because you honour Him annually, the Lord will honour you beyond measures in the name of Jesus Christ. Please strive to be continually different in what you do, there is a lot of temptation on your job especially, when people come to you, 2023 is around the corner, when people come to destroy others, be very careful."
Although the occasion might have come and gone, this laudable philanthropic gesture has not just buoyed the hopes of the orphans and widows, it has also lit up a light in them that can never be quenched.