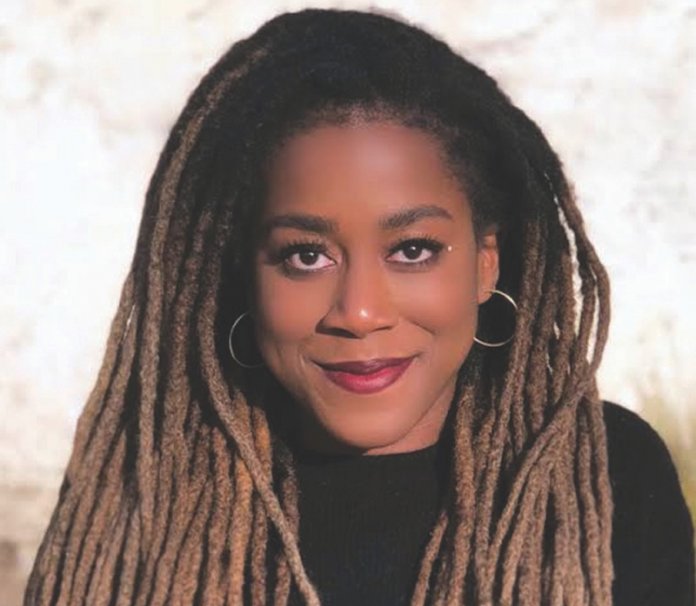 Nigerian-American novelist, who is also a creative writing coach, best known for her New York Times bestselling book – Children of Blood and Bone – made the prestigious list of Time magazine's 100 most influential people in the world for 2020. Ferdinnd Ekechukwu digs into the life and career of this spirited Nigerian author, who has won multiple awards at just age 27
"This book is one of my all-time favourites because I can't even lift it in a shot," Toyin Adeyemi spiritedly says, tossing up a massive book from her collection and favourite reads, in a post. The gorgeous oversized coffee table photo-book carries on its cover a signed image print of Barbadian singer, Rihanna (Robyn Rihanna Fenty). It's actually The Rihanna Book! "I respect anyone who can, like, sell a book that weighs more than a human being…," she croons, posing a description of the king-size publication.
"Look at how big this book is…okay. I'm a big fan of Rihanna…. But yeah I kind of love everything Rihanna does and it's because I love how she goes into different spaces whether it is music, whether it is makeup, whether it is skincare, whether it is publishing. And she just does hers and she does it big. I keep this work where I can always see it. And one day I will publish a book that's bigger than my face too." Adeyemi was just having that modest moment last September, unknowing she would soon be hailed as influential as the songstress.
And like Rihanna in 2018, Adeyemi made the annual Time magazine's most influential people in the world for the year 2020. The American author of Nigerian descent made the prestigious list, alongside other globally renowned stars like Jenifer Hudson, Selena Gomez, Tyler Perry and host of others. Every year since 1999, Time names these 100 people in recognition of their activism, innovation and achievements.
The 27-year-old creative writing coach, whose latest book is Children of Virtue and Vengeance, is best known for her #1 NY Times bestselling book Children of Blood and Bone, which was also featured on TIME's list of the best Young Adult and Children's books of 2018. It has been called the biggest fantasy debut novel of 2018, drawing comparisons with everything from Game of Thrones to Black Panther, and had netted a movie deal reported to be worth seven figures.
Adeyemi's West African-inspired fantasy debut is acknowledged a powerful rumination on race and social justice. Adeyemi told The Huffington Post that she was motivated to write the novel after seeing racist reactions to the casting of actors of colour in The Hunger Games movies. The book has won numerous awards including the 2018 Andre Norton Award for Young Adult Science Fiction and Fantasy, the 2019 Waterstones Book Prize, and the 2019 Hugo Lodestar Award for Best Young Adult Book.
Same 2019, she was named in Forbe's "30 Under 30" list. The novel, Children of Blood and Bone chronicles the life of teen diviner, Zélie's quest to bring magic back to the nation of Orïsha after her mother and the rest of the community were murdered on orders of the king. Adeyemi's second book has already made its way to the New York Times bestseller list. It is currently number one on the Young Adult Hardcover list. Second on the list is her debut novel which came out in 2018.
Adeyemi released Children of Virtue and Vengeance, the second book in her Young Adult (YA) fantasy trilogy – Legacy of Orïsha. After its release on December 3, 2019, it immediately topped The New York Times Young Adult Hardcover Bestseller List. The book continues the original story that started in Adeyemi's ground-breaking debut. By tradition, a tribute to each awardee is written by another celebrity. For the 2020 TIME100 list, Adeyemi's entry piece was written by British-Nigerian actor and producer John Boyega.
"Tomi (Adeyemi's moniker) is the god of ideas," Boyega wrote. "She's inspiring a lot of young people to write. She creates the very world that we as actors get to play in. And the big-screen adaptation will hire a lot of people and bring more representation to our industry – all that comes directly from Tomi's imagination. She is going to be very powerful when it comes to bringing stories and ideas to the forefront. I would absolutely drop everything to be in the film. If I missed the opportunity to be a part of it, it would be like missing history."
The 'Star Wars' actor stated further about the book: "When someone told me about Tomi Adeyemi's Children of Blood and Bone, describing it as a cross between Harry Potter, the Chronicles of Narnia and Yoruba gods, I was shocked.
It sounded like the best combination ever: How had I not heard of it? I read it, then I read it again, then I listened to the audiobook. I was being introduced to a world I couldn't have imagined before. The characters were larger than life but with very human problems and issues. And the novel spoke to my self-identity and culture as a Nigerian, in its social commentary and in its depiction of both magic and oppression."
Born to parents who migrated from Nigeria, Adeyemi is the middle child of three – her brother is a musician and her younger sister still at college. Her father is a doctor, while her mother runs a group of hospices outside Chicago. She studied English Literature at Harvard before heading to Brazil on a fellowship to study West African culture and mythology. It was in South America that the seeds of Children of Blood and Bone, the first in a trilogy, were sown. Her father was a physician in Nigeria but found employment as a taxi driver while he waited to transfer his qualifications.
Adeyemi's mother worked as a cleaning woman. Adeyemi grew up in Chicago and was not exposed to her Nigerian heritage; her parents decided not to teach her or her siblings their native tongue. She would later embrace her heritage as an adult, explaining, "I didn't think too much of it and I think that is the kind of an experience of the first generation. You're just trying to fit in. You don't realise how cool your culture is until you get out of that phase of trying to fit in."
A writer from a young age, it was only when she was 18 and putting together her college application that she looked back on old stories she had written as a child, and realised what she had been leaving herself out of. "I wrote a story at age six or seven where the twin characters were called Tomi and Toni – I had no problem seeing myself in books at that age. But from then on, the protagonists of every fantasy I wrote were either white or bi-racial. I had somehow internalised that I couldn't be in my own imagination or my fantasy adventures."