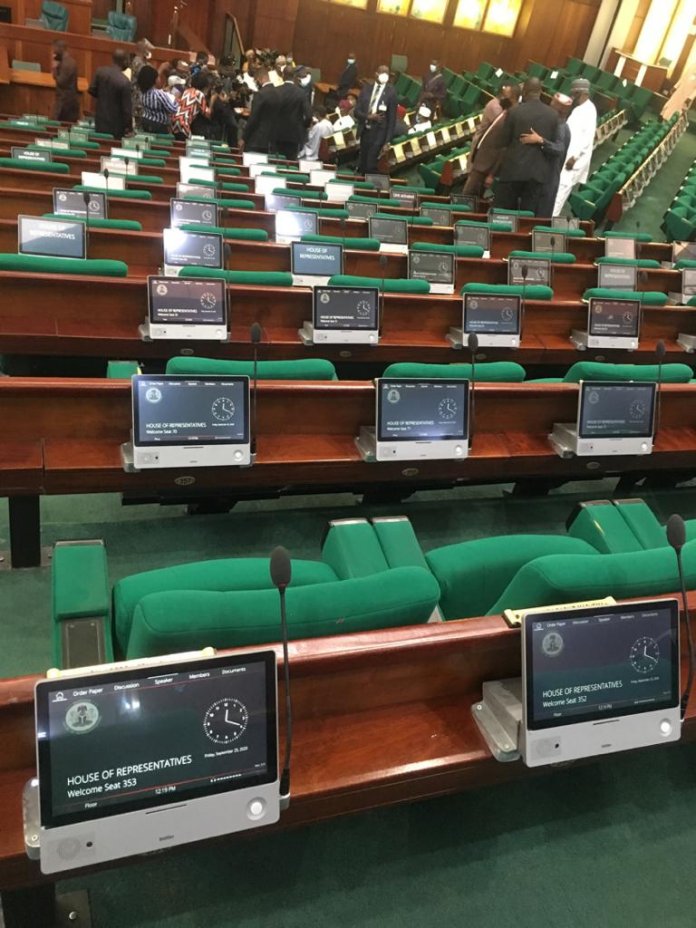 *Gbajabiamila inspects e-chamber installation
Udora Orizu in Abuja
Plenary in the House of the Representatives will now become digital once the National Assembly members resume their legislative duties on Tuesday, September 29, as several electronic gadgets have been installed in the green chamber to aid proceedings.
The electronic gadgets which were still being test-run were attached to each of the seats on the floor of the House. With the installation, the lawmakers will no longer attend plenary sessions carrying copies of the constitution, order paper, house rules and other documents.
The Speaker of the House, Hon. Femi Gbajabiamila had on July 2, 2019, said voting by members of the chamber on serious legislation would become electronic as the e-voting system would be introduced as part of his reforms.
Inspecting the facility at the House chambers on Friday to assess its readiness, Gbajabiamila said it's an advanced system that will help members follow discussions easily.
He said the system among other things will enable e-voting, e-attendance to know the lawmakers who attend Plenar
y and those who don't and also help in making legislative duties more paperless.
According to him, "The system was put together by the company of a gentleman who I will introduce to the house as part of his corporate social responsibility, you will hear more about him later, a gentleman named Wale Ajisebutu of 21st century technology. We are happy, you will find this anywhere in the world, in most advanced democracy. He will be able to brief you on what this does, it's promised e-voting, it's seamless, the chambers now are more or less paperless. We have the constitution uploaded, code of conduct, legislative agenda, the order paper, motions etc for the benefit of all members to follow discussions."
"From up here I can do a lot of magic, that I will not disclose to you now. It's a very advanced system. We are very excited that we've been able to tick that off, it's one of the promises we made and were determined to do. It has the capacity for members to research issues on the floor, there's a search engine that's dedicated for that purpose, you can quickly research whatever information or reference that you're trying to do research about."
"This is also connected to registration processes, so we have e-registration or e-attendance. You can only use your thumb for your attendance to be captured, now nobody signs in for anybody just Incase. Your thumb ID is only specific for you. Also when you have foreign guest who do not understand our lingua Franca the system can translate automatically to the foreign guest to whatever language he or she speaks so he or she can follow discussions on the floor. The rest of the details will be filled in, by the team who have worked tirelessly from day to night in the last two months that we've been on break trying to make sure this is up and running. We thank them for being very committed and dedicated and will thank them again on the floor."
Also speaking on the installations, the House Spokesperson, Hon. Benjamin Kalu, described the facility as one of the best in the world.
He explained that with this technology money will be reduced from using papers to record documents.
He expressed optimism that the facility will be commissioned in the next few days and it's going to deliver the expectations of Nigerians and the 9th Assembly for e-parliament.
He said, "With this we will able to know who attended plenary and who didn't. A digitalized way of finding out these information. We are also concerned that we are not measuring up as it concerns tending towards paperless governance, paperless work space where a lot of money will be reduced from using papers in recording our documents. In documenting our proceedings or informing the house on what is the business of the day. In the form order paper rules and proceedings and the rest of them. This motivated the house to go into updating the technology in the house."
"To show commitment, this speaker and the leadership of the House has been following up, they don't want to sit at home until the day of commissioning. From what we saw on Thursday and today there has been progress. We are determined that within the first week of resumption everything as expected will be working the way the developers of this particular technology made it to be. So we are happy with the technicians that work night and day. Most of the times when we are going for plenary, we carry our constitution, legislative agenda, house rule but now they've simplified it and included it, it was not there the last time we visited. On the click of a button you will see legislative agenda, code of conduct, the list of members, details of members and rest of them and the sound is clearer. Also if you have a visitor who's not an English speaking visitor, there is a provision for him to listen to our conversation in his language, and that is a step in the right direction and Nigerians are suppose to be happy about it."
Speaking further, Kalu said on resumption, they will hold sessions on where every member will sit with those who have installed this system and learn how to use it.
"It's very simple, if you can use your phone you can use that technology. It's clear, not complicated and user friendly. Periodically we will interact with members to be able to know. Beyond that the team has done a good job by some members of the clerk workforce, the sergeant at arms to groom them on how to use the system, so if you are working and you have issues you just raise your hand and they will guide you. So it's going to very tidy and simple."
"It's part of their installation package to give free training to members, they are not paying anything for it, it will be done on the floor
of the house not like they are going on a retreat anywhere which will cost the house anything, it's free and part of the package. It's for members to have first hand information, the basis. What the sergeant at arms will be doing is to aid the lawmakers if there's any complication," he said
The lawmaker when asked how much was spent on installation said, "If you listen to the Speaker very well when he was speaking he mentioned the name of a good Nigerian who decided to partner with us and deliver this as his corporate social responsibility, the CSR of his company and he's going to be invited to the house and announced to Nigerians, and celebrated for what he did for nation building. Like we say our mantra which is nation building a joint task and that joint task includes the private sector in partnership with the public sector, the three arms of government working together."
"A good Nigerian out there saw it as a need, and believed that we can deliver the best as other parliaments in the world and it was shameful for somebody like him to have a parliament in Nigeria that's still operating in the old traditional not so productive manner, e-parliament is the best all over and he considered it as their CSR and delivered it to the House."