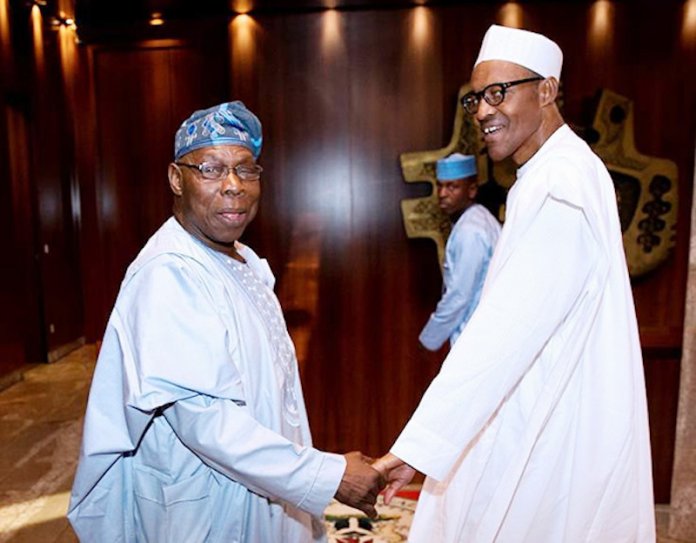 The perception of criticisms of Muhammadu Buhari's presidency as existential regime threat deserving of emotive, incendiary pushbacks will stunt transformative governance, writes Louis Achi
On the cusp of the diamond anniversary of the nation's independence from Britain, the prevailing mood today is not celebratory. Former US President Barrack Obama succinctly captures why: "Nigeria is critical to the rest of the continent and if Nigeria has not got it right, Africa will really not make progress."
Going forward, does the providential Muhammadu Buhari presidency need to do some fundamental governance course correction to genuinely reposition Nigeria as the continent's pathfinder and leader? Beyond shrill opposition flak, the welter of weighty criticisms from elder statesmen and important national stakeholders strongly suggest so. Unfortunately, the management of providential favours by humans appears to be an art in its infancy.
Former President Olusegun Obasanjo is certainly not a saint but indisputably a statesman of considerable stature in the global big picture. Whether he should be accommodated within the mould of Singapore's Lee Kuan Yew, South Africa's Nelson Mandela or India's Mahatma Gandhi, who seized their milieux by the scruff of the neck and altered them for good is debatable. But clearly, Obasanjo had similar historical and political challenges as this venerable trio and delivered his best with his focused brand of inclusive, pan-Nigerian leadership.
Against the backdrop of his uncommon statesman's heft and given a life intimately intertwined with Nigeria's tumultuous history, Obasanjo's observations and positions on the state of the nation certainly deserve more than a passing interest as against the incendiary flak from the presidency.
It's worth recalling that Obasanjo, a former General and military head of state, had written series of letters previously criticizing Buhari's mode of governance. Each has been largely met by the presidency with high-octane counter attack bereft of unemotional analysis of the essence of the message but rather savaging the messenger.
Penultimate Thursday, when Obasanjo again expressed a very weighty position on the state of national affairs, this curious knee-jerk reaction from Aso Rock was no different. While delivering a speech titled: "Moving Nigeria away from tipping over," at a consultative dialogue with some socio-cultural groups in Abuja, the former president said he had never seen Nigeria so divided, adding that many of the problems plaguing the country today were due to the recent mismanagement of Nigeria's diversity.
In his words, the gruff ex-General had noted that, "Today, Nigeria is fast drifting to a failed and badly divided state, economically our country is becoming a basket case and poverty capital of the world, and socially, we are firming up as an unwholesome and insecure country.
"And these manifestations are the products of recent mismanagement of diversity and socio-economic development of our country. Old fault lines that were disappearing have opened up in greater fissures and with drums of hatred, disintegration and separation and accompanying choruses being heard loud and clear almost everywhere."
Further, according to a deeply worried Obasanjo, "It would appear that anybody not dancing to the drumbeats nor joining in chorus singing would be earmarked as ethnically unpatriotic or enemy of its tribe or geographical area. In short, the country is fast moving to the precipice… And those who prevent justice to be done invite violence to reign."
At the core of Obasanjo's bold accusations was that the open manifestations of national danger stem from mismanagement of diversity and socio-economic development of the country currently.
Strangely, Obasanjo's position found a soul mate in the Nobel Laureate Wole Soyinka, who nevertheless made it clear he was no fan of the former president.
According to Soyinka: "I am notoriously no fan of Olusegun Obasanjo, General, twice former president and co-architect with other past leaders of the crumbling edifice that is still generously called Nigeria. I have no reasons to change my stance on his record.
"Nonetheless, I embrace the responsibility of calling attention to any accurate reading of this nation from whatever source, as a contraption teetering on the very edge of total collapse. We are close to extinction as a viable comity of peoples, supposedly bound together under an equitable set of protocols of co-habitation, capable of producing its own means of existence, and devoid of a culture of sectarian privilege and will to dominate."
But in a quick-fire riposte to Soyika and Obasanjo, the Special Adviser to the President on Media and Publicity, Femi Adesina, stated that Buhari inherited a terribly divided country from his predecessor, Goodluck Jonathan, in 2015 and that Nigeria had always been divided. In this light, he summarily dismissed the positions of the two venerable citizens – Soyinka and Obasanjo.
Not an institution to permit grass grow under its nimble feet, the presidency, deploying choice expletives attacked both the messenger and his message. Senior Special Assistant to the President on Media and Publicity, Malam Garba Shehu would later describe Obasanjo as "Divider-in-Chief."
The Minister of Information and Culture, Alhaji Lai Mohammed, who led the charge reminded Nigerians that Buhari took office at a time some parts of the country's territory were under occupation and many cities, including the capital city of Abuja, were a playground for Boko Haram insurgents.
His words: "Nigeria today is not a failed state, but a nation that is courageously tackling its challenges and building a solid infrastructure that will serve as the basis for socio-economic development, a nation that is unrelenting in battling insecurity and working hard to ensure the greatest prosperity for the greatest number of people.
"Nigeria today faces a lot of challenges. But whatever situation the country has found itself in, things would have been much worse but for the deft management of resources, unprecedented fight against corruption, determined battle against insurgency and banditry as well as the abiding courage of Mr. President in piloting the ship of state."
The All Progressives Congress (APC) soon joined the fray. Speaking through its Deputy National Publicity Secretary, Mr. Yekini Nabena, the party claimed it was ironic that political actors, who midwifed and institutionalised corruption, impunity and eroded the country's value systems are the same characters posing as voices on the way forward. So much fog, so little light. In his sage counsel to statesmen and world leaders, former French president, Valéry Giscard d'Estaing's held that: "There can be no response to history without effort." D'Estaing's counsel was clearly inspired by the environment of the human crisis that defined his era. He was born during the First World War and fought in the second bloody, global conflagration. He could as well have been speaking to the two Nigerian ex-Generals – Buhari and Obasanjo.
To appropriately respond to the peculiar history of the Nigerian state certainly requires restoration of the legitimate dream of Nigerians and the re-invention of a social contract now in tatters. This will ease Nigeria from being the divisive, stunted, transitional democracy it currently is, to a stable, just, productive and progressive democratic force on the African continent.